Dingdong, Marian wedding set for Dec. 30
FUNFARE
-
Ricky Lo
(The Philippine Star) - August 16, 2014 - 12:00am
Confirmed: Dingdong Dantes and Marian Rivera are getting married on Dec. 30 this year at the Immaculate Conception Cathedral in Cubao, Quezon City, a stone's throw away from the Dantes family residence. It's at that church where family members hear Mass on Sundays, so near their house that they just walk going there.
Wearing the Harry Winston engagement ring slipped into her finger by Dingdong on his knees Saturday night last week on her eponymous dance show on GMA, Marian told Startalk yesterday before attending the general presscon described as "The Royal Engagement" that she was on Cloud 9 when Dingdong kissed her after the proposal that earned the show very high rating.
Asked if she wanted to be on Cloud 9 again, Marian said, "Yes!" Saying he could do it a second or a third or a fourth time, Dingdong proceeded to kiss Marian on the lips.
According to sosyal people, Harry Winston engagement rings range in price from $5,000 to $500,000. Dingdong wouldn't tell how much the ring he gave Marian cost.
"What counts is not the price but the intention and the essence that go with it," said Dingdong who admitted that he thought hard what kind of ring to buy.
During the Startalk shoot, Marian was not wearing the first engagement ring given to her by Dingdong when he first proposed to her at the Butterfly Dome in Macau in August 2012, coinciding with his 32nd birthday. Marian turned 30 last Aug. 12, the day Dingdong proposed to her the second time, witnessed by both their families.
Instead of saying that Batangas Gov. Vilma Santos will be one of the principal sponsors ("She was the first person to text me congratulations right after the proposal," said Marian), and Marian's good friends Ana Feleo and Roxee B. (Barcelo) among the secondary sponsors, Marian was mum about who will design her wedding gown.
"As the wedding approaches pala," said Marian, "your concept keeps on changing. Before, I wanted my gown to be off-shoulder or turtle-necked, but I know my mind will change. I should know what kind tomorrow."
Unlike most showbiz couples who make their wedding off-limits to fans and inviting only their close friends, Dingdong and Marian want their fans to share the excitement of the moment. That reminds me of FPJ who advised his niece Sheryl Cruz not to keep the fans away when Sheryl got married to Norman John Bustos, a sheriff with the San Francisco Police Department.
"Nandito ang Dongyan (their uniname) dahil sa fans namin," said Marian.
So how many kids do Dingdong and Marian plan to have?
Not giving a definite number, Dingdong said they would like to have one as soon as possible.
Karylle, Gary V and Gab in SanFo; Enrique and Sam duel in Dubai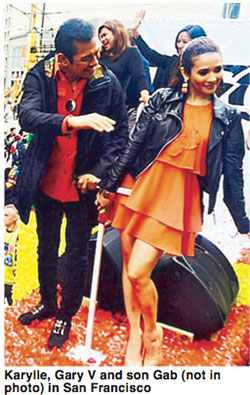 Karylle and Gary Valenciano joined by his son Gab were the headliners in the Pistahan Parade & Festival, the biggest Filipino event in the West Coast held last Aug. 9 to 10, at the Yerba Buena Gardens, San Francisco, California. The event was sponsored by ABS-CBN's The Filipino Channel (TFC).
The following day, Karylle and Gary (TFC 20 ambassador for the year), still with Gab, performed in a concert in front of about 24,000 people at the Yerba Buena Gardens, five blocks away from the Civic Center.
On the other hand, Sam Concepcion and Enrique Gil had a performance duel in the Dubai Showdown last Aug. 9, at the Sheikh Rashid Auditorium, Indian High School. The event was attended by thousands of fans.
Sam performed his hits like Dati, No Limitations and Mahal na Mahal, plus a medley of the biggest hits of his idols Michael Jackson and Gary Valenciano.
Enrique exhibited his unmatched sexiness and swag as he performed his hits like Oha and Miss, Miss and made fans swoon with his Katakana and Gentleman numbers.
— Reported by CARLO OROSA
(E-mail reactions at entphilstar@yahoo.com. You may also send your questions to askrickylo@gmail.com.)