Pinoys to London for Here Lies Love
London is in for a treat. This is the chance to watch the much vaunted music artistry of Filipinos on stage. And I do not mean only in Miss Saigon, the revival of the famous musical that now boasts of Filipinos in the lead roles. This is The Public Theater's production of Here Lies Love directed by Alex Timbers, which will be opening late this year and is expected to run up to January 2015. This is the musical composed by ex-member of the legendary New Wave band Talking Heads and Grammy winner David Byrne and dance music star Fatboy Slim about the life of Filipino First Lady Imelda Marcos. The title Here Lies Love comes from what Mrs. Marcos is said to want written as her epitaph.
Of course, they need lots of Pinoys in the cast. Among these are the roles of Mrs. Marcos, Pres. Ferdinand Marcos and Benigno Aquino Jr. And the producers have decided to source their talents directly from the Philippines. The US version starred Jose Llana as Marcos, Conrad Ricamora as Ninoy and American-Korean actress Ruthie Anne Miles as Imelda. The reviews call the performances of this trio outstanding and I will not be surprised if they were to reprise their roles in London. But nothing has been said about that or they are perhaps staying behind to do another New York run. What I am sure of is that Atlantis Theatrical Entertainment Group (ATEG) has issued an open call audition for this new production of Here Lies Love.
The show is in need of strong pop singers and dancers, actors aged 20 to 35, representing various ethnic backgrounds to represent the diverse population of the Philippines. I can already see thousands with great potential. But they must be proficient in English and willing to relocate to London starting Aug. 18 to start rehearsals and then up to January 2015 for the run or maybe longer because you know how it is in the theater. As long as the people keep coming, they keep on performing. And I have a feeling that London will enjoy a disco musical.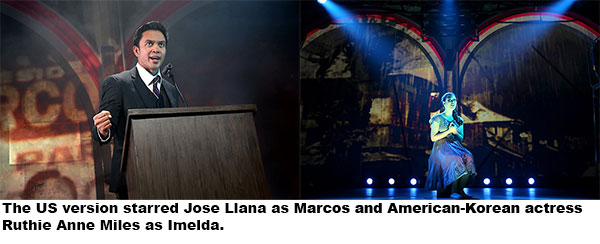 The auditions will be held tomorrow, July 5 and on July 6 in the same venue at the Opera Haus at 3657 Bautista St. near the corner of Buendia in Makati City. Be prepared to attend a one-hour dance call. This means be ready with your dance togs and your moves. Those who make it through will be asked to sing a contemporary pop song. Any song will do but make it the one you do best because you will only get one chance. Note that no use of music minus one or backing tracks will be allowed. Bring your own sheet music. A pianist will be there to accompany auditionees. For details, call 0943-2514532 or visit facebook.com/ATEGasia.
For an idea about what the songs in the musical are like, do try to get a copy of the soundtrack album. I am not sure if this is in the stores but it is certainly on line. Don't expect The Sound of Music or even Les Miserablés. Here Lies Love is a fun musical set in the world of '70s disco with music inspired by assorted dance tunes from the past four decades. This is a shake-your-booty experience while it tells a fictional tale of how Mrs. Marcos rose from her Tacloban childhood to become a powerful First Lady who would later descend to infamy. Think about curfew stay-ins at the Coco Banana in the Marcos era to get into the mood with jazzy, R&B dance sounds.
The songs are witty, poignant, cleverly written, extraordinarily commercial and so inviting to dance and sing along with. Some of the cuts included in the album are Child of the Philippines and Opposite Attraction by Ninoy and Imelda; Sugartime Baby by Imelda and Marcos; A Perfect Hand by Marcos; When She Passed By by Melody Biutiu as Imelda's long-time aide and friend from Leyte, Estrella Cumpas; Here Lies Love by Imelda and Estrella; and The Rose of Tacloban, Eleven Days and Walk Like A Woman by Imelda, among others. The cast sounds superb but I am sure that there will be discoveries from the local auditions who will be able to do those roles just as well. Maybe even better.
Incidentally, there is also a superb recording made of Here Lies Love before it was turned into a musical. The song cycle album was Byrne's and Slim's first effort in creating the show and features the songs interpreted by an all-star cast of performers. These are not names from the theater. These are big-name pop stars who actually originated the songs. One of them is the Jazzifino star from L.A., Charmaine Clamor, singing the Imelda song Walk Like A Woman.
The other performers in the album are: Here Lies Love by Florence Welch of Florence & The Machine; Every Drop Of Rain by Candie Payne and St. Vincent; You'll Be Taken Care Of by Tori Amos; The Rose Of Tacloban by Martha Wainwright; How Are You? by Nellie McKay; A Perfect Hand by Steve Earle; Eleven Days by Cyndi Lauper; When She Passed by Allison Moorer; Don't You Agree? by Roisin Murphy; Pretty Face by Camille; Dancing Together by Sharon Jones; Men Will Do Anything by Alice Russell; The Whole Man by Kate Pierson; Never So Big by Sia; Please Don't by Santigold; American Troglodyte by Byrne; Solano Avenue by Nicole Atkins; Order 1081 by Natalie Merchant; Seven Years by Byrne and Shara Worden; Why Don't You Love Me, a duet by Lauper and Amos; and Ladies In Blue by Theresa Andersson.