FUNFARE
-
Ricky Lo
(The Philippine Star) - June 18, 2014 - 12:00am
Guess what song was playing on the car radio on her way to Romulo's Café (corner of Scout Lazcano and Scout Tuason, Quezon City) for this interview. Yes, Feelings!
You know, the Morris Albert hit song that, in part says, …feelings, nothing more than feelings; trying to forget my feelings of love…It is one of former First Lady Imelda Marcos' favorite songs.
"It happened as if on cue," said Becca Godinez. "I got into the van and when the driver turned the radio on, the first song that played was Feelings. I called Morris. It was five in the morning in Italy where he's based and I said, 'I'm waking you up.' I'm listening to your song."
She and Morris got married here in 1982 and lived here for three years. In 1985, Becca left for Rio de Janeiro with Morris and lived there for a year, then moved to L.A. to close Morris' record deal which Becca helped negotiate before going to Milan, Italy, for the signing. She also worked with Morris on one album as songwriter. A song they had written together won first place at a song festival in the Mid-West, USA, and another collaborative song was used as theme of an Italian soap.
"A few months later, wala na," recalled Becca sans bitterness. "It was the beginning of the end. You know, Morris went through challenging times. He was stabbed in the back by some industry people abroad. It made him very angry and he became very, very difficult to deal with. I stood by him during those times. We were still married then."
Their marriage, blessed with a daughter (Natasha, 30, who's getting married this year), broke up after six years. Their divorce was finalized in 1989. Becca has remarried in 1995, to Benito Miranda from Cebu (the first Filipino commissioner in Torance), and so has Morris.
"We are best friends now," added Becca. "We get along very well. His family and mine are close. When they visited L.A., they stayed in our house. The relationship is rich and mature and peaceful now because there's true friendship, there was forgiveness. He went on his own journey and I went on my own journey. We did not talk to each other for 10 years. And then we started talking again."
Natasha has taken after her parents.
"She's a good singer, phenomenal! Three years ago, Morris flew Natasha and me to Italy. He was doing a recording and he wanted us to work with him. 'This could be my last major recording,' he said. He wrote some music and he said, 'I want you and Natasha to write the lyrics.' Natasha did one and I did two."
No, Becca came back not to talk about her failed first marriage but for an important project.
"It's theater that has brought me back," said Becca who is producing Flipzoids, an award-winning Off-Broadway play by Fil-Am writer Ralph B. Peña, which is about how three immigrant Filipinos seek a sense of belonging and identity in America, one of them Aying, an old woman who refuses to relinquish any of the culture and tradition of her homeland. "I played Aying when the play was staged in L.A. I will play the same character when Flipzoids is mounted at the Music Museum on July 17 to 19, directed by Jon Lawrence Rivera."
Becca, who auditioned for the play in 2012, was away from theater for a while so she couldn't believe the rave reviews after the L.A. stint.
…the mesmerizing Godinez is earthy and ephemeral, hilarious and heartbreaking. — J. Webb, Backstage L.A. Theater Review
Godinez finds the humor in this role and uses it to her utmost. She is delightful in so many ways and gives a grand life to this character. — J. Straw, SAG/AFTRA, Hollywood Chair EEOC
Becca played her as a very real "flesh and blood" woman with humor, strength, sadness and a gravitas that belied her deceptively simple philosophies in life. — F. dela Torre, Francis Films LA
"The script is in English," continued Becca, "but my character speaks with Ilocano accent. It's a character that is at once sad and funny and hilarious."
Besides the director, Becca is bringing here her two co-stars, Ellen D. Williams as Aying's daughter who is a nurse and Maxwel Corpus as Redford who arrived in America from the Philippines as a child and spends his time in public restrooms in search of relationships to fill a void in his identity.
Aside from theater, what brings home Becca is her mom who is based here (Becca's brother Jaime Godinez and his wife Gina are also here), and her business (exportation of native goods from Cebu).
"But theater is it," insisted Becca. "Theater will always be in my heart."
Fil-Am is 2014 Miss USA 1st runner-up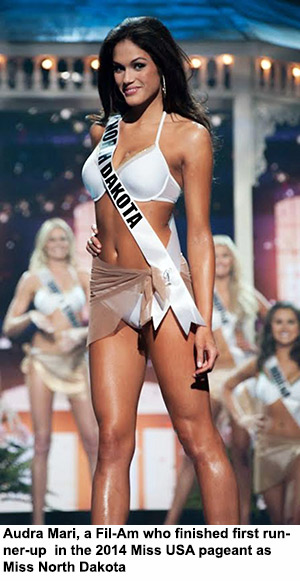 Audra Mari, a 20-year-old Fil-Am from North Dakota, finished first runner-up to Nevada's Nia Sanchez in the 2014 Miss USA pageant. The winner will compete with Miss Universe-Philippines Mary Jean "MJ" Lastimosa in this year's Miss Universe pageant (date and venue still to be announced).
Audra's grandfather is Dr. Justo Mari who traces his roots to Alaminos, Pangasinan. Married to an American, he's a retired physician based in Fargo, North Dakota. Audra is taking up Public Relations and Communications at North Dakota State University. A hockey player, she competed in tournaments in Canada when she was in high school. Audra is also into volleyball and soccer and enjoys jet skiing, tubing and wake-boarding. She's a staunch advocate of STOMP Out Bullying Organization. In 2011, she was crowned Miss North Dakota Teen USA and went on to the national pageant where she was named first runner-up to Danielle Doty of Texas.
In our private chat online, Audra requests her fans to follow her on Instagram (@audramari). — CELSO DE GUZMAN CAPARAS
(E-mail reactions at entphilstar@yahoo.com. You may also send your questions to askrickylo@gmail.com. For more updates, photos and videos visit www.philstar.com/funfare. or follow me on www.twitter/therealrickylo.)