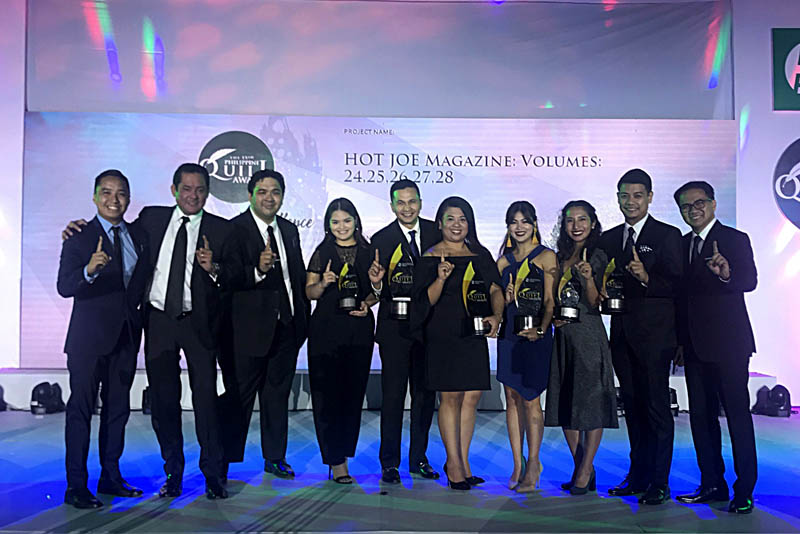 (From left) Head of Brand Communications Joshua Aquino, PLDT FVP and Head of SME Nation Mitch Locsin, PLDT VP and Head of Digital Marketing Strategy Carlo Ople, Brand Communications Specialist Jill Gonzales, PLDT VP and Head of Disruptive Business Group Nico Alcoseba, Head of Brand Equity Management Mikey Smyth, Brand Activations Specialist Lo Regino, Brand Communications Specialist Bela Yatco, PLDT AVP and Head of Fixed Core Business Solutions Gary Igancio, and PLDT VP and Head of ALPHA Vic Tria.
PLDT/Released
PLDT Enterprise's award-winning year continues at 15th Quill Awards
(Philstar.com) - July 27, 2017 - 12:00am
MANILA, Philippines — PLDT Enterprise, the business arm of the country's leading telecommunications and digital services provider, celebrated a milestone victory at the 15th IABC Philippine Quill Awards. It took home six awards from the annual ceremony held at the Marriott Grand Ballroom, Pasay City.
Through PLDT SME Nation — its micro, small and medium enterprise (MSME) group and PLDT Alpha — its corporate business group — PLDT Enterprise was acknowledged for its excellence in the categories of Community Relations, Special Events, Publications, and Marketing, Advertising and Brand Communications.
PLDT SME Nation was first recognized for the #BeTheBoss 2016 Awards, a celebration of young Filipino entrepreneurs leading in tech innovation and digital integration.
Following this, their second honor was given in recognition of BIG Talks, a conference series that provides budding entrepreneurs across the Philippines access to the knowledge and expertise of established business leaders. Last to win was Tech Island 3.0, the third installment of SME Nation's largest business convention that aims to educate MSMEs on leveraging business opportunities and facing challenges in the digital age.
PLDT Alpha also celebrated their victories, taking home three Excellence Awards for their efforts. First of the night was its already multi-awarded business lifestyle publication, "Hot Joe," adding yet another laurel to its collection. The magazine, which is produced entirely by the business group and features its latest partnerships and products, insights from top business and industry leaders and celebrated events, is on its third consecutive year as a Quill Excellence Awardee.
It was also awarded for two outstanding events — the 2016 Pasasalamat Night, an annual end-of-the-year celebration where valued clients and partners are treated to a night of grand, exclusive entertainment, and the 2016 Philippine ICT Leadership Convention: Digital Now!, which brought together global industry leaders, prominent business figures, and technology experts for an immersive two-day convention that highlighted the disruptive technologies reshaping the strategies of business and enterprises.
With its six awards, PLDT Enterprise joins the 35 awards in total received by the entire PLDT Group at the 15th Philippine Quill Awards.
"We take pride in receiving these awards in communications excellence," said PLDT SVP and Head of Enterprise Business Jovy Hernandez. "As technologies advance and also become increasingly complicated, innovating in the way we communicate with our customers become relevant as it helps them navigate through the clutter — allowing them to focus on what matters — enabling them to be fearless in adapting new technologies. This is part of our responsibilities in our pursuit of being the trusted end-to-end ICT partner and thought leader in the enterprise space."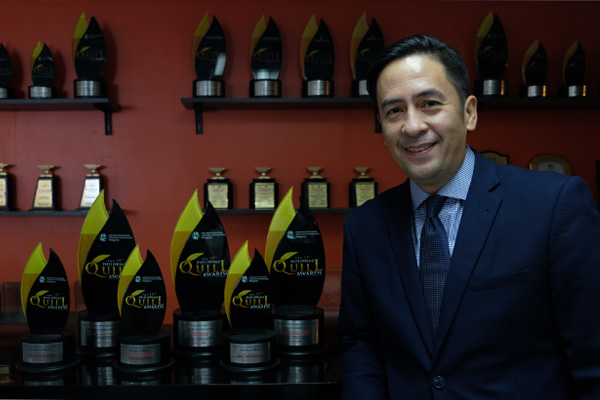 PLDT SVP and Head of Enterprise Groups Jovy Hernandez. PLDT/Released
The Philippine Quill Awards, organized by the International Association of Business Communicators (IABC) Philippines, is a communication excellence award program that recognizes outstanding performance in the field of communication.
READ MORE:
League of Provinces, PLDT forge partnership to boost service
PLDT Enterprise shores up expansion of US solutions provider
Producers Bank to propel business expansion with PLDT Enterprise
PLDT Enterprise marks milestone with 9 Anvil Awards
Leading franchising developer partners with PLDT Enterprise