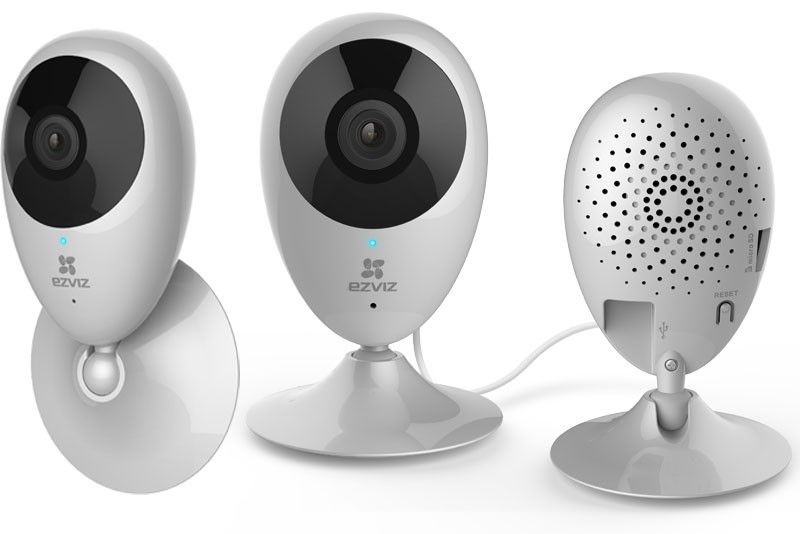 The eye: Ezviz C2C Mini O Plus
Kathy Moran
(The Philippine Star) - March 18, 2019 - 12:00am
MANILA, Philippines — It is never easy having to make sue we know about the goings on in our house at all times of the day. Work takes me away from home and since my mother was hospitalized three weeks ago, she is 87 years old; I have taken to making sure that she receives the care she deserves.
Spying is a strong word — and not one I am comfortable with because I am not the type of person that does such a thing. But with my mother's current condition, and my working schedule that as an employee that takes me away from home for a whole day — I have learned to resort to this.
Enter Ezviz C2C Mini O Plus, which is a simple yet powerful camera. It's equipped with a full HD 1080p Wi-Fi camera with a magnetic base, designed for simple and quick installation.
The camera got me at easy to install. When I unboxed the Ezviz C2C Mini O Plus, I thought it would be hard for me to install it — because I always think it is difficult to install CCTV camera.
Wrong. It took me about five minutes to read the manual (or leaflet that comes with the camera) and install. All at once I felt like Sherlock.
Simple as simple is — I needed to use the make Wi-Fi router for both my cell phone and the camera. Once I had that pat I connected the two and voila the camera was installed.
I read a little more that the C2C Mini O plus supports 2.4GHz Wi-Fi and that it is a true day/night camera with auto-switching. Infrared night vision up to 7.5 meters.
It also supports MicroSD card slot up to 128GB. But I didn't need the MicroSD installed to get it running.
Easy as 1,2,3
The C2C (Mini O Plus) comes with a magnetic base and mounting kit for easy placement on walls or ceilings. Once set up, you can manually adjust it to cover just about any angle you need. The C2C (Mini O Plus) delivers full HD 1080p video, and with a 135° ultra-wide-angle lens, it covers a wider range of space, so you can keep an eye on what's valuable to you.
I liked that I was able to get a view not just of my mom, but I can pinch the picture for a closer view of my Mom, but of the whole room and even the outside of the room. Plus, when it's dark, the C2C (Mini O Plus) automatically switches to night vision mode for around-the-clock Full HD video coverage. The lens is ringed with infrared lights for night vision up to 7.5 meters.
Here's the magic — at least for me — the C2C (Mini O Plus) watches for movement.
It will take a picture and send alerts to my cell phone when it detects motions.
And, the camera comes with a built-in microphone and speaker, enabling two-way audio via the camera and your cell phone.
When I see something that need immediate action I am able to press the speak button and immediately our helpers at home hear me and comply with my instructions. The helpers are also able to speak to me through the camera and let me know what is happening as it happens.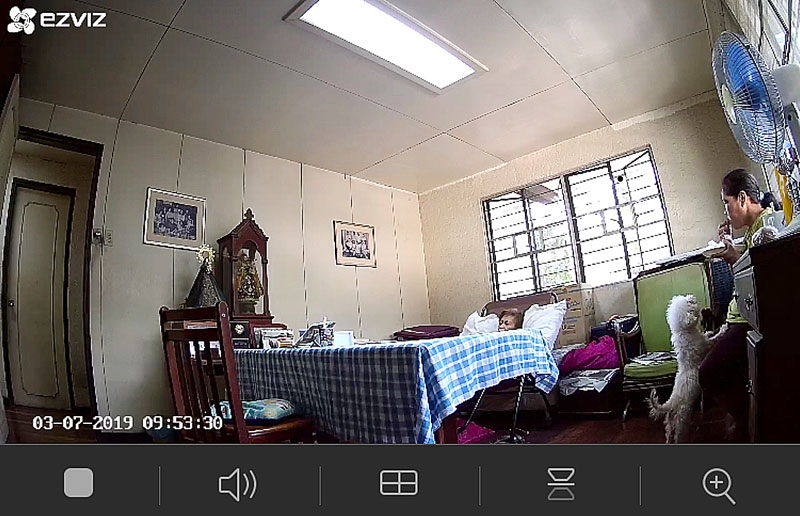 A photo captured on my cell phone
Better than calling home and having to wait for someone to answer the phone.
I also like that the camera is small enough to transfer from room to room without much hassle — this way I see my mom when she is in her room watching TV or in the dining room having a meal.
If I like a video or I want to show the helpers what they are doing wrong I can record the video and play it back to them when I get home — it's that simple.
I have watched lots of CCTV footages on TV and one thing we do notice is that there is no recorded sound — something that I think is important when we use the camera to watch either our kids or aging parents.
Now, please don't get me wrong I would never recommend this camera for spying — which is why my helpers know they are being watched. They just don't know the exact time I tune in unless I speak to them.
The Ezviz C2C Mini O Plus was something that I didn't plan on getting — but when situations call for it we do what we have to do.
Yes, I would recommend this camera if you want to keep a close eye on what really happens at home when you are no there.
It makes me feel safer — even when I am away.
That is a good thing.
* * *
In the Philippines, the EZVIZ portfolio will be officially distributed by VST ECS Phils., Inc. (formerly MSI-ECS Phils., Inc) this March.
For information, visit https://www.ezvizlife.com/ and https://www.msi-ecs.com.ph/