BPI and RBank to merge, with BPI as the surviving bank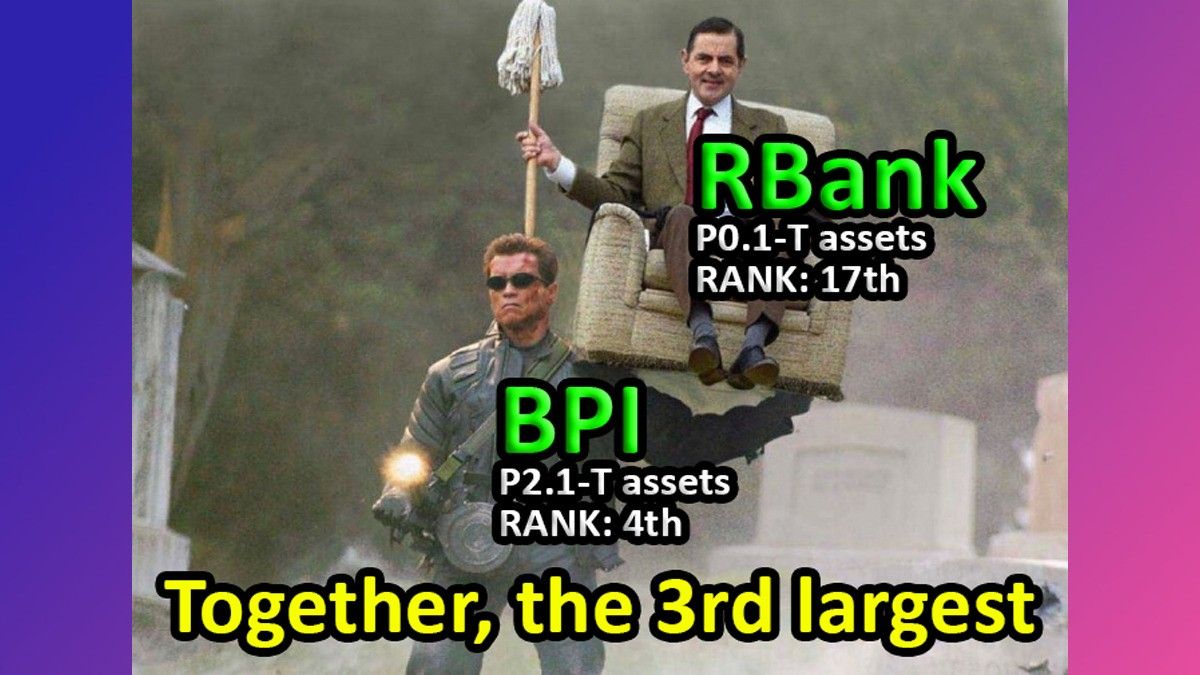 In a follow-up to Spot.ph's breaking news, BPI [BPI 89.50 0.56%] and JG Summit [JGS 42.05 4.43%] subsidiary, RBank, confirmed their planned merger in a series of disclosures [link] to the exchange on Friday afternoon.
The details of the transaction are still high-level, but it appears as though BPI will pay the shareholders of RBank (JGS and Robinsons Retail Holdings [RRHI 54.70]) an amount of BPI shares equivalent to approximately 6% of BPI's outstanding stock.
The proposed merger still requires positive BPI, JGS, and RRHI shareholder votes, plus regulatory approvals from the BSP, PDIC, the SEC, and a review by the Philippine Competition Commission.
The rationale for the merger, as supplied in BPI's disclosure, is to "unlock various synergies": RBank customers gain access to the larger array of financial products offered by BPI, and BPI gains access to RBank's deposit base and prime customer-facing branch and ATM locations within Gokongwei-owned properties.
The parties said that the timetable of the merger depends on the completion of the shareholder votes and regulatory reviews.

MB BOTTOM-LINE
The addition of RBank's P0.16 trillion in assets will give BPI just enough juice to pass the Ty Family's Metrobank [MBT 48.50 0.61%] and move into third place on the BSP's list of the country's largest banks by asset value.
The merger, like a wedding between the offspring of two royal families, will give BPI the pulling power of two of the country's largest and most-influential oligarchical families. In the banking game of thrones, the houses of AC and JGS are now combined.
There is also the matter of GoTyme, the digital banking arm of the Gokongwei Family.
Many news sources claim the Gokongweis are selling RBank in order to "focus" on GoTyme, and while that might be true, it is interesting to note that RBank itself is a 20% shareholder in GoTyme, and that BPI has, through this merger, just acquired a substantial minority stake in the Gokongwei's digibank startup.
--
Merkado Barkada's opinions are provided for informational purposes only, and should not be considered a recommendation to buy or sell any particular stock. These daily articles are not updated with new information, so each investor must do his or her own due diligence before trading, as the facts and figures in each particular article may have changed.