What are prefs, and why is BRN selling them?
September 16, 2021 | 8:45am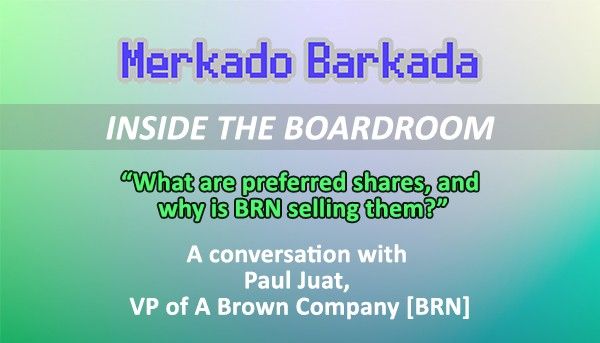 Merkado Barkada (MB): So, before we get started, I just want to say that it actually caught me by surprise that BRN would be selling preferred shares, so I'm really looking forward to hearing more about all the issues the board dealt with in deciding to sell the preferred shares. Feels like we haven't heard from BRN in such a long time!
Paul Juat, BRN VP (PJ): Thanks for the opportunity to give a little context to the preferred shares sale. We get that BRN's financials are not as straightforward and can be challenging to digest and that a consequence of going about our business quietly is that our company isn't "top of mind". Public awareness of what we do is actually quite low, considering our recent years of consistent profitability!
MB: Can you give the readers a quick overview of the terms of your preferred shares sale?
PJ: Sure. BRN is selling 10 million preferred shares for ?100 per share, with an over-allotment option of 5 million additional preferred shares, for a total equity raise of ?1.5 billion. The initial dividend rate will be between 6.5% and 7.0% per year, paid quarterly. Pending regulatory approvals from the SEC and PSE, we're tentatively scheduled to conduct the offer period from October 11 to 19, with the IPO listing on October 28.
MB: What will BRN use the proceeds for?
PJ: We're looking to jumpstart BRN's development pipeline of real estate projects, and to add strategically to our landbank to keep that growth going for years to come. The pandemic shifted housing demand to favor open spaces. We recorded a record high reservation sales in 2020 of Php 1.5B and looking forward to a stronger 2021. We have established a good track record having completed more than 5,000 middle to high-end units in key cities in Mindanao and looking to expand to Luzon through our upcoming projects in Rizal.

Part of the proceeds will also be used for the electron beam project to be set up in Tanay, Rizal to sterilize single-use medical devices, herbs and spices, fruits, and seafood. We see this as a growth business that has the potential for expansion in key locations nationwide as the market develops.
MB: Did BRN consider using a FOO or SRO to raise the equity needed for all these projects?
PJ: Doing this raise through a FOO would be very dilutive, and we wouldn't want to burden our minority shareholders with additional cash calls like what would happen with an SRO. Selling preferred shares allow BRN to conduct a capital raise without being dilutive to the existing (common) shareholders. The main consideration in with a prefs issuance is the ability of the seller to pay and service dividends, and BRN's EBITDA and net income trends have shown that it can do it.
MB: So concerns about dilution eliminated conducting a FOO or SRO, but what about going with just straight debt? Why would BRN choose to sell prefs rather than deal with banks for a loan?
PJ: Well, BRN would still take on the preferred sale even if the equivalent debt was available. Preferred shares allow us to raise a relatively large amount without being tied up too much with the banks. We also like the flexibility that comes with preferred shares. We can use the entire amount of the raise for 5 years, and this would allow us to maximize the turnaround for shareholders. We'll have the capital in place to develop our pipeline projects eventually converting our land bank into cash. Compare that to having to service principal and interest in equal periods for debt, and you can see how the scales would tip in favor of preferred shares.
MB: Would BRN have been able to do this through debt, or were there any issues like existing debt covenants tied to debt-to-equity ratios that would have prevented that anyway?
PJ: Debt ratio covenants are waived on all of our existing loans, so that was not a major concern. If we classify the preferred shares as equity, our D/E ratio would be around 0.37 by year-end. If we took the entire amount as traditional debt, our D/E ratio would still only be 0.80, which is still livable and below industry standards. We are going the preferred shares route because of the value that it brings to BRN and its shareholders, not because it was our only option.
MB: How do preferred shares tie into BRN's medium-term and long-term plans in a way that debt would not have? Is there anything about your plans that made preferred shares look better than traditional debt?
PJ: That's a great question. The real estate cycle usually takes 4-5 years to convert projects into cash, so that time-horizon actually matches very well with the 5th year dividend rate step up date. That's usually when the offering company will redeem the preferred shares, sometimes by issuing a new tranche of preferred shares. We see this all the time on the PSE. With bank debt, the repayment horizon would likely exceed this phase of BRN's growth; we'd still be servicing that debt at a time when we'd like to be gearing up for another growth raise. Doing preferred shares now, we get to apply as much of the proceeds as we can to growing now and seizing the opportunities that we see in the market and leave ourselves in a better position to tap debt markets on the other side.
MB: Would BRN use another preferred share offer to redeem these preferred shares before the step-up?
PJ: That's definitely a possibility, but the unique thing about our preferred shares this time is that the majority of the proceeds will go directly to capex, to starting and finishing projects, and to buying land for future projects. From a dividend and yield perspective, the outcome is the same for the investor, but in this issuance, there's the real chance to be a part of a real growth story.
MB: How would investors in the preferred shares sale get a piece of that growth story?
PJ: Investors can receive stable and regular dividends with higher yields compared to other common shares and bonds. Profits from operations will be distributed to preferred shareholders according to the set dividend rate.
MB: Thanks for answering my questions, and for the interesting look into the issues the BRN board grappled with deciding to sell the preferred shares. Best of luck with the offering!
PJ: Thanks for the opportunity! Hope this clarifies and gives a better picture of what BRN is doing.
BARKADA BOTTOM-LINE
I feel very lucky to have had the chance to take Barkadans "into the boardroom" again, and I want to thank Mr. Juat and BRN for letting MB in on some of the board's thinking around the strategic use of preferred shares to raise equity and discussing with us some of the financial impacts and opportunities that could result from such a raise.
I hope to keep this feature going, to keep providing the kind of content that strips away the formality of the financial market and fills in some of the contexts that don't make it into disclosures, press releases, or typical news articles.
I always think that it's a good sign when a company aims to be more communicative about what it is doing, what it plans to do, and why. After speaking with Mr. Juat, it seems pretty clear to me that BRN is gearing up for a hard and sustained push into the opportunities that it sees in the property sector, and that this preferred shares equity raise aligns very neatly with BRN's plan. Assuming the rise and subsequent development proceed smoothly, what Mr. Juat is talking about here is the first step in what looks to be a 10-year plan to lean into property development with as much force as the company can give.
As with any 5- or 10-year plan, challenges will pop up. BRN will need to deal with known unknowns and unknown unknowns, but it sounds like the management team has found the right tool (preferred shares) for the job. They raise a massive chunk of equity that they can put to work immediately, pay for it with dividends that they've demonstrated they can service, keep their financial statements relatively clean and lightweight, fuel a 5-year development cycle with as much dry powder as possible, and set themselves up with headroom at the end of this phase to take another big step.
Long-time MB readers will know that I'm a big fan of property development, and especially of smaller developers like BRN that are working profitable niches with proven pipelines. What I didn't know, until this conversation, was just how much conviction the BRN management team has for its real estate segment. I'd seen the disclosures about BRN's recent moves in the energy sector and mining sector, and (unfairly, it would seem) considered BRN's attention to the real estate market to be distracted somewhat by these deals. Based on this conversation, I think that I was wrong about that. BRN hasn't lost its focus, and in fact, is putting its money where its mouth is with this audacious preferred shares sale.
Long-time MB readers will also know that I never make any recommendations about what stocks to buy or sell. This time is no different. I like BRN's plan, and I think their use of preferred shares, in this case, is both smart and practical, but whether an investment in BRN's preferred shares is right for you is a question that you need to answer yourself. All investments carry risk (even preferred shares and bonds), and each investor comes to the market with a different set of circumstances. If you're interested in BRN's plans, or if this conversation has made you curious to learn more about preferred shares, please read the "Preferred Shares 101 (refresher)" section below, and stay tuned because I plan to cover the BRN offering alongside the JFC and MWIDE offerings and track these investments as I do with the REITs.
--
Merkado Barkada is a free daily newsletter on the PSE, investing and business in the Philippines. You can subscribe to the newsletter or follow on Twitter to receive the full daily updates.
Merkado Barkada's opinions are provided for informational purposes only, and should not be considered a recommendation to buy or sell any particular stock. These daily articles are not updated with new information, so each investor must do his or her own due diligence before trading, as the facts and figures in each particular article may have changed.