Iloilo: Next best haven for property investment in Visayas
(Philstar.com) - September 10, 2015 - 2:34am
MANILA, Philippines – Investing in real estate is all about spotting the right opportunity, and it's usually in places where big infrastructure and industrial projects are rising.
Here in the Philippines, we are at a stage in the economic cycle that enables job growth and real estate opportunities. We have cities that are swiftly becoming the face of progress and expansion, cities that hold so much potential for investment.
Quite significant to note is the City of Iloilo. I believe that it is on a promising direction to live up to my expectations as one of the most investment-worthy locations for property.
What makes Iloilo City a property investment haven?
It is the original 'Queen'
Iloilo was given the honorable title as "Queen City of the South" by Spain's Queen Regent Maria Christina in 1889. Beyond its title, Iloilo has been one of the most affluent cities in the 18th and early 19th centuries in Southeast Asia, establishing an international port for global textile industry and effervescent economy.
Its heritage
Iloilo's economy gave birth to its glorious image as the city of elites, business magnates, notable persons in various fields and prominent national heroes. Heritage houses and landmarks are still standing tall even today to remind the world that Iloilo is an old, royal metropolis, home to the affluent.
It is an eco-friendly city
There is a strong synergy, a sense of balance between preserving the past, chasing the dream of a bright future, and taking care of the environment in Iloilo City. Billions of pesos are spent by the government to elevate the Iloilo River, which serves as the city's historical international trading port.
Iloilo also prides itself with its well-managed traffic and urban control—the city roads have long-stretching bike lanes and walkable pedestrian lanes to promote healthy activities.
Its impeccable flavors
Rich like its magnificent past, Iloilo is a city of impeccable flavors and culinary creations. One of its most famous dishes is the Batchoy, a hot noodle soup mixed with left-over meats and secret spices, invented back in World War II in the wet market of La Paz district.
And who could miss out on the famous crispy bread topped with sweet-creamy milk that is now known as the Biscocho, a well-known pasalubong. The overflowing fresh seafood catch from Iloilo's seas also created a wide array of seafood specialties. Soon, Ilonggos will also get to taste the best ensaymada available in Richmonde Hotel in Iloilo Business Park as the hotel is scheduled to open this month.
It is the heart of festivals
Preserved in the hearts of its people, Iloilo's deep Catholic Christian traditions spawned the most genuine celebrations and festivities such as the world-famous Dinagyang Festival, showcasing spectacular choreography and intricate costumes. The Paraw Regatta Festival, the oldest boat sailing competition in Southeast Asia and its accompanying Samba de Regatta are grandiosely celebrated as well.
Its passionate people
People in Iloilo have high respect and passion in preserving their glorious past. Such passion is reflected in their gracious and warm attitude towards visitors. A walk throughout the cityscape would give you a vivid glimpse of "smiles," vibrant faces and passionate approach whenever you are lost or wanting to look around.
Your property investment in Iloilo
Iloilo City is moving forward to chase its vibrant future as the next economic epicenter in the Philippines, right next to Metro Manila.
From its glorious cultural past and heritage, Iloilo is now elevating with significant infrastructure developments. For instance in the Mandurriao district—the location of the old Iloilo Airport—a 72-hectare master-planned commercial and lifestyle township named Iloilo Business Park emerges.
The multi-faceted Iloilo Business Park is one of the country's most well-planned developments that offer a near-complete lifestyle and multi-functional accessibility. Usual real estate projects are mostly standalones, but this township is highly integrated with many linkages to commercial establishments, hotels, offices and the rising Iloilo Convention Center where the much-awaited Asia Pacific Economic Cooperation 2015 summit will take place.
For most investors, this is definitely a confirmation of the real value for money and investment. You're not just buying a condominium or commercial areas, you're actually buying the whole township, which is a dynamic and integrated community that holds great potential for business.
I had the opportunity to meet Dr. Andrew L. Tan, the visionary owner of Megaworld, developer of Iloilo Business Park. I remember him saying that integrity is non-negotiable. And that's true; we should learn to look for value in everything that we do and pursue—value for money, investment and time.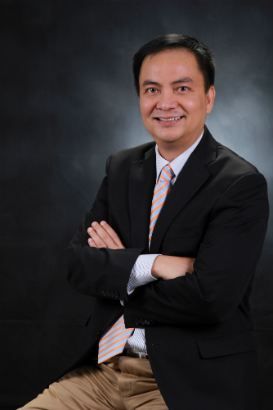 Professor Enrique Soriano, the author.
PR photo
Iloilo Business Park, I believe, is the product of his desire to offer in Iloilo something that is worthy of an investment, and of course, raises the standard of life in the province.
Knowing where developments like Iloilo Business Park are coming from, I can safely say that Iloilo, once a quiet royal city so rich in history, is well on its way as a 21st century world-class premier metropolis truly deserving of an investment.
READ MORE:
Megaworld to develop modern financial center in Iloilo
Want to try city living? Megaworld has a good spot
Megaworld's new Pampanga township to cost P30 B