Together Four-Uber
February 28, 2018 | 12:00am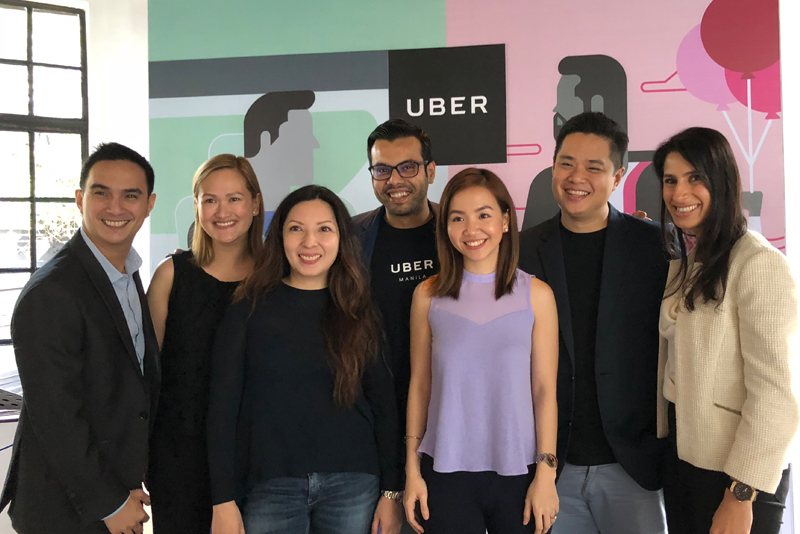 May forever ba? (Is there forever?) This is a question often asked in love and in business.
For Uber, forever didn't seem feasible initially with its rocky start in the Philippines. Back then there were no Philippine regulations that covered the concept of ride-sharing services. Taxi operators alleged that Uber and similar ride-sharing services were operating "taxi" or common carrier services without the required licenses. Eventually, the Land Transportation Franchising and Regulatory Board (LTFRB) issued regulations that classified Uber and similar providers as "Transportation Network Vehicles Services (TNVS)." Despite that, Uber underwent a period of suspension in August 2017. Last year, the LTFRB placed a cap on the number of TNVS operators.
In the face of these challenges, Uber Philippines has survived and—more impressively—seems to have come out stronger. In February 23, Uber Philippines celebrated its fourth anniversary in Manila.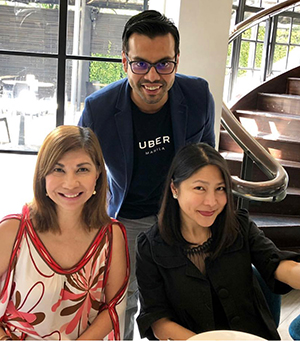 (L-R) Philippine Star section editor and People Asia Editor-in-chief Joanne Rae Ramirez, Uber Philippines Acting GM Projjal Ghatak and the author conversed over lunch at the 4th anniversary celebration of Uber Philippines at Blackbird, Makati
To celebrate this occasion, Uber is giving back to drivers, riders, government, and communities. This spirit of giving and togetherness is a recognition that Uber's success comes from working together with its stakeholders and regulators. In the next four weeks, Uber will continue its celebration and show of appreciation by rolling out new product features and partnerships.
Uber's "Momentum Program" allows driver-partners to get discounts and savings on fuel and other automobile expenses through Uber's partnership with several oil and tire companies.
Uber is also improving its driver support with extended phone support hours and friendlier ratings. A new in-app feature called "Rider Identification" enables driver-partners to verify cash-only rider signups by asking for a Facebook account. This assures drivers their riders have verified accounts, and builds on Uber's guidelines, ratings, and reporting systems to help ensure the safety of all users.
Later this March, Uber will be having their first "Safety Day" for driver-partners. Created in partnership with Petron, drivers will get free vehicle inspections and have the opportunity to attend a Defensive Driving Seminar and a talk about "Safety at Uber and Community Guidelines."
Riders who are Smart/Sun/TNT subscribers can now book Uber rides without incurring data charges by downloading the freenetPH app on their phones. Uber will also be extending its services to Pampanga City.
Uber revealed that there will be a special surprise for their riders during the fourth week of its celebration.
Uber's initiatives for the community include a donation to help rebuild school classrooms in Marawi city (through a team-up with HOPE foundation), and a partnership with Red Cross wherein Uber will support blood drives and dispatch cars to collect donations for use during times of calamity.
Through "Uber Movement," Uber aims to provide the Philippine government with data derived from daily Uber trips to help in urban planning and traffic solutions.
With all of these developments, it seems that Uber is going to maintain a strong presence in the Philippines. While challenges are expected, this may be attainable with a dynamic team and strong leadership at the helm of Uber Philippines.
I recently met Mr. Prajjal Ghatak, Uber's new Acting General Manager for Philippines and concurrent Asia Pacific Strategy and Planning Head. Prior to taking on his new assignment in the Philippines, Projjal was based in Singapore as Uber's Asia Pacific Strategy and Planning Head. He is young, intelligent and driven with a sense of purpose. Armed with a business degree from Stanford Business School, Projjal is the type to have a lot of career options. When I asked why he chose a career with Uber, Projjal said he wanted to work for a company with a mission. Based on our conversations (which ranged from exchanging stories about our experiences studying in the United States, to policies and innovations) I could sense from Projjal an ability to sympathize and have insights into the peculiar needs of developing countries. This was perhaps attributable to his formative years living in India, and his self-confessed special sentiment for the Philippines (having previously worked in Manila for a different company).
In its fourth year in the Philippines, Uber is unveiling more progressive ideas and making contributions to the community—signs that it's on the right track. If Projjal and his team can continue and improve this trajectory, we might be able to say that "may forever" (there's forever) for Uber in Philippines.