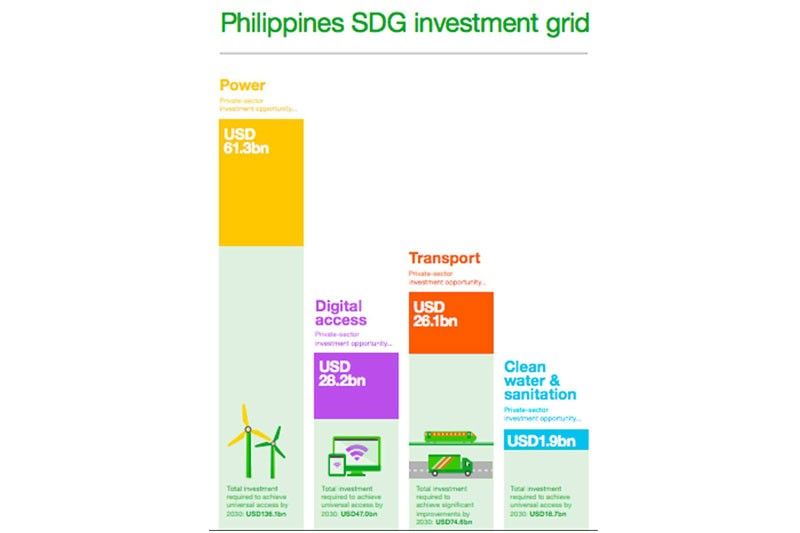 Philippines offers $117.5 billion investment opportunities under UN's SDG
MANILA, Philippines — Sustainable development offers massive investment opportunities worth about $117.5 billion for private sector investors in the Philippines to meet the 2030 Sustainable Development Goals (SDGs) set by the United Nations, Standard Chartered Bank said.
The 2030 Standard Chartered SDG Investment Map shows the Philippines needs $61.3 billion for affordable and clean energy (SDG 7); $54.3 billion for digital access and transport infrastructure (SDG 9); and $1.9 billion for water and sanitation (SDG 6).
"The Philippines is one of Asia's most promising economies. Amid rapid urbanization and industrialization, it is set to become an upper middle income country well before 2030," Standard Chartered Bank said.
As such, the bank said the Philippines needs investment across SDGs 6, 7 and 9, with the greatest investment required in power.
It said exports of semiconductors and electronic materials could see the Philippines attain market leader status over the long term, with cash flows from remittances and outsourcing operations embedding it further in the global economy and making it an increasingly attractive location for private sector investors.
The Philippine government has made energy a priority in its policymaking, and the Department of Energy recently announced two initiatives to encourage renewable energy production in an attempt to reduce the economy's current reliance on coal-fired power stations.
Standard Chartered added improving Philippine infrastructure through the Build Build Build program also requires substantial investment.
Logistics Performance Index (LPI) Infrastructure score is currently 2.73, placing it 67th in the world and raising this score significantly requires a total capital injection of $74.6 billion, requiring a private sector investment contribution of $26.1 billion.
Likewise, the current digital access rate in the Philippines – comprising mobile phone subscriptions and levels of internet access – is 68 percent and raising this to universal access by 2030 requires a sizeable investment of $47 billion, of which the private sector could contribute $28.2 billion.
While achieving universal access to clean water and sanitation may be a predominantly state-driven exercise, there remains scope for private sector investment of an estimated $1.9 billion out of a total required investment of $18.7 billion.
"The vibrant economy of the Philippines has long been attractive to private sector infrastructure investors. The current government's flagship program aims to usher in a golden age of infrastructure involving 75 projects worth $180 billion by 2022," the bank added.
It said there is almost $10 trillion opportunity for private sector investors across all emerging markets to help achieve the UN SDGs between 2020 and 2030, with China's $2.83 trillion leading the way, followed by India with $1.12 trillion, Indonesia with $280.7 billion, and Bangladesh with $132 billion.