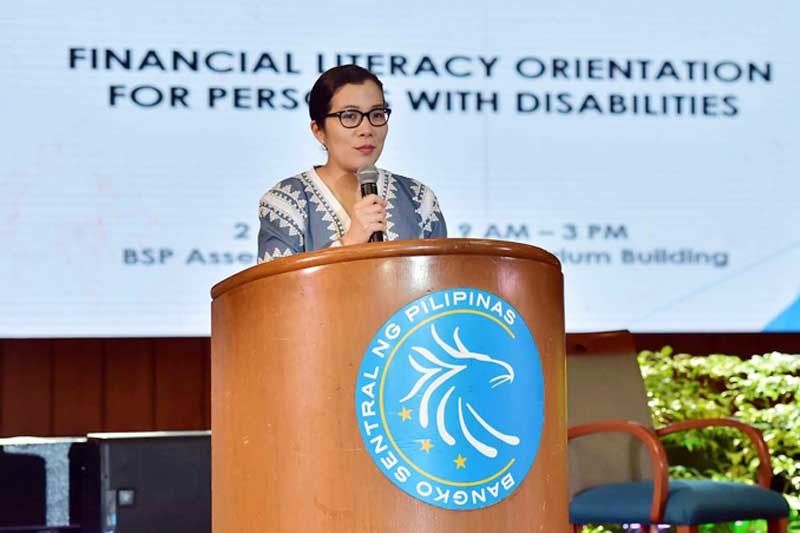 BSP managing director Pia Roman Tayag during the financial literacy orientation for persons with disabilities held at the BSP headquarters.
Credit card, e-banking top BSP complaints list
MANILA, Philippines — Credit card complaints and electronic-banking concerns continued to top banking-related consumer complaints filed with the Bangko Sentral ng Pilipinas (BSP) in the first quarter of the year.
Pia Bernadette Roman Tayag, managing director of the BSP's Center for Learning and Inclusion Advocacy, told The STAR credit card complaints and e-banking concerns accounted for more than half or 51 percent of the 3,392 complaints, inquiries and requests received by the regulator from January to March this year.
Tayag said the central bank's Consumer Empowerment Group (CEG) received 611 credit card complaints or 34 percent of the total, with unauthorized transaction as the primary issue.
Credit card category, Tayag added, is followed by e-banking concerns with 306 cases or 17 percent of the total, where the most complained issue is on unauthorized withdrawals/transaction.
E-banking services relate to a range of banking services or facilities that use electronic channels including online banking, internet banking, ATM and debit card services.
According to Tayag, almost half of 48 percent of the total cases filed in the first quarter were considered valid and were referred to BSP-supervised financial institutions while 12 percent were forwarded to other regulatory agencies including the Securities and Exchange Commission.
She said others were general inquiries, misdirected or did not provide sufficient information.
The number of complaints received by the BSP in 2018 almost doubled to 20,000 from 10,930 in 2017. However, only 11,172 complaints were found valid.
Tayag said credit card has consistently been the top category of concern processed by CEG accounts for 30 percent or 3,391 last year, with perceived unauthorized online and point-of-sale transactions as the primary issue.
She added e-banking issues at 27 percent or 3,019 and ranked second with alleged unauthorized withdrawal or transaction as the main concern followed by identity and card theft as well as unauthorized ATM or online transactions.
"As most complaints received were categorized as credit card and e-banking concerns, resolutions from the financial institutions includes restituting amount involved, offering affordable payment arrangement, providing documents as requested, among others," Tayag said.
The BSP official noted that lending that used to rank second has dropped to either third or fourth in terms of number of complaints.
Banks, she said, responded to 83.09 percent of the complaints in 2018 and 95.18 percent of the concerns in 2017. Banks and financial institutions are required to have their own mechanism for complaints handling and redress.
The BSP is also leveraging on technological innovations through a chatbot that serves as an alternative channel for public to elevate complaints to the BSP and provide automated analytics of complaints data.