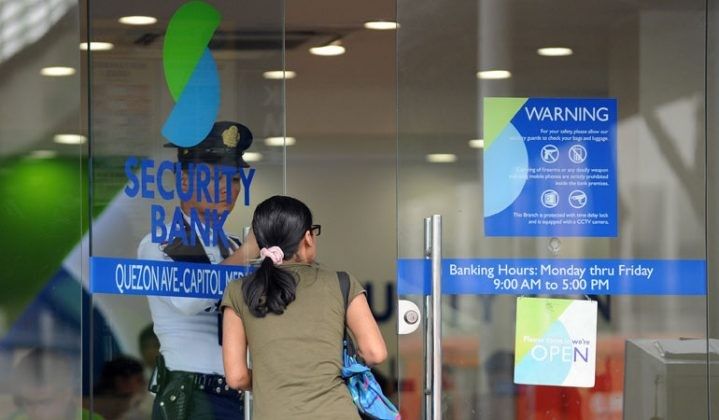 In this undated photo, a banking client enters a branch of Security Bank (PSE: SECB), recently named Best Bank in the Philippines by New York-based Global Finance.
AFP, file
Security Bank named Best Bank in the Philippines
(Philstar.com) - November 26, 2018 - 6:43pm
MANILA, Philippines — Security Bank Corp. (PSE: SECB) continues to demonstrate leadership in the Philippine banking industry.
The bank has received a string of local and international recognitions, highlighted by a Best Bank in the Philippines award from New York-based Global Finance, the same publication that hailed former Bangko Sentral ng Pilipinas Governor Amando Tetangco, Jr. as one of the world's Best Central Bank Governors for eight years.
With this citation, Security Bank joins the roster of world-class leaders—banks that have accomplished the best results while laying the foundations for future success for themselves and their customers, even in difficult markets.
With its innovative digital solutions coupled with its strong retail banking business, Security Bank is poised to make BetterBanking the new standard of excellence in banking.
Innovative digital solutions
Security Bank's products and services adapted to the digital age without losing the heart of customer service—convenience and practicality. When it comes to digital transformation, the bank prides itself in producing practical and innovative banking solutions that customers find highly useful and valuable.
Its digital solutions are also designed to cater to the needs of both older-generation clients who prefer to transact over-the-counter and younger-generation clients who prefer to transact online.
The bank's digital drive continues to produce practical and innovative banking solutions that are at par with the evolving business landscape and financial behavior of customers. The bank has revamped its online platforms and entire IT network, including the customer-facing front-end.
Security Bank's DigiBanker, a corporate electronic banking and cash management solution, has quickly established the bank as a major competitor in the wholesale banking market.
The Human Switch Kit and Online Account Application removed traditional banking hurdles such as the submission of numerous repetitive requirements and the long process in onboarding new customers. Its location-based mobile selling has enhanced the credit card transaction experience while its mobile app has been enhanced and now features customer-friendly interface and user functions.
In early 2018, Security Bank was named the Best Digital Bank in the Philippines by the London-based Capital Finance International "for pushing the technological envelope with innovative products, services and apps that not just meet today's needs but are ready to face the future, and for paying special attention to integrate its digital offerings with the facilities available to clients via its branch network."
As the Philippine banking industry embraces digitalization, Security Bank said it will continue with its efforts to innovate its services for a BetterBanking experience.
Strong retail banking pillar
Security Bank is driven by its commitment to become a better bank for its customers. With that as the foundation, the bank has steadfastly built its retail banking business as the third business pillar of the bank, complementing its strengths in wholesale banking and financial markets.
The bank began to focus on and build its retail banking business four years ago with its rebranding campaign and retail banking transformation, which introduced the "BetterBanking" experience to customers.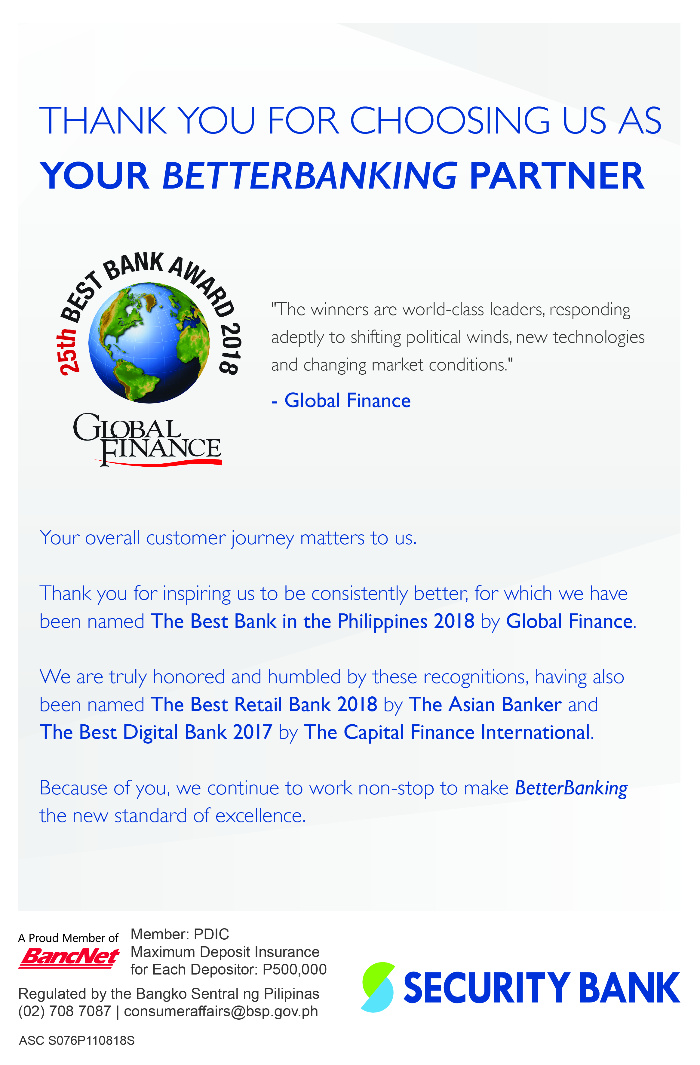 Since the rebranding, the bank has received a number of awards that recognized its retail banking products and services. In addition to its Best Bank in the Philippines citation from Global Finance, Security Bank was recognized by The Asian Banker as the Philippines' Best Retail Bank at the International Excellence in Retail Financial Services 2018 Awards ceremony in Malaysia.
The Asian Banker applauded how Security Bank strategically positioned itself as an innovative and customer-centric retail bank, noting that "Security Bank stood out as a bank that leverages technology and analytics to bring better customer experience."
Following this award was a similar title from respected financial magazine Alpha Southeast Asia, which described Security Bank as "the best banking partner in the Philippines."
Security Bank has broadened its consumer finance product offerings by introducing Salary Advance and Business Express Loan.

Receiving the Best Bank in the Philippines award from Global Finance is Security Bank President and CEO Alfonso Salcedo Jr., Corporate Governance Asia's Best CEO in Asia (Investor Relations, Philippines) for three years.
Its Salary Advance Loan Program, or SALAD, allows customers to avail of short-term loans through a fully automated mobile cash facility while its Business Express Loan caters to owners of micro-, small- and medium-sized enterprises that need help financing their businesses' short-term needs such as equipment, office space or cash for day-to-day operations. This service comes with minimal documentary requirements, fast approval and auto-crediting of funds.
The bank has also expanded its low-cost deposits by offering free insurance to its All Access Account, a product that offers customers all-around access to their funds via passbook, check book, mobile app and EMV debit MasterCard.
The bank's All Access Account continues to have a stellar reception by the banking public and was recently named The Deposit Product of the Year at The Asian Banker Philippines Country Awards 2018.
"Although younger and smaller compared to the three large banks in the industry, Security Bank leads in terms of process and technology and has leveraged on automation for seamless operations and straight-through processing," The Asian Banker noted.
Security Bank thanks its customers who are at the center of its efforts. Moving forward in 2019, Security Bank is committed to pursuing even more BetterBanking solutions for its clients.
Security Bank is regulated by the Bangko Sentral ng Pilipinas. The bank is also a member of BancNet and the Philippine Deposit Insurance Corporation, or PDIC.