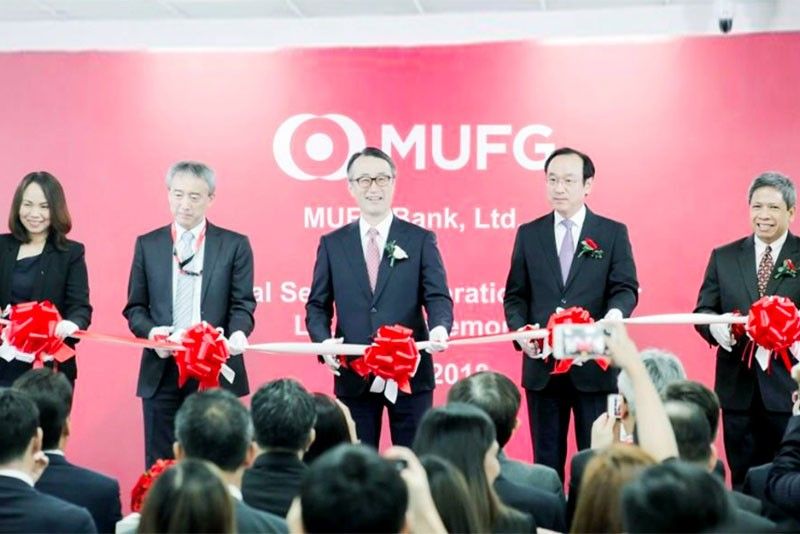 (From left) BSP managing director for financial supervision research and consumer protection sub-sector Lyn Javier, MUFG Bank's GSOC head Akira Yoshikawa, MUFG Bank president and CEO Kanetsugu Mike, Japan Ambassador to the Philippines Koji Haneda and Security Bank president and CEO Alfonso Salcedo lead the inauguration ceremony of the Global Services Operations Center.
More foreign banks pick Philippines as hub for global operations
MANILA, Philippines — More foreign banks are trooping to the Philippines not only to put up branches or representative offices, but to transform the country as the hub for their global operations.
Tokyo-based MUFG Bank Ltd. is the latest foreign bank to pick the Philippines as the site of its Global Services Operations Center (GSOC).
Kanetsugu Mike, president and CEO at MUFG Bank, said the establishment of a GSOC in the country would further improve the productivity of its operations in overseas units and at the same time develop an efficient operations platform to support its transaction banking business.
"This is our first centralized operations center covering different countries, and it is aligned with our strategy to strengthen our competitiveness. I wish to underscore our ongoing commitment to the development of this great nation," he said.
The bank chose Manila primarily due to its large English-speaking population. The center would initially employ 50 local hires that would gradually be increased to around 300.
Another compelling reason was that business process outsourcing (BPO) contributes a great deal to the country's yearly gross domestic product (GDP), and many foreign companies have set up their operation centers in the Philippines.
MUFG Bank picked the Philippines after undertaking a preliminary study of the centralization of operations in the Asian region in April 2015.
GSOC would contribute to the establishment of a solid operations foundation by standardizing and improving the quality of operations in the Asian region. MUFG intends to continue working to further fulfill customers' various needs.
Some operations that would be transferred to the GSOC include Singapore in August, followed by Sydney and Auckland in February next year, and Taipei in May.
Last June, Dutch financial giant ING Bank unveiled plans to expand its global shared services hub in the Philippines through ING Business Shared Services Inc. to meet the rising demand for processing services from its wholesale banking operations in Asia and Europe.
Other banks operating GSOCs in the country include J.P. Morgan, Wells Fargo, HSBC, among others.
A total of 12 foreign banks are operating representative or liaison offices in the country including Wells Fargo Bank National Association, Korea Development Bank, Bank of Singapore, DBS Bank, Japan Bank for International Cooperation, Rothschild (Singapore) Ltd., the Bank of New York Mellon, Korea Eximbank, UBS AG, the Ogaki Kyoritsu Bank Ltd., State Bank of India, and Bank of Taiwan.
On the other hand, foreign banks that have established branches in the country include Taiwan's Hua Nan Commercial Bank Ltd., Cathay United Bank, Yuanta Bank, First Commercial Bank, and Chang Hwa Bank Commercial Bank Ltd.; Korea's Shinhan Bank, the Industrial Bank of Korea, and Woori Bank; Sumitomo Mitsui of Japan; United Overseas Bank Ltd. of Singapore, CIMB Bank of Malaysia, and Beijing-based Industrial and Commercial Bank of China.