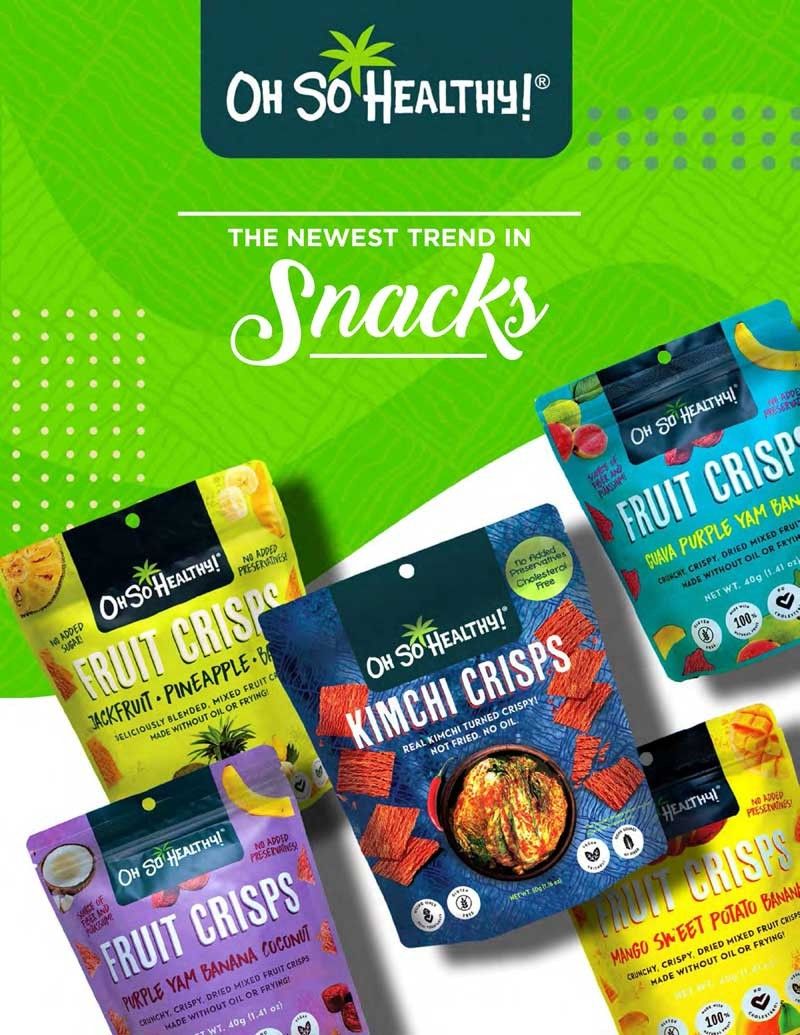 Small firm makes it big as snack food producer
The Oh So Healthy! success story
MANILA, Philippines — No matter how old you are, it is never too late to do something you want.
This holds true for Filipina-Chinese businesswoman Almay Gaw-See, chief executive officer of Innovative Packaging Industry Corp. (IPC), a Bulacan-based food firm that manufactures fruit crisps using purple yam and camote under the Oh So Healthy! brand.
See knew it was risky to open a food business but she didn't want to miss this chance.
Having been involved in the manufacture of consumer goods for multinational firms for over 20 years, See decided to enter the snack food market.
A healthy alternative to snack food staples, Oh So Healthy! crisps are made from 100 percent real fruits. Each of its products are prepared using the most natural ingredients and without any frying or oil.
"Our commitment is to deliver products that help support the local agriculture. We source our products from local producers that advocate for a sustainable and diversified future for farmers," See said.
After extensive research and development, See and her 12-man team combined certain fruits and came up with three variants (all halal, Kosher and HACCP certified) — Mango Sweet Potato, Purple Yam Banana Coconut and Guava Purple Yam Banana.
"Since this is food, you want to make sure it is not harmful to people and all your claims are science-based and not just from the wind. We want to be the most trusted snack without shortchanging our clients," See said.
See quickly grew her business to the point where her snacks are now sold in major supermarkets and stores nationwide such as Rustan's, Robinsons, SM, Landmark, Starbucks and Mercury Drug.
She got her food products on retail shelves in just a span of one year, a big accomplishment for a small producer like IPC.
"Getting into supermarket aisles wasn't easy. I didn't realize that you have to negotiate, wait for your turn for months. The whole process was just so tedious," See said.
Apart from supermarkets, Oh So Healthy! has penetrated the e-commerce market through Lazada, Shopee, Honestbee, Beauty MNL, Shopinas and Metromart.
Oh So Healthy! has also found its way overseas. Its products can now be bought at Lotte supermarkets in Korea, Singapore's NTUC FairPrice, RedMart and Cold Storage, Hong Kong's Sogo, China's Ole' Supermarket, Seafood City (a Filipino supermarket chain in the US)and Japan's Yata Supermarket.
"Our vision for the long term is to hit the mainstream market in the US because we want to bring pride to the Filipinos and our Filipino farmers," See said.
The best part of the story is that that business is making a difference in people's lives.
IPC has forged an agreement with farmers from Soccsksargen to supply purple yam and camote for its crisp production. It buys the commodity at a price of P35 per kilo, allowing farmers to earn at least P350,000 a month.
"It's a win-win for us. We are not only helping the farmers. We are also assured of the quality of our product requirements," See said.
Oh So Healthy! sources majority of its raw materials from Mindanao. But given the high cost of transportation, IPC is considering developing a manufacturing facility in Davao.
"We have to address the supply chain. Right now, we can still manage because we are not yet that scaled up but as we grow, we have to decide where the raw materials will come from," she said.
As Oh So Healthy! celebrates its third anniversary, See has developed a sense of purpose that fuels her passion to improve the livelihood of small farmers.
"This has been an eye-opener for me. I am so thankful that we decided to do this. I feel so fulfilled compared to what I used to do before. I have learned so much and it is true what they say that you should consider yourself blessed when you can be thankful for the hard work that you put in," See said.
"My biggest takeaway is that you really have to love what you do. It's like I found a new passion. I have been telling my kids that if they do something, they should help humanity in their own way," she added.