Cash remittances prove strong despite Omicron variant snag in March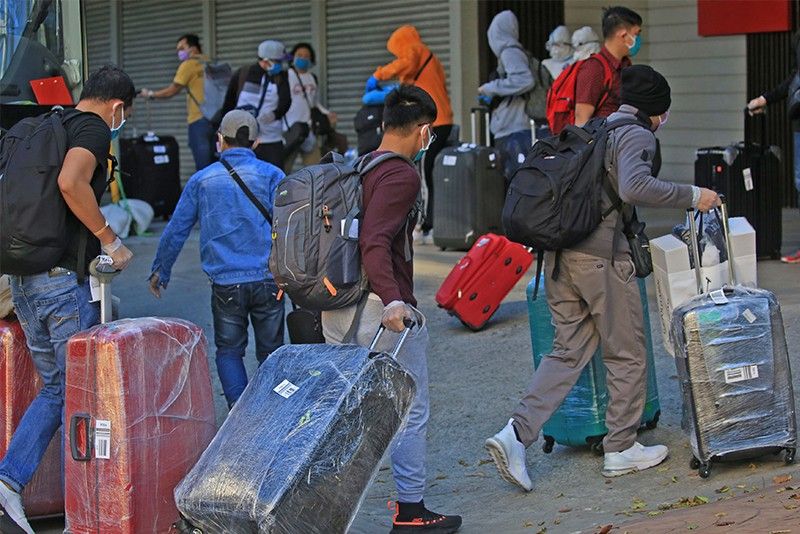 MANILA, Philippines — Money sent home by Filipinos abroad to their families expanded in March as more economies normalized following the Omicron explosion.
What's new
Cash remittances coursed through banks rose 3.2% year-on-year in March to $2.59 billion, the Bangko Sentral ng Pilipinas reported Monday. This was faster than the 1.3% growth recorded in February, a precocious situation then as the Omicron variant wreaked havoc across the world.
In the first quarter, cash remittances amounted to $7.77 billion.
Why it matters
Remittances are considered pillars of economic strength for the Philippines' consumption-driven economy, as money sent home by migrant Filipinos helps increase the spending capacity of their families here.
Likewise, remittances are also crucial sources of dollars for the country. In 2021, remittances amounted to $31.42 billion, expanding 5.1% compared to the 2020 haul. The collections slightly missed the BSP's forecast of 6% growth, but BSP Governor Benjamin Diokno said he hopes remittances would rise this year.
For 2022, the BSP forecasts cash remittances to grow 4% year-on-year.
What an analyst says
Sought for comment, Jeremiah Opiniano, professor at the University of Santo Tomas and executive director at the Institute for Migration and Development Issues, said: "Economic activities in host countries slowly normalize. I think many of these countries have gotten the hang of conducting business and economic activities beside the pandemic. Vaccinations contributed greatly to these resumptions of economic activities."
Opiniano is wary since the public health situation could worsen any time. Statista data revealed 1.53 overseas Filipino workers have been repatriated as of January 2022.
"Note though that these countries' labor markets may not yet be fully open to foreign workers, no thanks to current variants / lineages of SARS-CoV-2 (e.g., recently Taiwan, Korea, China). So let us not get excited that labor migration pre-pandemic levels will immediately return. It will take a little more time for those labor markets to normalize. Remember the WHO has not yet declared that COVID-19 has reached endemicity," Opiniano added.
Other figures
The BSP said 41.5% of cash remittances in the first quarter came from the United States, while the rest came from Singapore, Saudi Arabia, Japan, the United Kingdom, the United Arab Emirates, Canada, Taiwan, Qatar, and Malaysia.
Remittance from land-based workers inched up by 3.7% year-on-year to $2.021 billion in March. Sea-based workers brought in a total of $573 million, which expanded by 1.3% year-on-year.