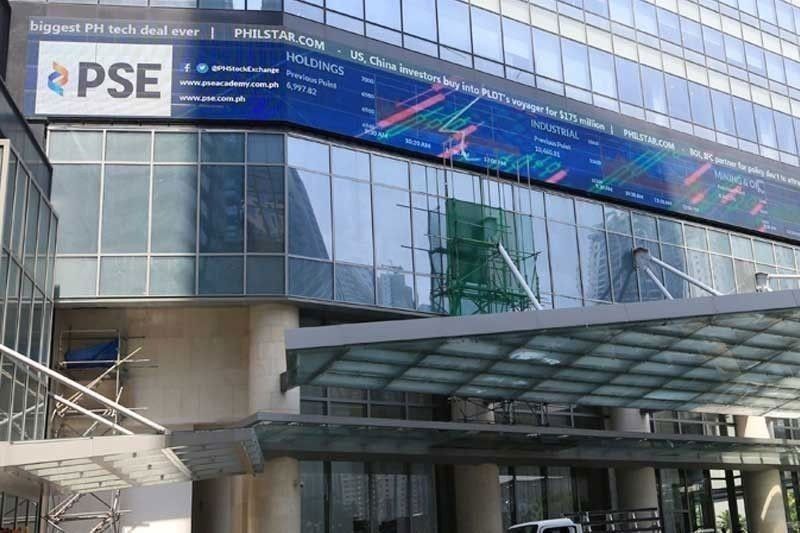 This undated file photo shows the Philippine Stock Exchange building in Taguig City.
Edd Gumban/File
Mining and oil stocks soar on lifting of exploration ban in West Philippine Sea
MANILA, Philippines — Mining and oil stocks roared on Friday, with some firms hitting their highest price for the day as investors cheer the Duterte administration's decision to lift an oil exploration ban in the resource-rich West Philippine Sea.
The mining and oil sub-index climbed 10.79% to cap the week at 7,398.21, defying lackluster performance of the main index which inched down 0.67% to 5,898.47.
Luis Limlingan, head of sales at Regina Capital brokerage, said the lifting of the moratorium on oil exploration in the West Philippine Sea pushed up the stock prices of mining and oil firms, adding that the rally is "sustainable so long as (companies) can continue to explore for oil."
"There is said to be a lot of reserves but it will take a while to fully develop. Regardless, investments will start coming in should this happen," Limlingan said in a Viber message.
Ban implemented during arbitration case
As the country races against time to prepare for the depletion of Malampaya gas-to-power facility, President Rodrigo Duterte decided to end the ban on petroleum exploration in the West Philippine Sea, the energy department said Thursday.
The prohibition was enforced by Duterte's predecessor, Benigno Aquino III, in late 2014 after the Philippines filed an arbitration case against China over its maritime encroachment.
In turn, the suspension disrupted talks between Manuel V. Pangilinan-led PXP Energy Corp. and China National Offshore Oil Corp. (CNOOC), which were in the middle of striking a commercial energy venture at the time to jointly explore and develop Reed Bank, believed to hold rich oil and gas deposits.
With the ban now lifted, shares in PXP Energy, operator of Service Contract 75 in the West Philippine Sea, hit the ceiling price of 50% to close at P7.72 apiece on Friday. A total of 6.1 million company shares, valued at P47.2 million, switched hands during the last trading day of the week.
Meanwhile, Ongpin-controlled Atok-Big Wedge Co. Inc. also reached the price surge limit to end the week at P11.54 each. The company has a 20% stake in UK-based Forum Energy Ltd., which operates Service Contract 72.
Other notable gainers in the mining and oil counter were Apex Mining Co. Inc. (34.84%), Philex Mining Corp. (20.76%), Semirara Mining and Power Corp. (3.51%), Nickel Asia Corp. (2.54%) and Global Ferronickel Holdings Inc. (1.56%). Shares in Century Peak Holdings Corp. ended flat at P2.54 each.
Moving forward, April Lee Tan, research head at COL Financial, said the government's plan to revive the country's mining industry could also help extend the rally. "There was news previously that the government is selling its mining assets to generate more revenues, which should benefit mining companies," Tan said in a text message.