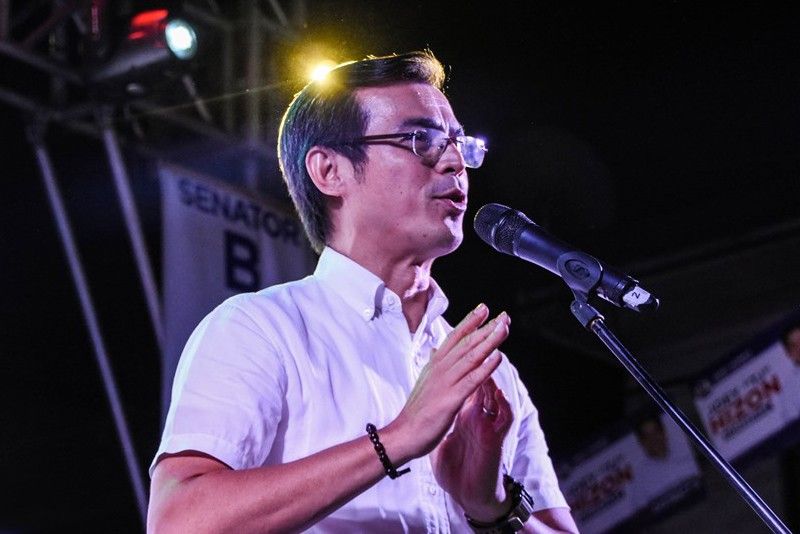 He served as Manila councilor for nine years and then as vice mayor. But he had the initiative to attend governance courses at the Kennedy School in Harvard and then in Oxford. That only shows he sees more in public office than making it a family business.
Isko Moreno Domagoso FB Page
DEMAND AND SUPPLY
-
Boo Chanco
(The Philippine Star) - September 23, 2019 - 12:00am
Manila Mayor Isko Moreno said in so many words to hold the praises because he has really done nothing yet other than basic governance.
The problem with us, the mayor said, is that we have gotten used to corruption and inefficiency as normal. "So, when I start doing what is expected of a mayor, it is abnormal."
I met the mayor for the first time last week when he spoke before the Foundation for Economic Freedom (FEF). I have covered all sorts of politicians and officials in my journalism career, but I have yet to figure out who Mayor Isko Moreno really is. Those who know him tell me "what you see is what you get." Few politicians are like that.
He served as Manila councilor for nine years and then as vice mayor. But he had the initiative to attend governance courses at the Kennedy School in Harvard and then in Oxford. That only shows he sees more in public office than making it a family business.
He started poor… knew hunger in his youth… lived in a garbage… then got a break in showbiz. If lots of money is all he wanted, he could have remained in showbiz. He seems strongly motivated to show the world that poor boys can aspire for anything in life and achieve it.
The young Manila mayor caught the people's attention the day after he was sworn into office. Over the next two months and a half, he has done more than his predecessor who had two terms at city hall.
Indeed, the mayor provided a bright spot of hope at a time when many Filipinos have given up on their public officials. People wonder if he is for real, or if he can keep this up.
The mayor seems amused at all the attention. "I just do what I am supposed to do under the law," he said, "I am just doing basic governance."
He cited the example of rampant rumbles involving young people in the depressed areas of the city. He used a long existing city ordinance that penalized parents of children caught in the streets. He imposed a curfew for children from 10 p.m. to 4 a.m. Overnight, there was peace and order.
As for clearing the streets of Divisoria, he said he simply talked to the organizers in the language of one who grew up in Tondo and they understood. The streets were clean the day after his deadline.
The mayor joked that the eminent business people in the audience are in the wrong careers. If they want oodles of money, they should just be mayor of Manila… he was offered P5 million a day to look the other way in Divisoria. He rejected it and insisted that they give the streets back to the people.
The mayor manages by wandering around. He wanders around at odd hours of the day and night. No city official or even police officer is safe if he finds something wrong in their areas.
The mayor said his idol in governance is the late Singapore Prime Minister Lee Kuan Yew. He has been reading a lot about LKY and tries to apply lessons learned.
He also subscribes to the broken window theory used by Mayor Rudy Guilliani in New York City. This is why he is focused on cleaning up the city and asking the private sector to help him revive the historical buildings in Escolta and Binondo.
He claims to have a PhD in garbage management because he spent a good part of his youth earning a living in the garbage dumps. He knows what to do about garbage collection, which he said, starts with changing the mindsets of citizens.
Hunger is a special concern of the new mayor. So he sought the help of another Tondo boy, Ramon Ang of San Miguel. Last week, the mayor and Mr Ang inaugurated SMC Better World Community food bank and education center in Tondo.
The San Miguel feeding program would help students do better in school. "I know what it feels like to come to school starving," said Moreno. "Hindi lang ako, pati 'yung mga kaklase ko, medyo slow at hirap 'pag walang chicha," he said.
San Miguel Foundation's "Better World Community" will provide daily meals to impoverished kids in Tondo for the next 10 years. They are also planning to build nine other food banks in other depressed areas of Manila. They are working with another volunteer group to help gather food donations from restaurants and hotels.
Ease of doing business is now a reality in the City of Manila, he said, and business permits can be had in a day or two at the latest. He said there is no valid reason to delay.
There are those who say the mayor reminds them of Duterte and is his best successor in 2022. But Mayor Isko dismisses the thought. He is focused on proving good governance can change the city for good.
But I noticed how he differentiates himself, perhaps subliminally, to Duterte. He says he believes in the rule of law and he intends to stay within the law at all times. No EJKs, no shortcuts.
Highly placed sources tell me that Duterte is a fan of the mayor. Duterte likes the spunk and humility of the man. Duterte liked it that when Moreno reportedly asked to be made DSWD Secretary, but it was already promised to someone else, Moreno accepted being undersecretary.
"Take a second look again at Manila. Give me a couple of years. Tingnan natin kung sino ang magwawagi - yung nakagisnan o yung luma - yung luma na tama. Kasi what happened to us - yung abnormal naging normal…"
Will a basurero be the next tenant of Malacañang? Probably, but he has to prove he can collect Manila's garbage first and deliver a City of Manila we can be proud of.
Boo Chanco's e-mail address is bchanco@gmail.com. Follow him on Twitter @boochanco