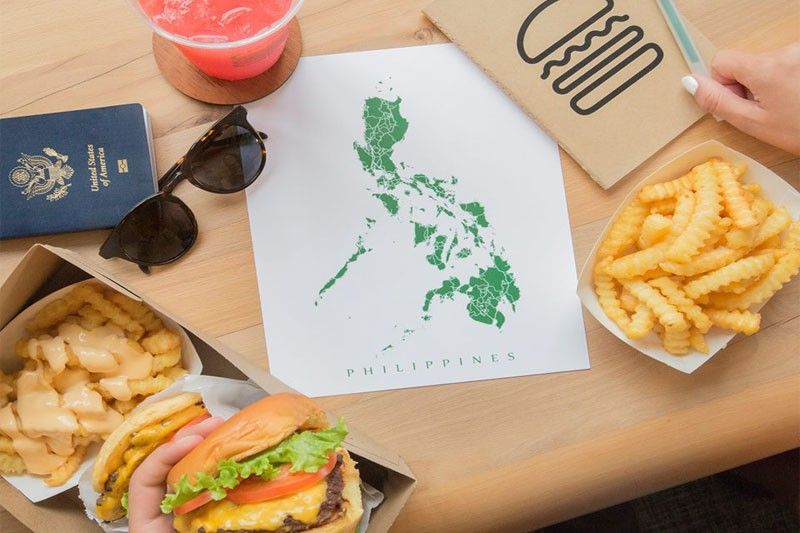 Shake Shack, "a modern day 'roadside' burger stand" is heading to the Philippines in 2019.
Shake Shack,Facebook
Shake Shack opens 1st Philippines store at BGC
MANILA, Philippines — American fast casual restaurant chain Shake Shack opens its first store in the Philippines at Bonifacio Global City (BGC) today as it looks to take advantage of strong consumer demand in the country.
Located in BGC's Central Square, Shake Shack's first store in the Philippines is its 225th globally and second in Southeast Asia.
Shake Shack chief executive officer Randy Garutti told reporters yesterday the company is opening its first store in the Philippines six years after it was first approached by retailer SSI Group to bring the brand into the country.
"I don't think we were ready to do it at that time. There were just so many things to be thinking about in the company. Now, I feel like we were ready. SSI (Group Inc.) was ready. The Philippine economy, people seemed to be ready for what we're doing," he said.
SSI Group president Anton Huang said the company, which holds the exclusive franchise of Shake Shack in the Philippines, decided to bring the brand in the country due to the huge clamor for it.
"It is known for quality and consistency in taste. As far as SSI is concerned, we want to be purveyor of lifestyle choices to the Filipino consumer. In keeping with that goal, we identified Shake Shack as a brand or concept that would really resonate well with the Filipino consumer," he said.
"Filipinos are already clamoring for it to begin with and it would be a must do part of their pilgrimage to the US," he added.
Given the clamor and excitement of Filipino consumers for Shake Shack, as shown by the restaurant's post announcing its opening in Manila getting the highest number of likes at 16,000 on its Instagram account, Garutti said the company is upbeat on the performance of its first store in the country.
"We probably serve at least 1,000 people a day in a busy restaurant. I am sure here, there will be more than that in the beginning and we'll make sure we do our best," he said.
Huang said SSI Group is also confident of meeting revenue and sales targets for Shake Shack.
Asked if there are plans to expand and open more Shake Shack outlets in the country, Huang said the focus for now is to see the performance of the first store.
"We're concentrated on doing well to serve our customers and meet their expectations. Once we've done that and I'm pretty sure we are going to get that right from the beginning or the get go, then, we will look at expansion. As I am sure you can sense, with the kind of demand there is for Shake Shack in the Philippines, I think the expansion opportunities are in fact endless. You really just have to select properly where we will expand," he said.
Apart from signature items like the ShackBurger, Shack-cago Dog, and spun-fresh frozen custard, Shake Shack's BGC store will be offering Manila-exclusive products such as the Ube shake and Calamansi Limeade.
With lines anticipated for the opening of the store, Shake Shack will be capping orders at four per person.
Shake Shack which started in 2004 in New York City, has expanded and established its presence in more than 70 international locations.
Apart from the Philippines, Shake Shack has stores in Tokyo in Japan, Seoul in South Korea, Hong Kong, Shanghai in China, and in Singapore.
SSI Group, meanwhile, is the largest specialty retailer in the country, with more than 600 stores.