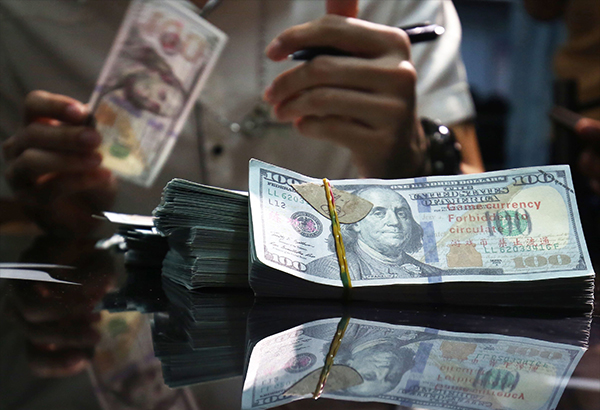 In an interview, Deputy Treasurer Erwin Sta. Ana said the BTr is preparing for the upcoming issuance of $1 billion in debt papers next year. File
Gov't to sell $1 B dollar-denominated bonds next year
MANILA, Philippines — The government is planning to sell $1 billion in dollar-denominated global bonds in early 2018, the Bureau of the Treasury (BTr) said last week.
In an interview, Deputy Treasurer Erwin Sta. Ana said the BTr is preparing for the upcoming issuance of $1 billion in debt papers next year.
Aside from raising new money, Sta. Ana said the government is also gearing up for a new batch of debt swap transactions, but the amount has yet to be determined.
"We are actually preparing for an issuance of debt paper in the early part of next year, but of course we are still undergoing the usual approval and securing those approvals," Sta. Ana told reporters.
For one, he said the government would have to secure the approval of the US Securities and Exchange Commission (SEC).
"We do have a shelf registration with the US SEC, but we really have to refresh the information filed with the SEC on an annual basis," he said.
According to Sta. Ana, the government would closely monitor the developments in the market due to the possiblility of an interest rate hike by the US Federal Reserve.
"We are closely monitoring the markets. In fact, there is a high probability that there could be a possible rate hike this month, but we will definitely look into what the conditions are coming into the new year," he said.
Finance Secretary Carlos Dominguez said banks and financial institutions have already expressed interest to participate in the bond issuance.
Early this year, the government raised P99.57 billion through the sale of global bonds. Under this fund-raising activity, the government generated $500 million from the issuance of fresh 25-year global bonds at a rate of 3.7 percent. Another $1.5 billion in debt was swapped.
Meanwhile, Sta. Ana said the Treasury is also studying the structure for the possible issuance of Samurai-bonds or yen-denominated debt notes also next year.
"We are looking at several proposal coming from banks and we are still looking at the optimal structure. We are currently studying the Samurai-bond issuance," he said.
Despite the possible issuance of both global and Samurai bonds, the BTr and the Department of Finance (DOF) assured the government would maintain its 80:20 borrowing mix, in favor of domestic lenders.