Addressing money concerns for MSMEs
October 18, 2017 | 4:00pm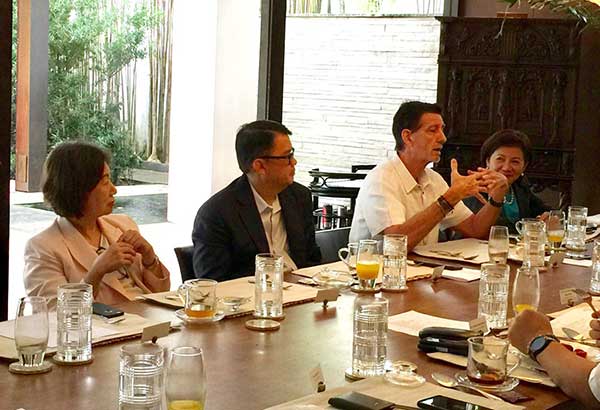 Last time, I wrote about the keen interest of the private sector to contribute to the infrastructure development in the country through a stronger partnership with the government. Infrastructure projects or the Build Build Build program will better link micro and small entrepreneurs to wider markets. This time, we are also bridging money gap and financial issues for our micro and small entrepreneurs.
Over a casual breakfast meeting, I invited the main stakeholders of the financial sector in the Philippines to discuss inclusive money for Filipinos.
The meeting included BSP Governor Nestor Espenilla Jr. and Deputy Governor Chuchi Fonacier, Josephine Romero (ASEAN BAC Philippines and Magpie), Teresita Sy-Coson (ASEAN BAC Philippines and BDO), Benjamin Castillo and Abraham Co (Bankers Association of the Philippines), lawyer Benedicta Baladad (Financial Executives of the Philippines), Justo Ortiz (Union Bank of the Philippines), Orlando Vea (Voyager Innovations), Fr. Jovic Lobrigo (Microfinance Council of the Philippines), Ernest Cu (Globe Telecom), Raj Uttamchandadni (Esquire Financing Corp.), Jaime Garchitorena (Credit information Corp.) and Ronnie Tan Tai Ngee (Silverlake Gax Holding Sdn Bhd).
As the chair of ASEAN BAC, main convenor of public and private partnership, I was honored to sit with these passionate and dedicated men and women who are all eager to help in making future-ready enterprises.
The breakfast meeting was hosted for ASEAN BAC Malaysia chair Tan Sri Dr. Mohd Munir Abdul Majid who brought Malaysia's ABA 2017 Legacy Awardee Mr. Goh Peng Ooi of Silverlake Axis.
Grounded on mathematical models, Silverlake Axis creates technologies to enable the digital economy since 1989. The company has built an impeccable track record of successful core banking implementations. True to its success in refining, expanding, and inventing technologies in the region, Silverlake Axis was listed on Singapore's Stock Exchange (SGX) SESDAQ in 2003 and moved up to the SGX Mainboard in 2011. Today, over 40 percent of the top 20 largest banks in South-East Asia run Silverlake Axis' core banking solution. Silverlake Axis is the core system platform partner of choice for three of the five largest ASEAN super regional financial institutions.
We arrived at a conclusion that the way forward is inclusive lending, inclusive access to finance and inclusive money.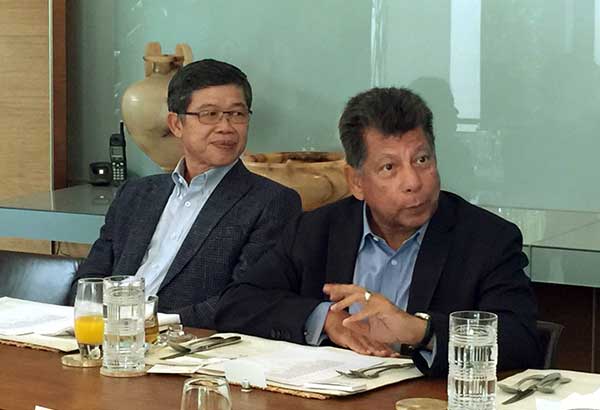 Goh Peng Ooi and Tan Sri Dr. Mohd Munir Abdul Majid
Right after, I spoke at the Angat Buhay, a poverty alleviation platform launched by Vice President Leni Robredo. Similar to the Go Negosyo's Kapatid Angat Lahat, the program Angat Buhay seeks to uplift the lives of many micro and small entrepreneurs. Our advocacy work in Go Negosyo was strengthened even more with the support of Sen. Bam Aquino when the Go Negosyo Act was legislated.
Our quest for poverty alleviation and creating prosperity for all brings me to the 3Ms or the mentorship, money, and market.
Like what I have mentioned in all my previous articles and speaking engagements, mentorship is a powerful tool in helping micro and small entrepreneurs move up from survival to sustainability.
The Kapatid Mentor Me now has 1,700 mentees and close to 450 mentors engaging with the Department of Trade and Industry and the Department of Agriculture.
We are also formally launching AMEN or the ASEAN Mentorship for Entrepreneurs Network on November, which will be the biggest network of mentors from all the 10 ASEAN countries. We want to share AMEN to all ASEAN countries to tap their mentors who can help us in areas like technology, agriculture, and logistics.
Helping MSMEs get access to that market is important that is why we are eager to be part of the infrastructure development programs of the country. But apart from the bridges, airports, and ports, the future market is going be the digital economy.
We will also push for new platforms like e-commerce. The success of mobile applications such as Uber, Grab, and many other platforms for people to market themselves directly to the consumer will change the game in the future.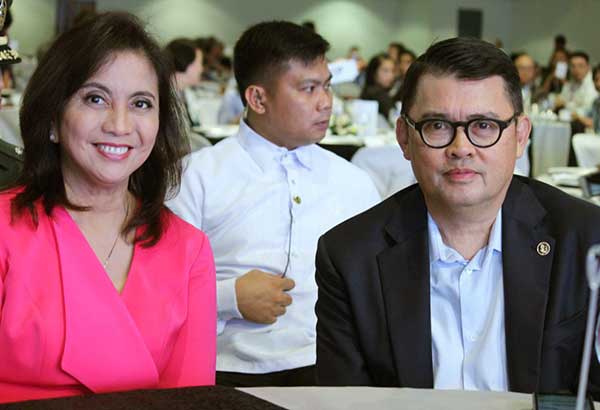 Vice President Leni Robredo with ASEAN BAC chairman Joey Concepcion
As a game changer that can help the poor entrepreneurs, we must also learn how the digital economy thrives. At first it looks like a threat to many who are in the brick and mortar business, supermarkets or department stores, but it is an opportunity for many micro and small entrepreneurs to be the next millionaire or multi billionaire.
This time we are focusing on money. Our MSMEs still face a big challenge when it comes to financing. That is why it is important to address the situation for the growth of our micro and small entrepreneurs. We are glad to hear Goh Peng Ooi's insights on how we can help finance the micro and small entrepreneurs.
We shall update you with the progress of these 3Ms. We are zealously working on creating programs that will bring prosperity not just to the large corporations but most importantly to our MSMEs.
Given that the bottom of the pyramid is huge, it's about time that we all come together, regardless of political affiliation. The quest of fighting poverty is not won whether you are yellow, blue, or red. It is just about being a Filipino who is compassionate about the future. The programs that we need to achieve will be enormous because it will not be a quick fix. But all of us are already part of the enabling community. Each is key in the initiative towards prosperity for all.