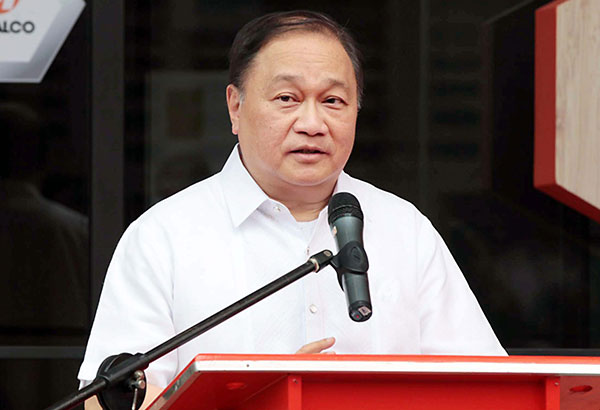 Tycoon Manuel Pangilinan wants the government to lift the moratorium on drilling and exploration in the disputed West Philippine Sea amid warming relations between Manila and Beijing. File
MVP urges government to lift ban on West Philippine Sea exploration
MANILA, Philippines - Tycoon Manuel Pangilinan wants the government to lift the moratorium on drilling and exploration in the disputed West Philippine Sea amid warming relations between Manila and Beijing.
Pangilinan said it would be good to lift the moratorium now because bilateral ties have significantly improved since President Duterte's state visit to China last year.
"The first step is to lift the moratorium. That is the first order of the day," Pangilinan said in a recent interview.
Pangilinan's Forum Energy holds a 70 percent stake in Service Contract 72, which covers Recto (Reed) Bank in the disputed territory.
In August 2012, the Department of Energy issued a moratorium on all exploration and drilling works in the area due to ongoing territorial dispute with China.
"We're more hopeful now based on the statements of the government so hopefully, we could push forward with it," Pangilinan said.
Foreign Affairs Secretary Alan Peter Cayetano has said that both sides are moving forward on the issue.
China has pushed for a maritime code of conduct with Southeast Asian countries.
The Association of Southeast Asian Nations and China hailed the adoption of a negotiating framework for the code of conduct.
Cayetano cited the framework as an example of how parties that were historically at odds were cooperating.
Ruan Zongze, executive vice president of China's Institute of International Studies, said both countries can do joint exploration.
"Joint exploration doesn't affect and involve the respective legal systems of both countries. It is about agreeing on common rules and arrangements acceptable to both sides. Two countries make decisions that could benefit the peoples of both sides," he said in a forum in Manila last week.
Pangilinan said that once the moratorium is lifted, they would be talking to the Chinese authorities to prepare for actual exploration or before the company sends its boats to the area.
"We have to talk to the Chinese in preparation for that," he said.
Forum and China National Offshore Oil Co, China's state-owned oil producer, have earlier been in discussions for a possible commercial arrangement for exploratory works in the disputed area.
The Recto Bank area is estimated to contain prospective resources of as much as 16.6 trillion cubic feet of gas and 416 million barrels of oil.
Monte Oro Resources and Energy Inc. holds the remaining 30 percent stake in the service contract.
Philex Mining owns 64.45 percent of Forum Energy through its interests in FEC Resources, Inc. and Philex Petroleum Corp. The remaining interest is held by other shareholders.