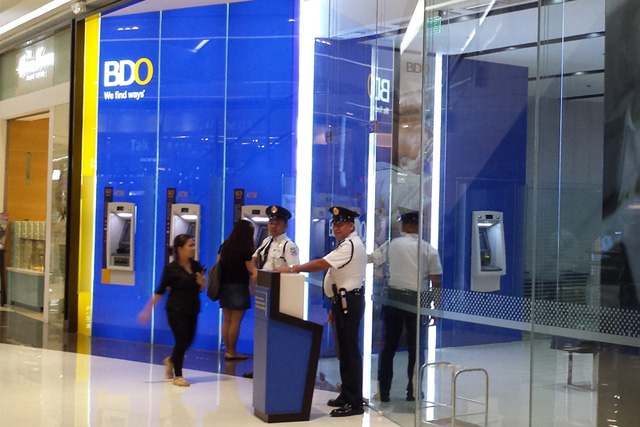 Automated teller machines of BDO Unibank Inc. Wikimedia Commons
BDO urges cardholders to report ATM fraud
(Philstar.com) - June 16, 2017 - 6:03am
MANILA, Philippines — BDO Unibank urged its cardholders on Friday to report "unauthorized transactions" in their accounts following claims of "potentially compromised ATMs" from customers who faced money deductions in their accounts.
"BDO has obtained reports of potentially compromised ATMs following reported losses from cardholders," the full-service universal bank said in a statement.
"Customers with unauthorized transactions may reach out to the bank via formal channels so that their cases may be properly investigated and, where confirmed as impacted, may be reimbursed," it added.
The bank, part of Henry Sy's SM Investments Corporation, assured its customers that it is exerting "all efforts" to keep accounts safe.
"BDO would like to reassure the public that it exerts all efforts to protect its cardholders and their transactions," it said.
However, according to BDO President Nestor Tan, the alleged ATM skimming is "nothing out of the ordinary."
"ATMs are compromised every now and then, then we (banks) take the precautionary measure of disabling cards if we have reason to believe they may have been compromised," Tan said in a statement.
The reports on the BDO ATM fraud came a week after Ayala-led Bank of the Philippine Islands, another major Philippine banking firm, suffered an "internal glitch" that also caused unauthorized transactions and money deductions in their customers' accounts.