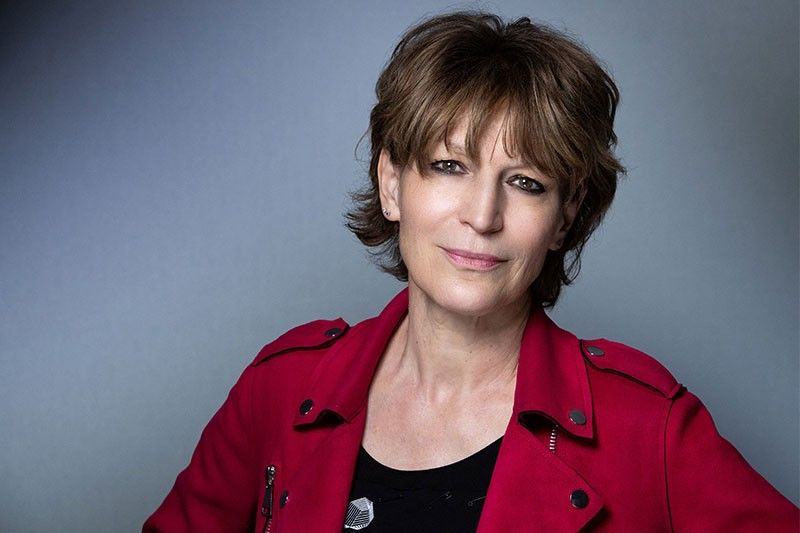 Secretary General of Amnesty International NGO, Agnes Callamard poses during a photo session in her office in Paris on Avril 6, 2021.
AFP/Joel Saget
Amnesty condemns rich world's 'near-monopoly' on COVID-19 vaccines
LONDON, United Kingdom — Richer countries are failing a "rudimentary" test of global solidarity by hoarding Covid vaccines, Amnesty International said Wednesday as it accused China and others of exploiting the pandemic to undermine human rights.
In its annual report, the campaigning rights organisation said the health crisis had exposed "broken" policies and that cooperation was the only way forward.
"The pandemic has cast a harsh light on the world's inability to cooperate effectively and equitably," said Agnes Callamard, who was appointed Amnesty's secretary general last month.
"The richest countries have effected a near-monopoly of the world's supply of vaccines, leaving countries with the fewest resources to face the worst health and human rights outcomes."
Amnesty strongly criticised the decision by former US president Donald Trump to withdraw Washington from the World Health Organization (WHO) in the midst of the pandemic — a step now reversed by Trump's successor Joe Biden.
Callamard called for an immediate acceleration of the global vaccine rollout, calling the innoculation campaign "a most fundamental, even rudimentary, test of the world's capacity for cooperation".
Widening inequality
Since the coronavirus emerged in China in late 2019, the pandemic has claimed more than 2.8 million lives globally and infected at least 130 million people.
Despite regular calls for global solidarity from international organisations, figures show widening inequality in access to vaccines.
According to an AFP count, more than half the 680 million-plus doses administered worldwide have been in high-income countries, such as the United States, Britain and Israel, while the poorest have received only 0.1 percent of the doses.
At the end of March, the WHO warned of an increasingly unbalanced distribution of vaccines.
Amnesty International has supported initiatives such as the WHO's vaccine exchange platform C-TAP to share know-how, intellectual property and data.
The under-used initiative could be used to build production capacity and additional vaccine production sites, particularly in Africa, Asia and Latin America, according to the WHO.
Amnesty dismissed as "paltry half-measures" decisions like those of the G20 group of nations to suspend debt repayments for 77 nations.
Chinese 'irresponsibility'
Amnesty also hit out at the "gross irresponsibility" of China during the pandemic, accusing Beijing of censoring health workers and journalists who tried to sound the alarm at the start of the outbreak.
"Covid-19 intensified a crackdown on freedom of expression with a number of citizen journalists who reported on the outbreak going missing, and in some cases being imprisoned," it said.
The rights group pointed to growing evidence of "grave human rights violations" more broadly in China, "including torture and enforced disappearances" of Uyghurs and other Muslim minorities in the region of Xinjiang.
It said nations like Saudi Arabia, the United Arab Emirates and Hungary had used the pandemic to further silence criticism and cited violence by the security services in Brazil and Nigeria against protest movements in the past year.
"Some (leaders) have tried to normalise the overbearing emergency measures they've ushered in to combat Covid-19, whilst a particularly virulent strain of leader has gone a step further," Callamard said.
"They have seen this as an opportunity to entrench their own power. Instead of supporting and protecting people, they have simply weaponised the pandemic to wreak havoc on people's rights," she added.
Amnesty said during the health emergency, groups like women and migrants had been further marginalised in parts of the world.
It said its report outlined how "existing inequalities as a result of decades of toxic leadership have left ethnic minorities, refugees, older persons, and women disproportionately negatively affected".
"We face a world in disarray. At this point in the pandemic, even the most deluded leaders would struggle to deny that our social, economic and political systems are broken," Callamard said.
As It Happens
LATEST UPDATE: April 10, 2021 - 9:12am
Pharma giants Sanofi and GSK said on July 29, 2020, that they have agreed to supply Britain with up to 60 million doses of a potential COVID-19 vaccine. The agreement covers a vaccine candidate developed by France's Sanofi in partnership with the UK's GSK and is subject to a "final contract."
This thread collects some of the major developments in the search for a vaccine to ease the new coronavirus pandemic. (Main photo by AFP/Joel Saget)
April 10, 2021 - 9:12am
Europe's stuttering vaccine rollout faces multiple hurdles as EU regulators say they were reviewing side effects of the Johnson & Johnson shot and France further limits its use of the AstraZeneca jab.
The US drugs regulator says it had not found a "causal" link between the J&J vaccine and blood clots, but that its probe was continuing after "a few individuals" suffered complications.
Much of the world is still in the clutches of the pandemic that has killed 2.9 million people, from Brazil, where the virus is killing more than 4,000 people a day, to Japan where the government has tightened restrictions once again. — AFP
April 9, 2021 - 1:08pm
Hong Kong confirms it has requested AstraZeneca suspend delivery of its Covid-19 vaccine amid fears of severe side effects and concerns over its efficacy against new variants of the coronavirus.
Hong Kong's health chief Sophia Chan said the city has asked AstraZeneca not to deliver as planned later this year.
"We think it is not necessary for AstraZeneca to deliver the vaccines to the city within this year," she says, adding Hong Kong wanted "to avoid any waste as vaccines are in short supply globally". — AFP
April 8, 2021 - 6:32pm
Australia on Thursday joined a growing number of countries halting the use of the AstraZeneca coronavirus vaccine for younger people over fears it can cause serious blood clots.
In a further setback for Australia's already halting coronavirus vaccine rollout, officials said the AstraZeneca shot should no longer be given to people under the age of 50, unless they had already received a first dose without any ill effects.
Prime Minister Scott Morrison held an evening press conference to announce the decision shortly after the government's medical advisory board decided to follow European and other countries in limiting the use of AstraZeneca.
"It has not been our practice to jump at shadows, it has not been our practice to take unnecessary precautions," he said in explaining the step.
"We've been taking the necessary precautions based on the best possible medical advice." -- AFP
April 8, 2021 - 10:06am
The EU's medicines regulator says that blood clots should be listed as a rare side effect of the AstraZeneca jab but the benefits continue to outweigh risks, as several countries battle fresh virus surges amid vaccine shortfalls.
A number of nations have suspended the use of AstraZeneca's vaccine for younger populations after it was earlier banned outright in several places over blood clot scares.
The United Kingdom says it will adopt new medical advice to offer most people under 30 an alternative to AstraZeneca if possible, after reporting 19 deaths from clots among people who received the shot. — AFP
April 7, 2021 - 3:38pm
Britain begins rolling out its third coronavirus vaccine, from US company Moderna, as questions mount over jabs from the country's main supplier, AstraZeneca.
The Moderna vaccine, which is already being delivered in Europe and the United States, joined ones from AstraZeneca-Oxford University and Pfizer-BioNTech in Britain's armoury against COVID-19.
The first jabs of the two-stage Moderna inoculation were injected at a hospital in Wales, in a timely diversification of Britain's rollout that was hailed by Prime Minister Boris Johnson. — AFP