Akari coach brushes off PVL challenge system woes in match vs Choco Mucho
November 4, 2022 | 5:02pm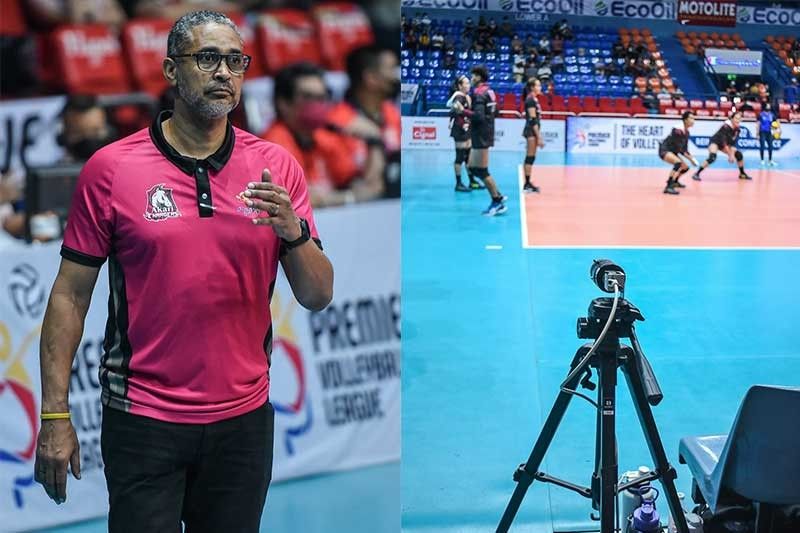 MANILA, Philippines — Akari Chargers head coach Jorge de Brito did not think much of it when it was believed that his team received the short end of the stick for a couple of calls in the newly employed challenge system in the Premier Volleyball League (PVL).
First used on Thursday during a double-header that featured the Chargers against the Choco Mucho Flying Titans, de Brito's wards were clearly not happy with some of the rulings handed down by the officials during crucial stretches of the game.
Though Akari won in five sets, the Flying Titans were able to gain momentum on challenges that were deemed successful — including the point that clinched the opening set where the Chargers were called on a block touch on Choco Mucho's Odina Aliyeva's hit.
De Brito remained collected about the whole ordeal and chalked it up to first day jitters.
"I totally agree with the decision to bring the challenge [system]. It's good. It's the first day, everyone commits mistakes," de Brito said after the game.
"I'm not judging, but in the next opportunity, of course, it will be much better," he added.
Among those frustrated with the overturned calls was guest player Prisilla Rivera, who churned out a 44-point explosion that broke league's the scoring record.
When asked about the challenge system after the game, Rivera refused to comment but de Brito said that it improves the league, and the teams competing, overall.
"She doesn't want to talk about it. But I'm telling you guys... Even when discussing in the short moment after the match, there might have been some mistakes, it is, [we] just forget about it," said de Brito.
"Of course, in the last moment, with the touch, it's good... You have to keep this and they're gonna be better game by game," he added.
De Brito himself was able to call a successful challenge on a block touch on Kat Tolentino on one of Rivera's hits in the winner-take-all fifth set which sent Akari to match point, 14-11.
The PVL is using VideoCheck, a decision review system that operates through 23 high-speed cameras. It is manufactured by Genius Sports.