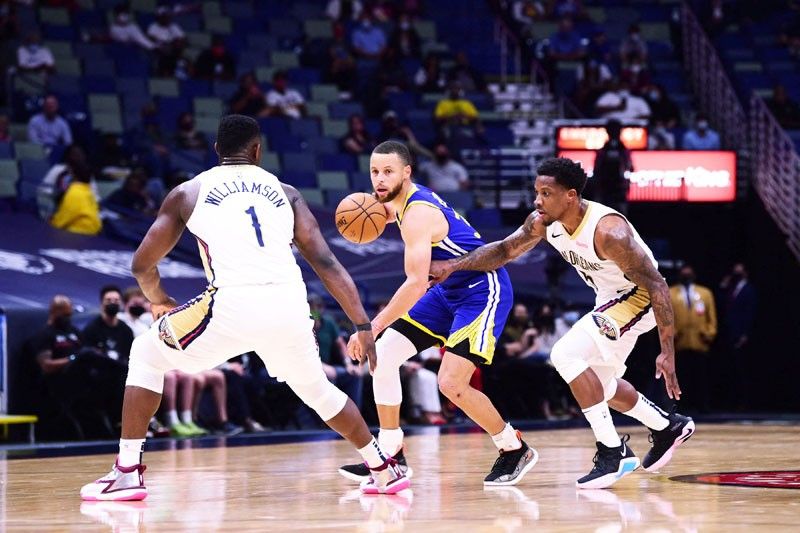 Golden State Warriors guard Steph Curry reads the defense of New Orleans Pelicans Zion Williamson and Eric Bledsoe.
AFP
Warriors fan playoff hopes
(Agence France-Presse) - May 5, 2021 - 12:00am
New Orleans, Louisiana – Steph Curry erupted for 41 points as the Golden State Warriors stayed on course for the postseason with a 123-108 victory over the New Orleans Pelicans on Monday.
Curry's 33rd 30-point game of the season helped the Warriors move to 33-32 to leave the team firmly in the hunt for a Western Conference play-in tournament place.
But the Warriors' road victory all but extinguished New Orleans' chances of reaching the playoffs.
The defeat means the Pelicans are now languishing outside the play-in competition places with a 29-36 record, four games adrift of the San Antonio Spurs.
Curry's latest masterclass in a season that has seen him emerge as a front-runner for NBA Most Valuable Player honours was his ninth 40-point game of the season, and the 47th 40-point game of his career.
"I'm just playing with confidence," Curry said afterwards. "Every game I'm just trying to sustain the intensity, the effort and the focus.
"It's been a fun year and a fun ride but we've got a lot left to do. I'm glad I'm playing my part."
The Warriors led from start to finish, rocking the Pelicans by sprinting into a 39-21 lead at the end of the first quarter and stretching into a 25-point lead midway through the second quarter.
"For us to come out like we did tonight in the first quarter and impose our will -- it helped us maintain momentum throughout the game offensively," Curry told ESPN after the win.
Elsewhere on Monday, the Denver Nuggets clinched their place in the playoffs despite sliding to a 93-89 defeat to the Los Angeles Lakers.
The Nuggets booked their place in the playoffs after the Atlanta Hawks defeated the Portland Trail Blazers 123-114.
In other games, Russell Westbrook laid on a remarkable 24 assists to complete his 32nd triple-double of the season in the Washington Wizards' 154-141 home defeat of the Indiana Pacers.