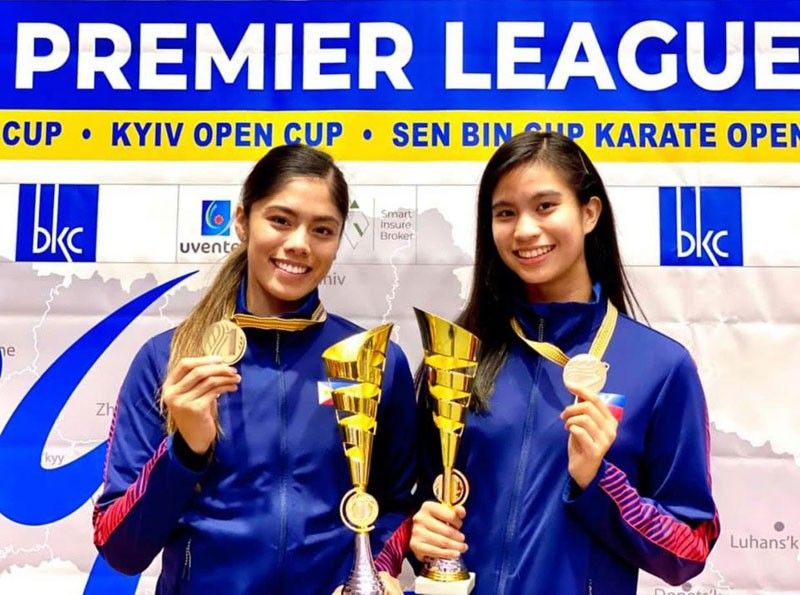 Joane Orbon, left, and Jaime Lim
Karate hopefuls return home
MANILA, Philippines — The Philippine karate team of Jamie Lim, Joane Orbon, Alwyn Batican, Ivan Agustin and Sharief Afif returned to Manila last Sunday night with coach Junel Perania after training in Ukraine and Turkey for a month in preparation for the Olympic Qualifying Tournament (OQT) in Paris on May 8-10.
Karate will make its debut at the Tokyo Olympics with 10 competitors in eight events for a total of 80 athletes. The events are 67 kg, 75 kg and +75 kg for men and 55 kg, 61 kg and +61 kg for women in kumite and men and women in kata. So far, 28 athletes have qualified based on World Karate Federation (WKF) Olympic standings and allocations for the host nation. The balance of 52 athletes will come from wild card invitations by the Tripartite Commission, continental places and the top finishers in the Paris OQT.
The Philippine squad was supposed to stay another week in Turkey but the Marmara International Cup, scheduled March 22, was cancelled due to the coronavirus outbreak. In Ukraine, four of the five karatekas landed a podium finish at the Kharkiv Open in the Premier League. Lim took the gold in the -68 kg division while Orbon ruled the -61 kg category. Batican claimed the bronze in -67 kg and Afif, the bronze in -84 kg.
From Ukraine, the team went to Turkey to train with coach Okay Arpa. For three weeks, the Philippine hopefuls worked with the Turkish national squad that includes four Tokyo qualifiers Ugur Aktas (+75 kg), Ali Sofuoglu (kata), Serap Ozcelik (55 kg) and Merve Coban (61 kg).
PSC commissioner Ramon Fernandez and Karate Pilipinas Inc. officials arranged to cut short the Philippine team's stay in Turkey. "We're thankful for PSC's and KPI's swift action," said Lim's mother Lelen Berberabe. "Turkey has one case now but I'm afraid that like other countries, cases will escalate rapidly. If Turkey or Europe locks down, they might get stuck so better to come home. Karate tournaments in Turkey and elsewhere, which they were supposed to join as part of training, have been cancelled. We are so thankful to PSC and KPI for their decision to bring home our athletes as Europe is now the epicenter of Covid-19 so just in time."
Berberabe said Arpa stayed in Turkey. "Coach Okay has given the team a very good program to follow and has given instructions on what to do until they get reunited for training," she added. "Coach Perania came home with the athletes. The team has to sort out details and adjust plans for training in the Philippines, given the community quarantine and restriction on entry of foreign nationals like coach Okay. Also to take into account the recommended self-quarantine for people who came from international travel. But the players are committed to continue their conditioning and training."
Lim, Orbon, Batican, Agustin and Afif are gearing for the OQT in Paris. It's their last chance to book a ticket to Tokyo, and Berberabe said they're committed to give their best. Another hopeful, Fil-Japanese Junna Tsukii, is also battling to qualify for the Olympics. "It's a long shot to qualify for Tokyo," said Berberabe. "But our athletes will try and do their best. Winning medals in Ukraine was a good start." Tsukii and Lim won gold medals while Orbon, Agustin and Afif collected a bronze apiece at the recent SEA Games.