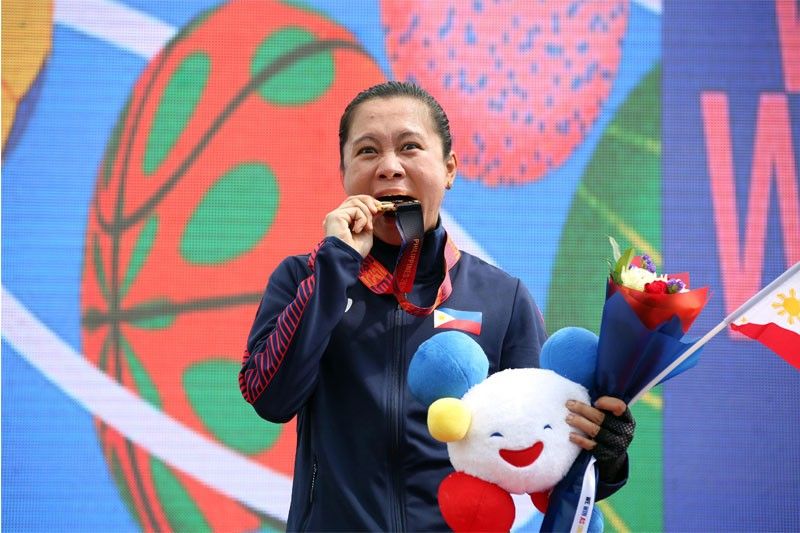 Jermyn Prado
Ernie Penaredondo
Navy bet wins it by a whisker
TAGAYTAY , Philippines — Team Phl struck for a third gold medal in cycling in the 30th SEA Games with Navy's Jermyn Prado summoning all the strength and energy needed in her climb here from Nasugbu to rule the women's individual time trial race.
Prado flashed triumphantly at the finish at the Praying Hands Monument on her bike stripped of at least two contraptions disallowed by the panel of commissaires.
This didn't stop the Quezon Province pride from hiking Team Phl's gold haul in cycling to three following a sweep in the Cross Country by Denise Belgira and Derick Farr in Laurel, Batangas Monday.
"This is an opportunity that I don't want to slip away. I just went all out. I poured it all," said Prado in topping the 23.1-kilometer ITT she won by mere 3.7 seconds over Singaporean Luo Yiwei.
Prado clocked 44:44.742 as against Luo's 44:48.518 with Thai Phetdarin Somrat claiming the bronze in 44:58:152.
Marella Salamat, the Filipina gold-medal winner in this event in Singapore in 2015, was good for only seventh at 45:59.275.
Another former champ failing in a bid to reclaim SEAG crown was Mark Galedo in the men's side.
Galedo came in sixth in the event ruled by Indonesian Aiman Cahyadi at 58:37.003, followed by silver winner Thanakhan Chaiyasombat of Thailand and bronze winner Goh Choon Huat of Singapore.
Another Filipino bet, Ronald Oranza, was fourth placer, over two minutes behind the gold-medal winner.
What the Pinoy ITT bets failed to deliver Prado did in the distaff side on a bike stripped of contraptions on handle bar and under the frame.
She proved strong enough to top a field of 11 riders, including two each from Singapore, Indonesia and Malaysia and one from Indonesia.