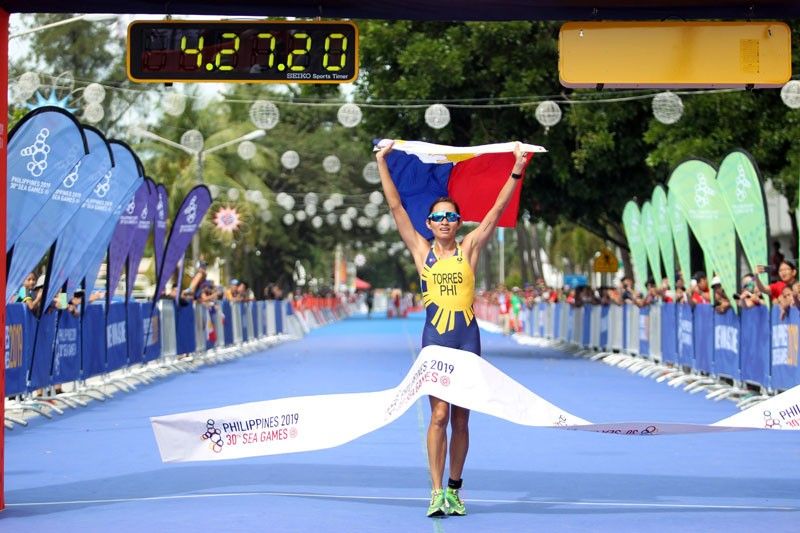 Monica Torres
Russell Palma
Duathlon glory torres bucks stomach problem
MANILA, Philippines — "Umpisa pa lang suka na ako ng suka. But it happens. I just tried to build as much lead that I could get in biking. At kahit sumusuka, nakatapos naman, and I'm so happy winning it," said Torres.
"It feels so good winning not just for yourself but for the country and our countrymen," Torres also said.
The Philippines missed a golden double as what Rambo Chicano and Kim Mangrobang achieved in triathlon on Sunday as Joey delos Reyes settled for second place behind an Indonesian rival in the men's side.
But Torres saved the day for Team Phl in copping the gold medal in the 10km run – 40km bike – 5km run event in convincing fashion.
She clocked two hours, eight minutes and 44 seconds to beat Thailand's Sonsem Pareeya (2:11:18) and Vietnam's Thi Puong Trinh Nguyen (2:14:20).
The projected men's gold for Team Phl slipped away as Indonesian Juahrai Johan took advantage of the water break taken by Delos Reyes in the final run stage.
But Delos Reyes had no regrets taking the break, saying cramps could have hit him had he continued running.
"Ramdam ko na cramps at that moment. But then the cheers of the crowd reenergized me. I persevered to finish the race," he said.
Johan sprinted away and won the race in 1:52:51, followed by Delos Reyes and Thailand's Srinate Nattawut.
Meanwhile, as easy as her win looked like it, Torres said it was hardly a walk in the park.
"I am not in peak condition. I was vomiting so I expected to lose steam down the wire. I was nervous beforehand but I made it sure to just focus myself on crossing the finish line which is the ultimate goal for the Philippines and I did," said Torres.