Looking at the new era Ateneo Lady Eagles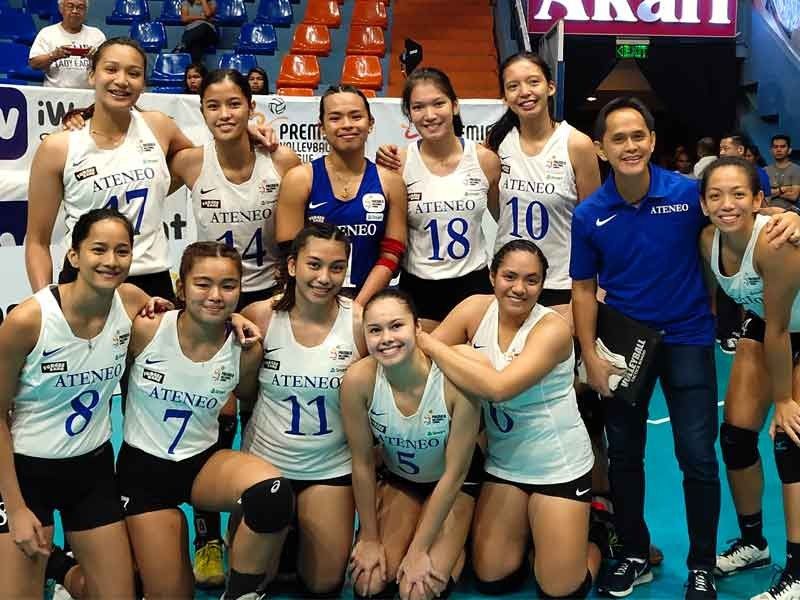 MANILA, Philippines – The Ateneo Lady Eagles opened their 2019-20 campaign (that extends all the way to the UAAP) with a four-set win over Letran in the Premier Volleyball League Open Conference (25-16, 22-25, 25-13, 25-20).
The lineup featured several rookies in setter Kiara Cruz, middle blockers Joan Narit, Patricia Parale and Erika Coloso, and opposite hitter Faith Nisperos with returnees Dani Ravena, Jules Samonte, Vanessa Gandler, Janel Maraguinot and Erika Raagas. Ponggay Gaston was unavailable due to sickness.
It was of course the first game and without a complete roster. It is a young team that needs to soak in as much experience. Nevertheless, here are some things that we can glean from the match.
The point makers
Faith Nisperos led the team with 19 points. On two occasions, we saw her blocked on two consecutive spikes. She knows the game isn't all about power and breaking down the wall. And Letran isn't a very good blocking team. With more experience — something she readily admits needing too — she will place her shots better and offer a variety of shots, including off-speed and drop shots.
Not since Dzi Gervacio was playing for Ateneo has the Lady Eagles had this power-hitting player. Yes, Alyssa Valdez and Ella De Jesus were known to pack a lot of oomph in their shots, but Raagas is built like Gervacio or even a Tots Carlos for that matter. She'll need to correct something in her form where she holds back rather than going forward for he spikes. She'll get it, no doubt.
As for Gandler, she will do better this year. And why do I have a hunch that she will be this team's best server?
The playmaking
Jaja Maraguinot will be the best setter in the UAAP one day. She showed glimpses last year, and it will be on full display this season with Deanna Wong still out with an injury. She showed all sorts of craftiness and deception in her setting versus Letran. She's also an aggressive setter who will punish you with her points. All Oliver Almadro needs to do is work on her blocking or even potentially, her occasional spiking height-challenges aside.
Need to work on net defense
Joan Narit out of Ateneo de Cebu will eventually be a big factor for this team as she figures out how to hit better and with proper placement. But right now even with only one game played, I think this team needs to work on their blocking.
We all know who they lost so there is no need to belabor that point. But Letran had three block points to Ateneo's solitary point.
I'd love for Almadro to give Jaycel Delos Reyes more playing time because the team will need her.
All game long, there were two running spikes both off Jules Samonte. She scored on one and had the other dug up.
Ateneo has the scorers on the wings. They need to get that middle up and going, some combination plays too. Again, this comes with more experience.
I like the fight in them
Chasing and diving after balls. Not giving up on plays. In all four sets, they started out slow but got better as the set wore on. Okay, they lost all three long rally points, but again, I like that they are not giving up on that ball (although on one occasion, the ball dropped right in the middle of several players who were not sure who was going to get it).
A good start and lots to learn for this team.