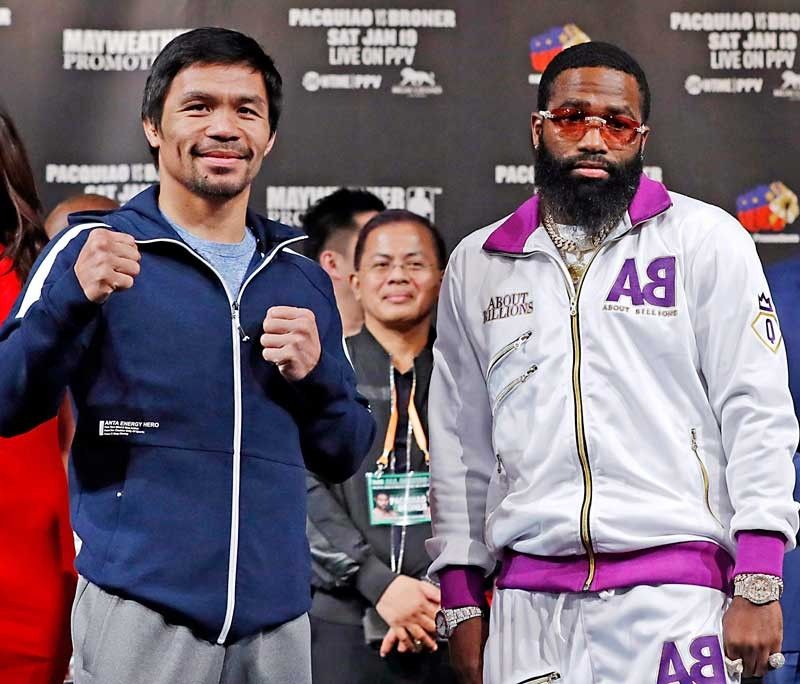 Philippine boxing icon Manny Pacquiao and Adrien Broner pose during a news conference in Las Vegas yesterday. The two are scheduled to fight in a welterweight championship bout this weekend.
AP
Adrien Broner plays Mr. Bad Guy; Manny Pacquiao Mr. Cool
Abac Cordero
(The Philippine Star) - January 18, 2019 - 12:00am
LAS VEGAS – Adrien Broner threw power punches way ahead of Saturday's big fight against Manny Pacquiao at the MGM Grand.
Dressed like a rapper, Broner talked like a gangster Wednesday, and turned the fight's final press conference into a profanity-laced show.
Broner cursed boxing analyst Al Bernstein on stage, like he wanted the 68-year-old Hall-of-Famer to disappear at the David Copperfield Theater.
Bernstein had gone up the stage to preside over the Q&A between the boxers and members of the boxing media.
But when Berstein turned to Broner, who sat inches away to the left, the boxer from Cincinnati cut him short with choice words.
"I ain't even going to lie to you, I don't (expletive) with you, bro," Broner told Bernstein in a way Hall-of-Famers are not normally spoken to.
"You talk too much (expletive) about me on Twitter. I'm just being real, bro. I already feel like you're against me," Broner said.
Bernstein held on to his journalistic instinct. He turned his question to Broner's trainer, Kevin Cunningham. No reply.
"I don't (expletive) with you, they (his team) don't (expletive) with you," added the 29-year-old Broner.
Pacquiao tried to ignore what was going on.
Bernstein said he had posted things about Broner on Twitter but they were never meant to attack the boxer.
To cap the press conference, Pacquiao and Broner took centerstage for a face-off. But as they prepared to do that, Pacquiao's rah-rah boys, who occupied front row, caught Broner's attention.
Broner, with a sarcastic smile, motioned to the Filipino group, and said, "I got a cat for you for dinner" and "I got some sautéed German Shepherd for you in the back."
Whatever Broner meant by that was quite unacceptable. He turned away without shaking Pacquiao's hands.
Broner then spoke to reporters, expressing his disappointment the way he's being portrayed as the underdog – and the bag guy.
"I hope you write something different about me. I just want to see you write something different about me," he said.
"I see everything, man. All you mother (expletive)," he told reporters gathered in front of him.
Pacquiao, the welterweight champion, sat quietly most of the time, and offered a smile at practically anybody who caught his eye.
At the podium, he thanked everybody for showing up, and expressed his happiness returning to the venue of some of his greatest fights as a boxer.
Pacquiao capped his speech by reciting a bible verse.
Broner threw profanities.