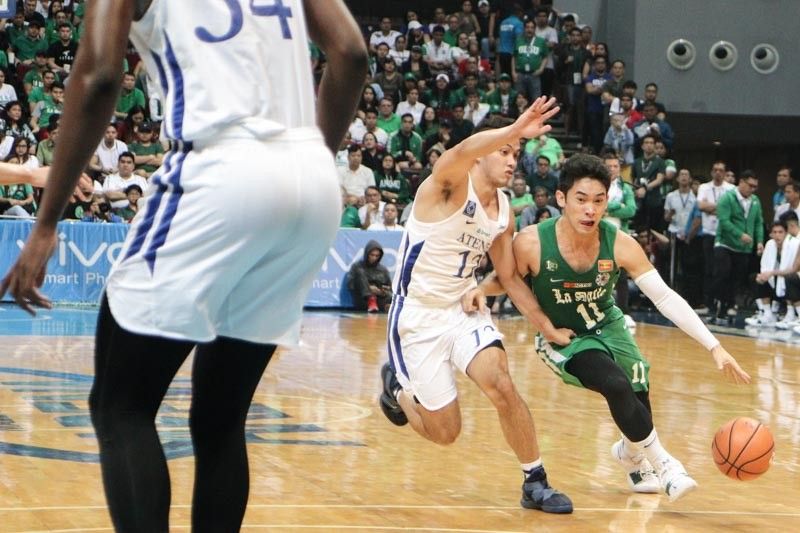 Aljun Melecio of De La Salle University (right) drives past Matt Nieto of Ateneo de Manila University in Saturday's UAAP action at the MOA Arena.
PhilStar.com Photo/EC Toledo
Melecio lone bright spot for Archers in losing stand vs Eagles
MANILA, Philippines — De La Salle University nearly had everything going sideways for them in their rivalry showdown with the defending champions Ateneo de Manila University on Saturday night.
Aljun Melecio, though, didn't want to be a part of Green Archers' forgettable list of woes.
The diminutive La Salle guard accounted for 21 points in the losing effort. His scoring performance was the only one to breach the double-digit mark.
On top of his production, Melecio, La Salle's smallest cager, contributed seven rebounds to make up for the team's erratic shooting.
As if those stats—ones that could be measured—weren't enough, Melecio was seen in the payoff period laboring to carve out scoring opportunities, and doubled down on making his teammates open.
Asked about his valiant effort, Melecio, a former juniors' division Most Valuable Player, said he was simply trying place measures to alleviate his team's dismal shooting.
"For me 'yun na 'yung way na mas madali 'yung offense namin, kasi pag nag-set kami halfcourt, mas mahihirapan kami sa defense nila, so if given yung chance na may fastbreak, go lang nang go, kasi mas madali 'yon kesa mag-set kami," he offered.
"Ganoon naman talaga eh. Binibigay ko lang naman 'yung best ko every game," Melecio pointed out.
The Blue Eagles forced Melecio and his crew to commit 28 errors in the game—the Green Archers' worst this season.
On top of that, De La Salle was clamped down to their worsts this year: Lowest production with just 55 points, their most inconsistent shooting clip with 29 percent, and their dreariest team play with just three assists made.
In the same chat, Melecio noted he is just at a loss as everyone is with the team's loss. But he is also optimistic that they will figure things out as the season unravels.
"'Di ko pa rin masabi kung ano kailangan namin eh, siguro this Monday, may traning kami," Melecio said. "Mag-usap usap kami niyan, for sure."