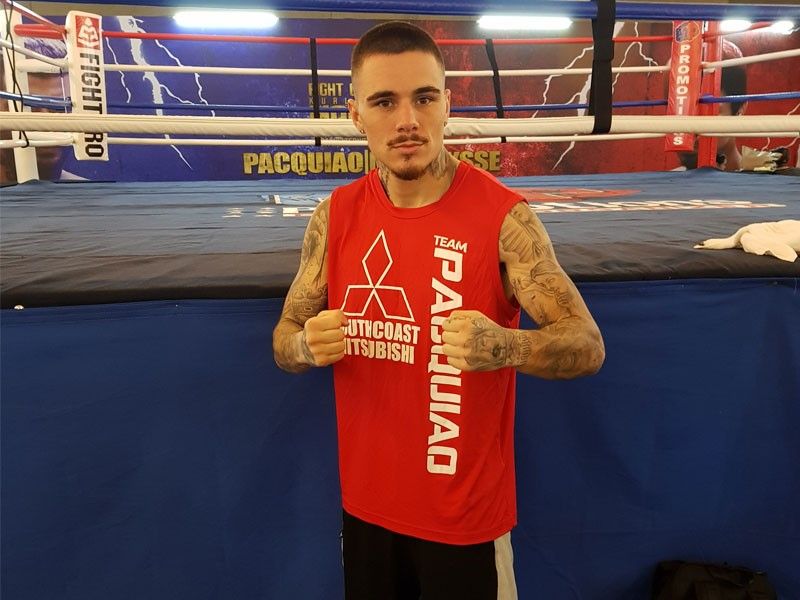 George Kambosos Jr. has sparred with Manny Pacquiao for about 60 rounds in the latter's preparation for Lucas Matthysse.
Philstar.com/Dino Maragay
Aussie sparmate confident of Pacquiao win
KUALA LUMPUR – Manny Pacquiao's main sparring partner for his fight with Lucas Matthysse believes the Filipino icon will win on Sunday, as he should have in his last fight.
George Kambosos Jr., a Sydney-based prospect, just doesn't see Pacquiao losing to Matthysse with the way the fighting senator's training camp went.
"The way we prepared in training, I'm very confident that he will get the job done," the 25-year-old fighter told Filipino reporters Wednesday during Pacquiao's media workout at Le Meridien here.
Kambosos, who was also Pacquiao's sparring partner for the Jeff Horn bout, went around 60 rounds with Pacquiao in their Philippine training camp this time.
So impressed was Pacquiao with Kambosos that he offered the Australian a slot in Sunday's undercard.
"I was never supposed to be on the undercard but after the first sparring session with Manny for this camp, Manny goes to say 'I want you in the undercard. You want a fight don't you?' Of course it's been a dream of mine to fight in his undercard so here we are on fight week," said the undefeated Kambosos (14-0, with 8 KOs), who will take on Filipino JR Magboo (17-1-2, with 8 KOs) in Sunday's card.
Kambosos, along with most in Pacquiao's camp, believes Pacquiao deserved to win against his compatriot Horn when they fought in Brisbane last year.
And with what he saw in training camp, Kambosos is certain that Pacquiao will succeed this time.
"The good thing is Manny Pacquiao is so fast and so awkward the way he throws his punches. Just a lot of power," he added.
So how does he see Pacquiao-Matthysse ending?
"No predictions. Just a win (for Pacquiao)."