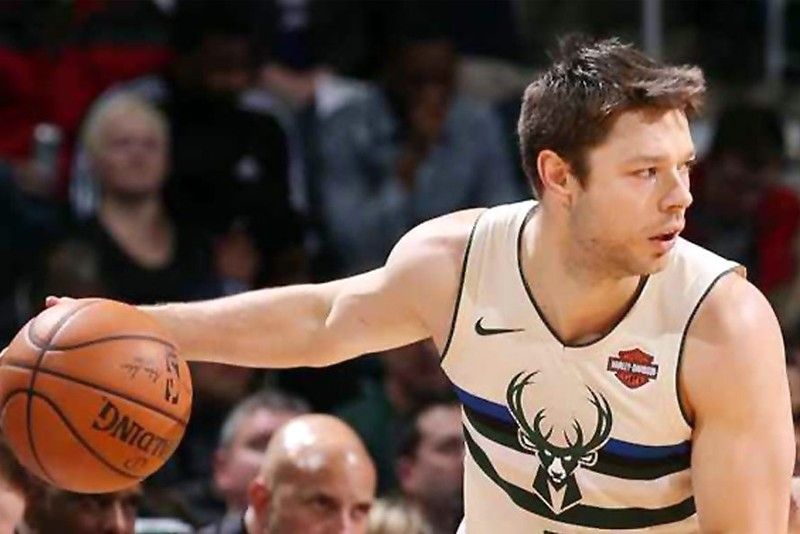 Matthew Dellavedova
NBA.COM
Delly expects hostile crowd in Philippine Arena
MANILA, Philippines — For Milwaukee Bucks guard Matthew Dellavedova, playing before a hostile crowd that could go up to 50,000 fans is a challenge he's looking forward to when Australia battles Gilas in the third window of the FIBA Asia/Pacific qualifiers for the 2019 World Cup at the Philippine Arena tonight.
Dellavedova, 27, and Bucks 7-1 teammate Thon Maker, 21, will reinforce the visiting Boomers who are hoping to bounce back from a one-point loss to Japan last Friday. The setback snapped Australia's 15-game winning streak in FIBA competitions.
"It's fun when it's loud in a crazy environment," said Dellavedova who had eight assists in nearly towing Australia to victory over Japan with some late heroics alongside Maker. "We have to make sure to huddle up and get the same message during the game because we could be standing a few feet away and we're not going to be able to hear each other. We're expecting it to be that loud."
Dellavedova said there's no special Gilas player the Boomers will target. "No one specific but it's the Philippine style of fast pace, a lot of penetration, drive and kick, very aggressive play, looking to score, pushing the tempo, owning the shot clock," said Dellavedova yesterday in a STAR interview arranged by Peak, the shoe he endorses and wears. "We've got to get back on defensive transition, make sure our defense gets set so we can play team defense. There's a lot of guys we have to try to cover. We've watched game tape, we'll meet and watch some more tape. We've got a great coaching staff who has watched a lot of Philippine games. We trust them, we'll know the scouting report and we'll be ready to go."
Dellavedova admitted Australia played poorly against Japan. "We're disappointed with how we played in Japan but our motivation is always 100 percent when you play for your country and we're hoping to show how we usually play against the Philippines," he said. "Hopefully, we can get a win. The Philippines had a good win the other night so it's an important game for us. Our chemistry is great now. I thought we've been practicing well. The group of guys who played the last year and a half have been doing a great job, they played well in the Asian Cup and Commonwealth Games."
Dellavedova insisted the Boomers didn't underestimate Japan. "We know they're a good team with good players, we just didn't play very well and they played very well at home," he said. "We're going to have to play better against the Philippines to get the win. We know Nick Fazekas and Rui Hachimura are good players but we didn't do a good enough job as a team to try to cover them and they're both very talented." Fazekas and Hachimura combined for 49 points in Japan's 79-78 win.
Dellavedova said he won't be available for Australia in the fourth window in September. "I'll be in Milwaukee training," he said. "The window is very close to training camp. As for the other NBA players from Australia, they took the summer to take care of their bodies and try to rest up and get ready for 2019 and 2020. Dante Exum and Aron Baynes have free agency and that starts in a couple of hours so they're going to be busy."
Dellavedova, who has two years left in his $38 Million, four-year Milwaukee contract, said he remembers facing the Philippines at a pre-World Cup tournament in Antibes, France, in 2014. Australia beat the Philippines, 97-75, with Dellavedova, Exum and Baynes in the lineup. Andray Blatche led Gilas with 20 points and 10 rebounds. Only five from that team – Blatche, Jayson Castro, Gabe Norwood, JuneMar Fajardo and Japeth Aguilar – will play the Boomers tonight.
When Australia beat Gilas, 84-68, in the second window in Melbourne last Feb. 22, coach Chot Reyes' lineup didn't include Castro, Troy Rosario and Terrence Romeo. Those three combined for 34 points in Gilas' 93-71 romp over Chinese-Taipei last Friday and they're sure to introduce their rip-roaring style to the Boomers tonight.