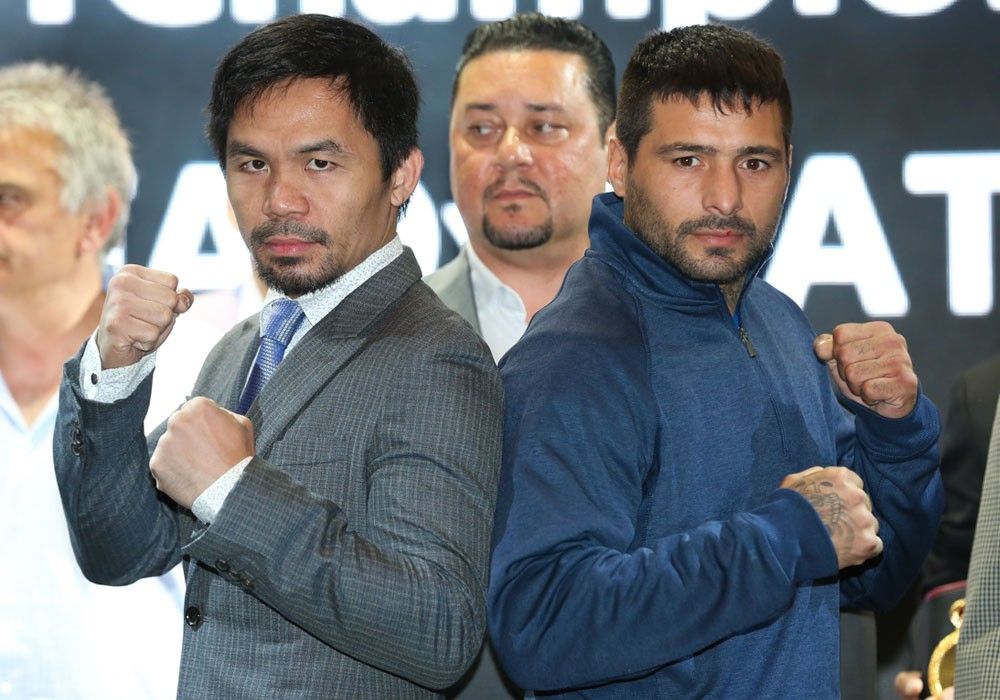 Manny Pacquaio and WBA welterweight champion Lucas Matthysse pose during a press conference at Le Meridien Hotel in Kuala Lumpur, Malaysia on Friday.
Wendell Rupert Alinea
Pacquiao says he's good for 2 more fights
MANILA, Philippines – Retirement is still far from Manny Pacquiao's mind.
Provided he dethrones WBA welterweight champion Lucas Matthysse two months from now, the Filipino icon plans to keep fighting.
"I think that I still have a couple more fights before I retire," Pacquiao said in a Philboxing.com report by Carlos Costa.
Pacquiao and Matthysse graced a press conference at the Le Meridien Hotel in Kuala Lumpur, Malaysia on Friday, the last of only two pressers this week to hype their July 15 fight in the same city.
When Pacquiao enters the ring to take on the 35-year-old Argentine, he would be fighting his 69th bout as a professional. He has been fighting professionally since 1995.
And unless he gets knocked out or badly beaten, fans can expect to see more of the 39-year-old boxer.
Pacquiao said he plans to end his career fighting in front of his countrymen.
"I want my last fight to be in the Philippines," he added.
Pacquiao's popularity has waned in his home country, where a significant number of his Filipino fans have called on him to already hang up his gloves. His foray into politics has also fueled critics, many of whom agree that he can't perform two jobs at the same time.
But Pacquiao is still hopeful that his countrymen will rally behind him at the opening bell.
"I feel that all Filipinos will support my fight because even if we have our differences, the Filipino people are united when it's a moment of supporting honor for our country," he continued.
"So I believe Filipinos are really going to support my fight."
In Matthysse, Pacquiao faces a younger and dangerous opponent whose high knockout percentage alone — 36 of Matthysse's 39 wins did not go the distance — is enough reason to consider him as a live underdog.
Matthysse's come-forward style is also a key reason Pacquiao picked the Chubut, Argentina native as his next opponent.
"I believe that my opponent, world champion Matthysse, will want to fight toe-to-toe. He is not going to back away. He is a good fighter as well," Pacquiao.
Matthysse, for his part, is just delighted to land the fight of his life,
"This fight is a really great fight in my career, and I am delighted to fight Manny here in Malaysia," he said.
RELATED VIDEO: Pacquiao-Matthysse Manila presser
Video by Erwin Cagadas/Philstar.com