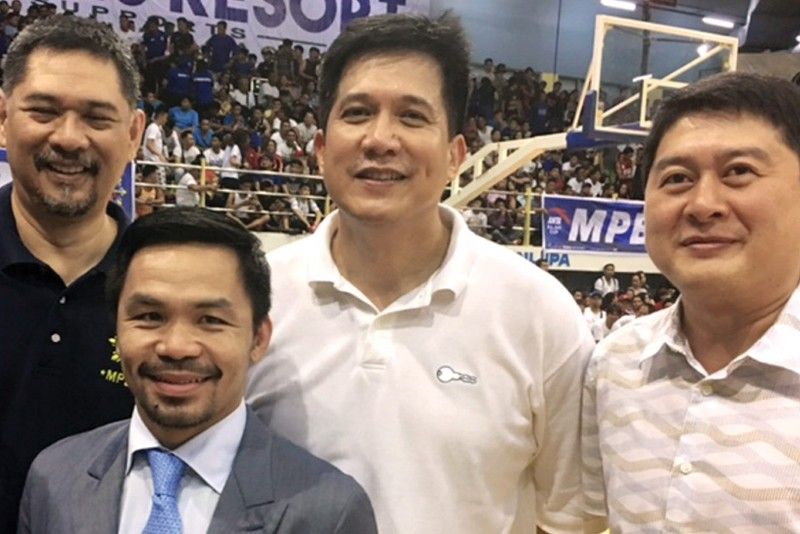 Sen. Manny Pacquiao with PBA legends Zaldy Realubit, Jerry Codiñera and Kenneth Duremdes in Muntinlupa for an MPBL twinbill.
Manny Pacquiao upbeat on MPBL expansion
MANILA, Philippines — Sen. Manny Pacquiao said yesterday the MPBL (Maharlika Pilipinas Basketball League) will likely expand from 10 to 20 franchises for the second conference to start in June or July with several provinces and cities expressing interest to join the bandwagon that has rolled off to a rousing start in jam-packed stadiums in the ongoing Anta Rajah Cup.
Pacquiao said he's overwhelmed by the crowd response wherever the league goes because of its unique home-and-away format. At the Muntinlupa Sports Complex the other night, the building was packed to the rafters as the MPBL treated the fans to a doubleheader capped by the home team's 103-87 win over the previously unbeaten Quezon City Capitals. It was close to midnight when the second contest ended and fans stayed until the final buzzer. MPBL games are free to the public in general admission and sections nearer the court go up to only P100.
The MPBL, billed as the league for the masses, is connecting with fans from all walks of life. Even Alaska Aces player Kevin Racal, a Muntinlupa resident, showed up to support the home team last Tuesday. The league is made up of 10 teams, namely, the Bataan Defenders, Batangas Tanduay Athletics, Bulacan Kuyas, Caloocan Supremos, Imus Bandera, Muntinlupa Cagers, Navotas Clutch, Parañaque Patriots, Quezon City and Valenzuela Classic. Las Piñas, Pampanga, San Juan, Laguna, General Santos City, Quezon and Cebu are among prospective franchises.
Pacquiao made it clear that the MPBL isn't an association. "No interest group or team will dictate on how to run the league," he said. "The key is to operate the MPBL fairly and with transparency. All I want is to give players a chance to play. There is no age limit to our players, it's from 18 upwards. If you're 45 and you can still play, you're welcome. I'm also bringing the league closer to the people, to give fans the chance to cheer for their home teams. With our live TV coverage, we're able to project our league in a big way through media. As a bonus, we're offering each home team a 3-minute window to promote their place or product in every game on TV."
The franchise fee for founding members was P500,000. But for the second conference, Pacquiao said the fee will increase to P10 Million. "It's a big jump," he said. "But we're now offering strong media values with our TV coverage. For the second conference, we'll advance the start of our games from 7 to 6 p.m."
The MPBL allows each team to recruit up to five ex-pros from the PBA or ABL and at least three players from the host province or city. Fil-Ams with Philippine passports may join but the MPBL reserves the right to turn down a player who may create a match-up problem because of size or ceiling. Commissioner Kenneth Duremdes, a former PBA MVP, is on top of the MPBL with other PBA veterans Zaldy Realubit, Bai Cristobal and Emer Oreta supervising technical operations.
Gary David leads the cast of PBA veterans playing in the MPBL. Last Tuesday, he fired 20 points to lift Bataan to a 91-87 win over Imus. Other former PBA players in the league include Chester Tolomia, Bernzon Franco, Egay Billones, Al Vergara, Val Acuna, Chito Jaime, Philip Butel, Sunday Salvacion, Marlon Basco, Paolo Hubalde, Mark Andaya, Chris Baluyot, James Martinez, Harold Arboleda and Jong Baloria.