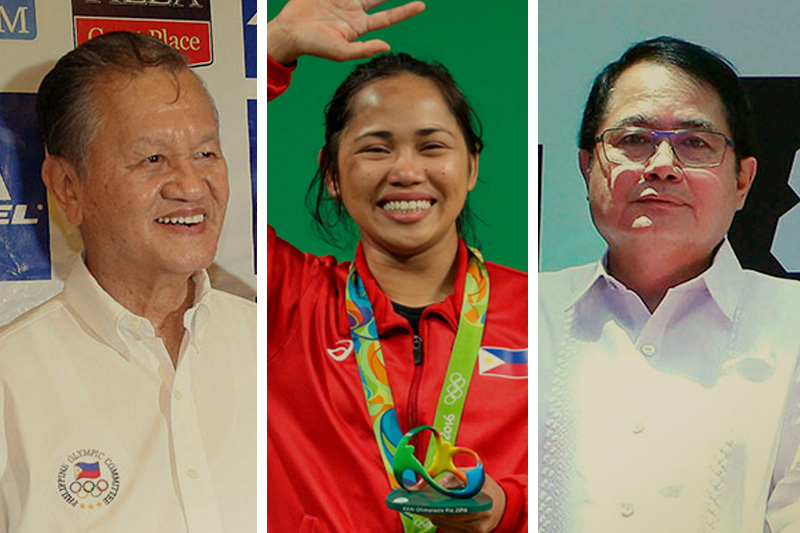 POC president Peping Cojuangco, Olympic medalist Hidilyn DIaz and boxing head Ricky Vargas.
Hidilyn Diaz calls for 'credible' POC polls
(philstar.com) - February 20, 2018 - 3:50pm
MANILA, Philippines — Olympic medalist Hidilyn Diaz on Tuesday urged Philippine sports officials to get their acts together for the sake of athletes.
In a statement, Diaz said she is speaking on behalf of athletes in calling for peace in the Philippine Olympic Committee leadership.
"It pains me to see that the organization that is supposed to act as the guiding light for sports in the country is so divided on something that should be so basic — to elect its leaders in free, fair and credible elections," the statement read.
The POC is set to have its special election on February 23 with boxing head Ricky Vargas looking to challenge incumbent head Peping Cojuangco.
The 2016 Rio silver medalist added that the leadership must be resolved in order for them to focus more on helping athletes.
"Sports is supposed to be insulated from politics. So it is sad to see that our national Olympic body itself appears to be mired in its own internal politics," Diaz said.
"This should not happen, because the persons that will ultimately be prejudiced by all of this are your athletes," she added.