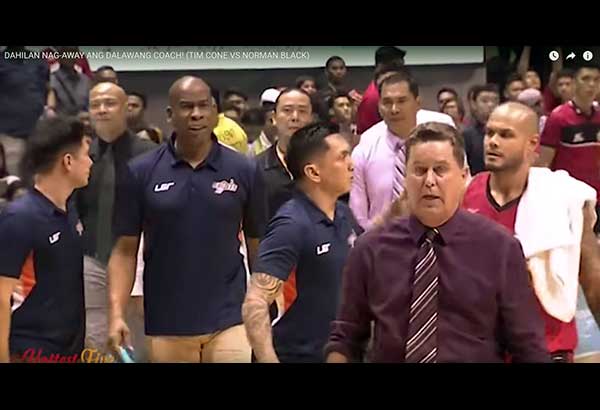 Meralco coach Norman Black tries to confront Ginebra counterpart Tim Cone in an ESPN 5 screen grab after Game Three of the PBA Governors Cup Finals which the Bolts won, 94-81, at the Smart Araneta Coliseum Wednesday night.
Title duel: Up close, personal
Game 3 Uproar fuels bitter confrontation
MANILA, Philippines — No matter the harsh words and public apology the morning after, this has become bitter and personal.
All because of the drama in the last 38 seconds of Game Three as the intensity and pressure of the PBA Governors Cup title series seemed to have seeped into the benches of the two teams.
With the win secured at 88-77, Meralco coach Norman Black called for a timeout which Barangay Ginebra mentor Tim Cone probably construed as a personal affront.
He was fuming on the sideline and later ignored Black's offer for the customary handshake.
Cone, however, issued an apology the following day and rued being caught up in the moment.
"I regret my actions after Game Three ended. Yes, I was upset about the timeout that was called late in the game, but there is no one in the PBA that I respect more than Norman Black. I got caught up in the moment and could have handled it differently," said Cone.
Despite the apology and an errie peace before Game Four of the best-of-seven series at the Smart Araneta Coliseum tonight, the late game skirmish might have triggered some hostilities between the coaches that may add fire to the already acrimonious confrontations.
The Kings once again shoot for a pivotal third win while the Bolts seek to tie the series at 2-2 shortly after the 2017 PBA Leo Awards set at 5:30 p.m.
San Miguel Beer behemoth June Mar Fajardo is again expected to take the spotlight in the annual awards as winner of the most coveted Most Valuable Player trophy for a fourth straight year.
Then the Kings and the Bolts resume their championship showdown that has become more exciting following Cone's handshake snub.
"Everybody knows Tim is the leader in wins and championships in the PBA. I've never in my life made any effort to tell how to coach his team so I don't need him helping mine. He didn't shake my hands because he's mad with the last timeout I called. That's his problem, not mine," said Black, moments after their breakthrough 94-81 win Wednesday night.
A bigger concern for Black is the exit of Ranidel de Ocampo on a torn calf muscle.
"If it's really bad, we have to move forward with what we have. We'll figure what we did right and what we did wrong. We'll try to correct our mistakes and bounce back from whatever defeats we may have," said Black.