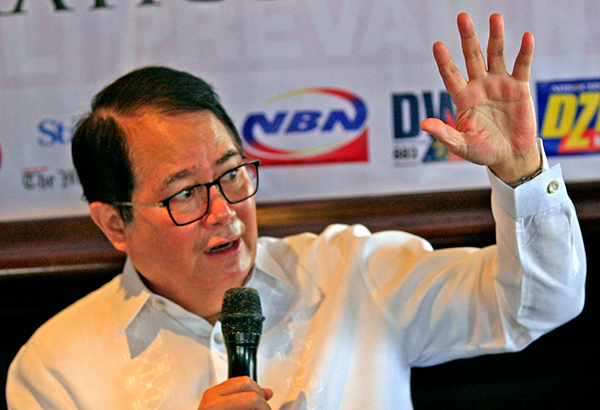 Ricky Vargas | File Photo
Vargas on Peping ouster: Only in an orderly, legal, unified manner
Abac Cordero
(The Philippine Star) - September 24, 2017 - 6:30am
MANILA, Philippines — Ricky Vargas, the amateur boxing chief who challenged Jose Cojuangco for the Philippine Olympic Committee presidency last year, yesterday aired his thoughts about the latest calls for Cojuangco's resignation.
Vargas issued a statement sent to select NSAs (national sports association), saying his desire to see a change in the POC leadership remains but added that those calling for Cojuangco's resignation must carry "a common desire for improved performance, profess the love of country, and care for our athletes."
"To effect change," Vargas said, "there should be a non-partisan attitude. However, I seriously doubt if this can easily be achieved based on relationships, alliances, and sense of gratitude. However, we must strive to take blind partisanship out of our system," he said.
Efforts to oust Cojuangco, who became POC president by acclamation in 2004, have become personal to some of those seeking the action, and have led to court cases being filed.
Vargas sought to run as POC president in November last year but was disqualified by the POC elections committee for failure to meet certain requirements, including regular presence and attendance in the POC general assembly.
A case filed by Vargas against his disqualification is pending in court, and the president of the Association of Boxing Alliances of the Philippines is hoping that the case "will be resolved soon so appropriate action may be undertaken for everyone's benefit."
Vargas also said in his statement that he is "willing to relinquish my own personal plans (POC presidency)" as long as he sees a change in the POC leadership.
"I have not changed my original stand on the need for leadership change. That said, we must effect change in an orderly, legal and unified manner. There are options provided for this in the POC by-laws," he said.
Under the POC by-laws, an elected official may be removed from position "for cause, by a three-fourths vote of the entire voting membership of the POC (general assembly)."
In the last POC elections last November, there were 41 registered voters, and only 37 of them showed up, with 26 of them voting for Cojuangco, and giving the 83-year-old former congressman from Tarlac a fresh four-year term.
Based on these numbers, it would take at least 31 votes to unseat Cojuangco.
But it's not that easy, because, under Section 14 of Article 7 of the POC by-laws, the removal or impeachment may only be initiated by a "verified position of at least two-thirds" of the total voting members. Once the position is achieved, only then will a vote of confidence take place, needing a bigger number of votes at three-fourths.
However, it is also stated in the POC by-laws that "no removal (of an elected officer) shall take place within one year from the date of the officer's assumption to office or one year immediately preceding the regular election."
This means that any legal effort to remove Cojuangco, whom critics have blamed for the sorry state of Philippine sports, may not take place until the latter part of November this year.
There have been several calls for Cojuangco's resignation. But the seasoned politician has ignored each call.
The latest calls for his resignation came in the aftermath of the Philippines woeful six-place performance in the Kuala Lumpur SEA Games, from where it brought home 24 gold medals or less than half than what sports officials had predicted prior to the Games.
Cojuangco said it's time to look forward to the country's hosting of the 2019 SEA Games, whereas host, the Philippines can assure itself of a higher finish of nothing lower than third place.
A group of sports officials staged a peaceful rally at the Rizal Memorial Sports Complex last Thursday while Philippine Sports Commission commissioner Ramon Fernandez, the staunchest Cojuangco critic today, led a similar exercise in Cebu City.
"Change must be genuine. No cosmetics, no theatrics, no ifs and buts," Vargas stressed.
"We must opt for fresh ideas, bolder initiatives, and new faces. The old leadership of POC was not of one man alone. Those who shared in the mantle of leadership must give way to a new beginning and instead take a positive role as mentors in bringing about change," he said.
Vargas said he received various messages the past few days "asking for advice, support and leadership regarding some serious movements in the sporting community."
"The common operative word is 'Change.' Doing nothing or having more of the same does not seem to be an option for most," he said.
Looking forward to the 2019 SEA Games, the boxing chief said it should be a collective effort.
"Everyone must band together and work hard to ensure a successful hosting. AND THE WORK NEEDS TO BEGIN NOW!!!" he said.