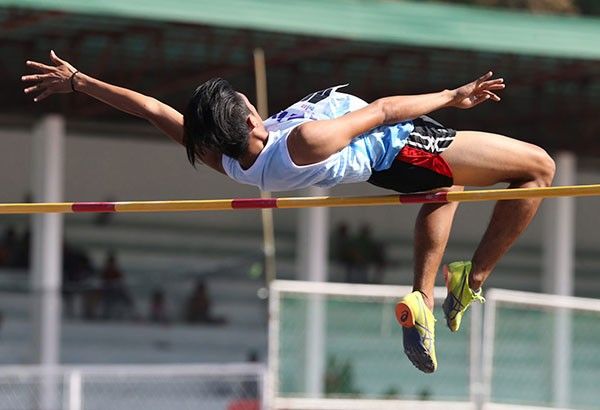 Cesar Fernandez of Sagay City, Negros Island clears the bar for the secondary boys' high jump gold during the Palarong Pambansa in San Jose, Antique. JOEY MENDOZA
Western Visayas' Lozanez rips Palaro javelin mark show
Joey Villar
(The Philippine Star) - April 25, 2017 - 12:00am
SAN JOSE, Antique, Philippines – Western Visayas' James Lozanez came away with a record-breaking throw to cop the secondary boys javelin gold while Jay Ann Labasano stole the thunder with a victory in secondary girls' 3000m in the Palarong Pambansa at the Binirayan Sports Complex here yesterday.
Lozanez, a Grade 10 student at Estancia National High School in Iloilo, used a 700-gram spear to shatter the old record of 57.81m set by Central Luzon's Bryan Pacheco four years ago in Sta. Cruz, Laguna with a new mark of 59.46m.
Ronald Lacson made it a 1-2 finish for WV with a 57.33m effort for silver while Northern Mindanao's Manny Maquiling, Jr. took the bronze with a 54.66 heave.
"This is the first time that I made it to the Palaro and I'm happy to have won and broken the record," said the 17-year-old son of a fisherman.
Labasano, whose father Ricky plants root crops to make ends meet, annexed the track and field's first gold by ruling the 3000m in 10 minutes, 32.67 seconds, besting the National Capital Region's Jie Ann Calis (10:41.15) and Ilocos' Maria Junaliza Abutas (10:44.63).
Labasano also exacted revenge over Northern Mindanao teammate and Davao native Camila Tubiano, who finished fourth in 10:57.21. Tubiano beat Labasano in the regionals in Camiguin last month.
"I didn't expect to win, I just trained hard," said the soft-spoken Labasano, who dropped to the rubberized track after reaching the finish line, gasping for air while celebrating her surprise victory.
The 17-year-old lass from Manolo Fortich, Bukidnon toughened up for the event by running while carrying a gallon of water three kilometers to home.
Interestingly, Lozanez and Labasano ditched wearing spiked shoes for a pair of rubber shoes and going barefoot, respectively.
"It (spiked shoes) slows me down," said Lozanez.
"I'm more comfortable running barefoot," said Labasano.
Negros' Cesar Fernandez edged Ilocos' Kent Celeste to take the secondary boys high jump mint.
Fernandez and Celeste actually ended up with identical 1.90m jumps but the former took the gold after posting the mark on his very first attempt. Celeste did it on his second jump and settled for silver while Central Visayas' Ermie Catipay edged NCR's Lorenze Sediarin for the bronze after the two jumped over 1.85m.
In secondary boys basketball, powerhouse NCR, represented by Chang Kai Shek, kicked off its title drive with back-to-back wins over Zamboanga, 87-84, and Mimaropa, 69-28, while defending champion Negros ripped Autonomous Region of Muslim Mindanao, 20-0, in secondary softball.
Meanwhile, medal-rich swimming unwraps today with 16 of the total 60 golds at stake.