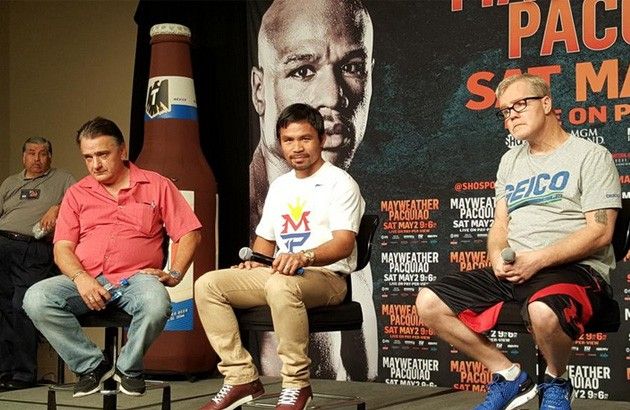 Manny Pacquiao with adviser Mike Koncz (left) and trainer Freddie Roach in this file photo.
Pacquiao camp mum on nixed Khan deal
MANILA, Philippines – The camp of Manny Pacquiao refused to comment on Top Rank Inc. boss Bob Arum's earlier pronouncement that the planned fight with Amir Khan is off.
"We have no comment at this time," Pacquiao's adviser Michael Koncz told Philstar.com in a text message.
Koncz informed Philstar.com that he just arrived in the Philippines Wednesday morning from a trip to the US, where he sat down with Arum to discuss the fight.
But it turned out that the sit-down with Arum was unsuccessful as the veteran promoter announced that the fight is "dead."
It was Koncz who led negotiations with an investment group in the United Arab Emirates that planned to bring Pacquiao to the country to take on Khan, who has a huge following among the Muslim community there.
The group has reportedly offered a fund of $38 million to stage the fight, an amount Arum dubbed as "too good to be true."
With the option to fight Khan already off the table for now, Koncz declined to detail their next move.
"Manny and I spoke and decided we will make no comments one way or the other at this time," he added.
Arum earlier batted for Australian Jeff Horn to be Pacquiao's next opponent, holding talks with Horn's representatives to hold the showdown in Brisbane.