The 3 most visited sites in Turkey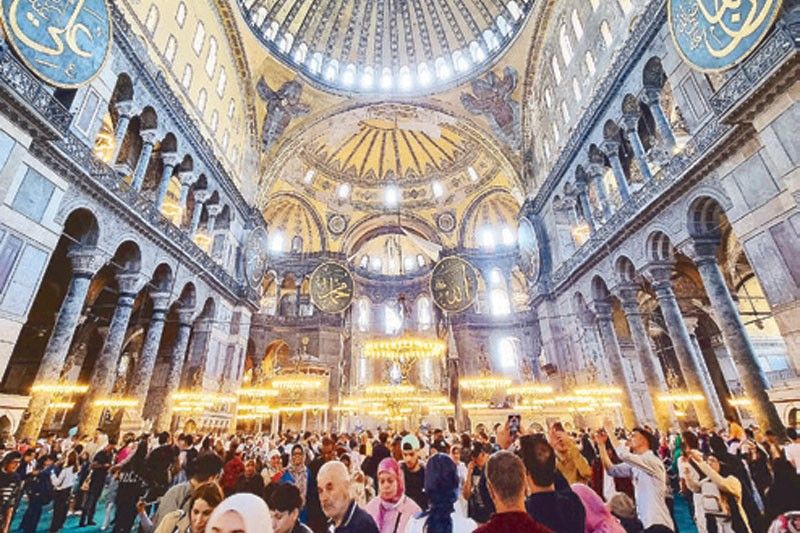 I got excited about two things: going back to Turkey and taking Turkish Airlines. I really have to say that I love Turkish Airlines! Their service is impeccable. The food is great. The selection of movies is wide. They have free WiFi on board and their new and even more comfortable Business Class seat has a little locker to keep your valuables, such as your phone and passport so you won't have to worry about them.
I have to add that my overnight kit was Hackett and the toiletries in the washroom were Molton Brown — two of my favorite British brands.
I accompanied a group of PIATA travel agents who participated in the 17th Edition of the World Romance Travel Conference in Bodrum, which was presented by the International Association of Destination Wedding Professionals (IADWP). This networking conference allowed them to get in touch with leading wedding coordinators and planners around the world to be able to offer their clients a trouble-free package for destination weddings anywhere in the world.
The Philippine IATA Agents Travel Association (or PIATA) is one of the leading professional travel organizations in the country. Their objective is to promote cordial relations and encourage professionalism among members of the IATA Accredited Travel Agencies.
IATA, or the International Air Transport Association, is one of the largest travel and tourism organizations promoting liaisons among airlines all over the world. The organization sets regulations and industry policies for the airlines and supports airline activities.
IATA agents are the collectors of the Philippine Travel Tax. They also promote the Philippines in sales missions, exhibitions, trade events, and meetings around the world.
We landed in Istanbul after the smoothest flight and began to explore the bustling city. Our first stop was the Grand Bazaar, one of the largest (30,700 square meters) and oldest covered markets in the world with 61 covered streets and over 4,000 shops.
We didn't miss the top three most-visited sites in Istanbul either, all walking distance from each other. First is the Blue Mosque, or the Sultan Ahmed Mosque, which was constructed around 1609 and included in the UNESCO World Heritage Site list in 1985.
A five-minute walk away is Hagia Sofia, literally translated to "Holy Wisdom." It was built in 537 as the largest Christian Church of the Byzantine Empire. It became a Roman Catholic Church from 1204 to 1261 and was converted into a mosque after the Fall of Constantinople (Istanbul's former name) to the Ottoman Empire in 1453. In 1935, the Republic of Turkey established it as a museum. In 2020, it was reconverted into a mosque.
The third most visited is Topkapi Palace, a large museum that served as the main residence and administrative headquarters of the Ottoman sultans in the 15th and 16th centuries.
After two nights, we flew to Bodrum, a port city in Southwestern Turkey where the conference was held. Bodrum is an hour away from Greece and is next to the crystal waters of the Aegean Sea. Here, the hardworking PIATA team network and promote our country as well.
Established in 1933, Star Alliance member Turkish Airlines has a fleet of 373 (passenger and cargo) aircraft flying to 338 worldwide destinations — 285 international and 53 domestic — in 129 countries. Turkish Airlines has 10 flights weekly between Manila and Istanbul and three flights weekly between Cebu and Istanbul.
For more information about Turkish Airlines, call 8540-1733, email [email protected] or [email protected] or visit www.turkishairlines.com.
Check out the Philippine IATA Agents Travel Association page on Facebook.
* * *
(To be concluded next week)
Follow me on Instagram @pepperteehankee.