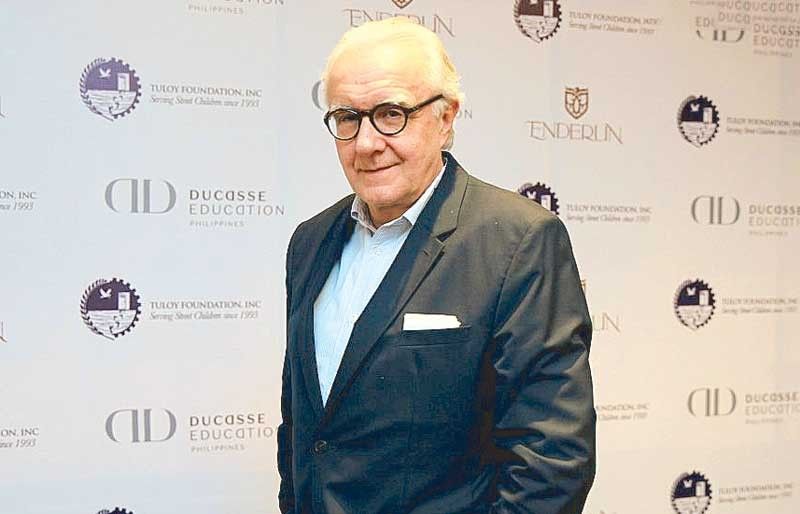 Chef Alain Ducasse.
Photo by Bening Batuigas
Chef Alain Ducasse's recipe for success
He is reportedly only one of two chefs in the world to have earned 21 Michelin stars in his career, "the most celebrated of modern French chefs." The living legend is one of the rare chefs in the prestigious Michelin Guide's history to run restaurants carrying three-star rankings in three cities: Le Louis XV in Monte Carlo, Alain Ducasse au Plaza Athénéé in Paris, and Alain Ducasse at The Dorchester in London.
And yet when I told him that it was an honor to meet him, he replied very gallantly, "It is an honor to meet you, too."
For Chef Alain Ducasse, whose grandmother's cooking inspired him to be a chef, the chef, "is the liaison between nature and humanity, the artisan whose role is to make happy those he feeds."
But the virtuoso in the kitchen has gone a step forward and dedicated part of his life and his career to making happy those who work in the kitchen.
"This profession is about sharing," Ducasse told this writer at a one-on-one interview at the Enderun Colleges in Taguig, which is home to the first Ducasse Education outside of France and its regional hub in Asia.
Youth with a Future graduate James Diño now works for Alain Ducass e's Michelin - starred restaurant Ducasse sur Seine in Paris.
Ducasse met Tuloy Foundation founder Fr. Rocky Evangelista in 2013, visited Tuloy's culinary center in Muntinlupa and knew right away he wanted to cook up a better future for its underprivileged students.
"Tuloy is exclusively for poor and marginalized boys and girls, in order to emancipate them from hopelessness and helplessness," says Father Rocky, a Salesian priest. The foundation offers them quick skills training courses so that by the time they are 18, they can already earn a living and help out their families if they wish.
In 2014, Ducasse Education at Enderun graduated 10 scholars. Some were former street vendors.
For Ducasse, the recipient of many acts of generosity in his career, it was paying it forward as well as giving back. "In my profession, all the people I have worked with helped me by sharing their knowledge with me. So, it's a profession of learning and sharing your knowledge and everyone that I work with is the same. That's why I am just sharing what others have shared with me."
In addition, Ducasse finds the Philippines a cornucopia of talent.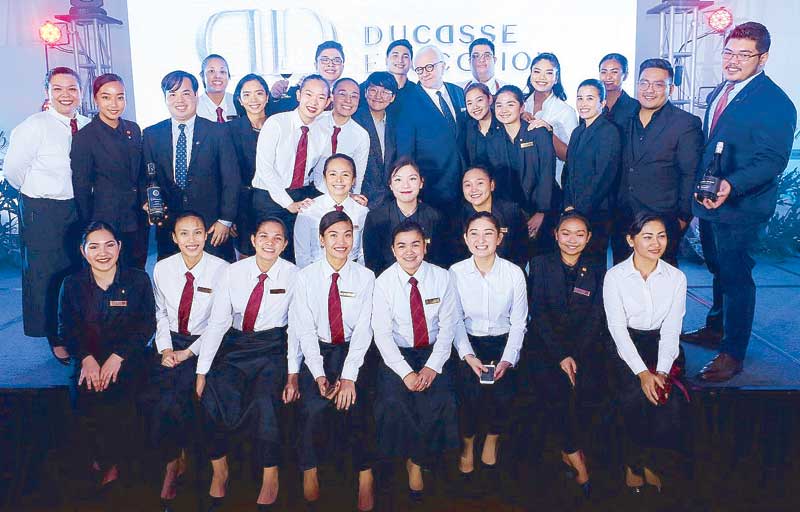 The dinner service team of 'Harvest of Hope' together with chef Alain Ducasse.
"This was a great opportunity that Javier (Infante, one of the founders of Enderun) found at the time. It also had a great potential here because there's tourism here in the Philippines and where there's tourism, you need students. You have to develop students for the tourism industry for the hotels and the restaurants to support the tourism industry," Ducasse said.
When I asked his recipe for happiness, Ducasse, who has a similar project "Women with a Future," for underprivileged women in Paris, said, "The recipe is to look at the world and look at what's good in the bad and be inspired by the good. Always derive positive lessons for what we can share to other people."
* * *
After our interview, Ducasse was special guest at a P10,000-a-plate dinner (with his imprimatur, mind you) for the benefit of Youth with a Future, which aims to support and provide educational scholarships and job placements every year to a select group of culinary students of Tuloy Foundation. The five-course dinner harvested P7.5 million, including proceeds from the auction of three "72 hours with Ducasse" packages, which included three nights at the Plaza Athénéé in Paris and lunches and dinners in Ducasse's restaurants. Each package had three bidders, all of whom paid P1 million each.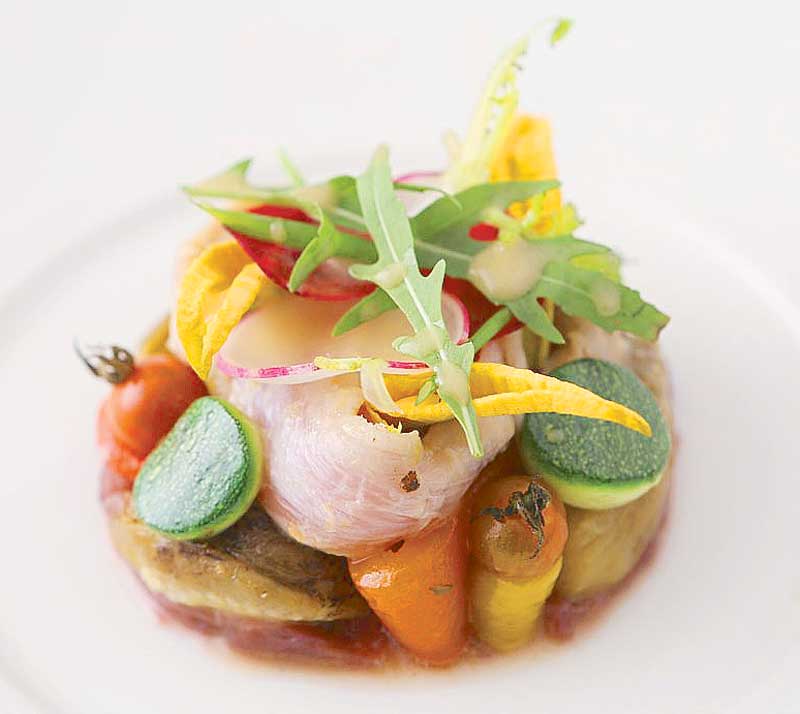 Tuna belly escabeche with local fruit and vegetables for a second course served at the 'Harvest for Hope' dinner.
The dinner, dubbed "Harvest of Hope" featured the dinner menu especially prepared by Ducasse Education Philippines' chefs and students showcasing the best produce from Philippine farmers.
* * *
Asked about one of the most unforgettable meals he has supervised, he said it was the recent dinner for heads of state in Paris for the "L'Armistice," the 100th anniversary of the end of World War I. "I prepared a dish that everybody could eat, it was a vegetable dish, all vegetable, no gluten, no sugar, no butter, slow-cooked. I used seasonal vegetables, very simple. No fat."
Even chefs used to preparing haute cuisine have their own comfort food, and to Ducasse, it is his version of mac 'n cheese.
"It's a dish that I do in a lot of my restaurants, a little bit like macaroni and cheese. I use small noodles, with ham and cheese. Coquette jambon fromage," he shared.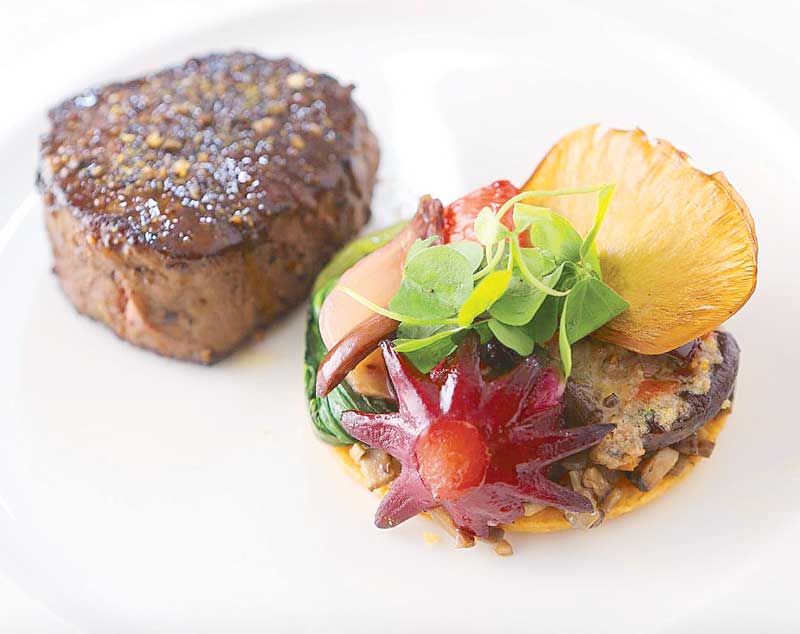 Main course was Kitayama beef loin with local farm vegetables, dalandan and black pepper jus.
And his recipe for success, for surely the man who aspires for his 22nd Michelin star soon must have one? "Work more, faster and better!" he says in a heartbeat.
And his advice to the scholars of his partnership with Enderun, one of whom, James Diño, is now working in one of his Michelin-starred restaurants in Paris?
"Make the decision to wake up in the morning and make a choice. It's your decision to make your day positive!"
Does the living legend actually still pick up a ladle in the kitchen? Wearing a toque, a chef's uniform?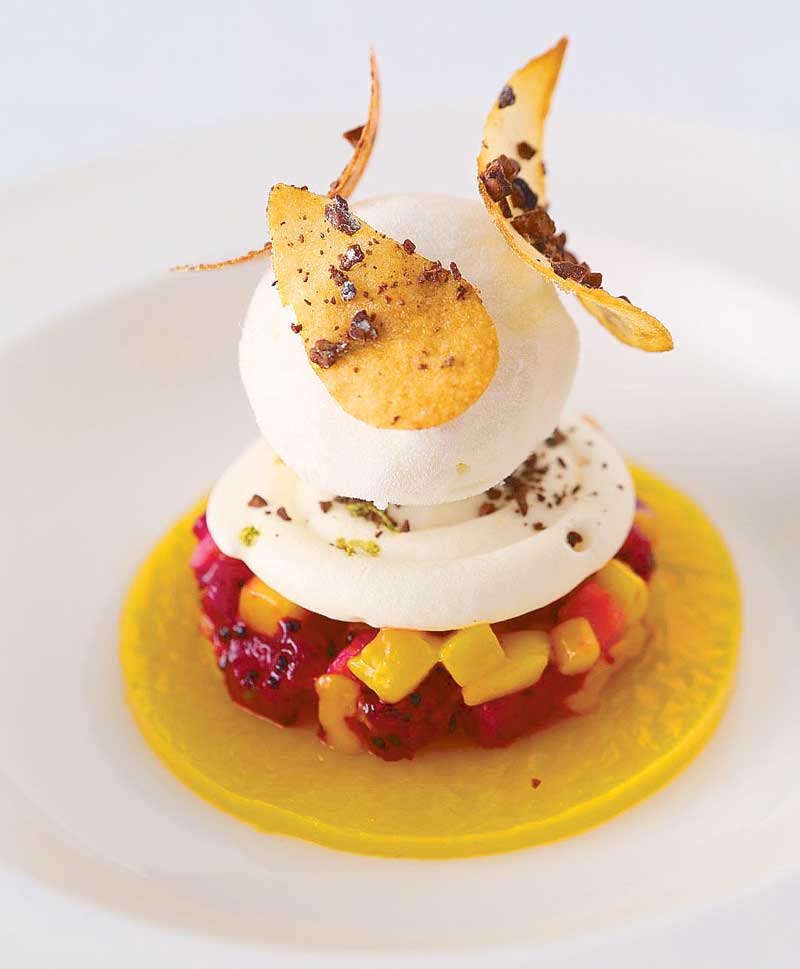 Tropical lemongrass vacherin with mango, passion fruit and coconut for dessert.
"Yes, when I'm at home. My chefs actually cook better than myself now because they train and they work every day in the kitchen. I'm more of like the coach in the football team. I still know the game but I'm not going to say I am better than my cooks. They are the players now, the players are better than the coach."
Apparently, humility is one major ingredient in the success of Alain Ducasse.
(You may e-mail me at joanneraeramirez@yahoo.com. Follow me on Instagram @joanneraeramirez.)