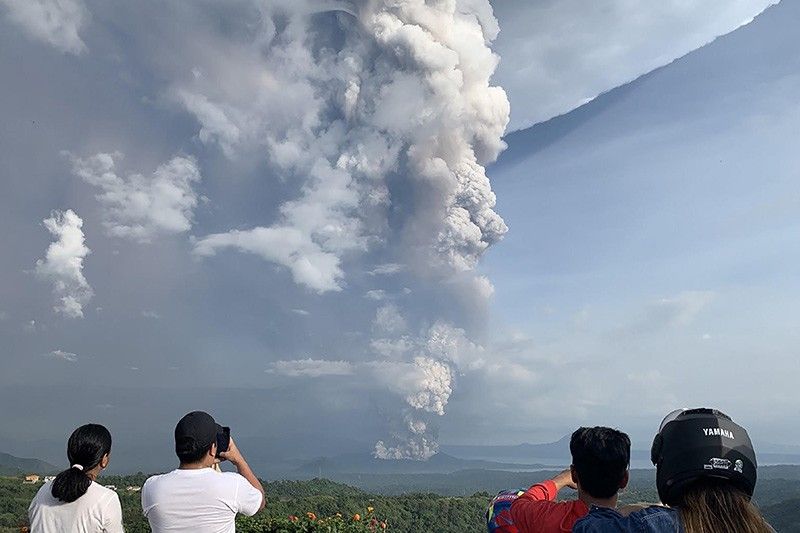 People take photos of a phreatic explosion from the Taal Volcano as seen from the town of Tagaytay in Cavite province, southwest of Manila, on Jan. 12, 2020.
Bullit Marquez/AFP
WATCH: Taal Volcano spews plumes 100 meters high after phreatic eruption
(Philstar.com) - January 12, 2020 - 6:18pm
MANILA, Philippines — A phreatic explosion at the main crater of the Taal Volcano Sunday afternoon generated plumes 100 meters high, prompting state volcanology agency Phivolcs to raise the alert level to 2.
Nearly two hours later, however, the state volcanology agency again raised the alert level to 3 after the volcano spewed plumes a kilometer high.
READ: Phivolcs raises alert level to 3 as Taal Volcano spews kilometer-high plumes
The state volcanology bureau said that as of 2:04 p.m., Taal Volcano's main crater escalated its eruptive activity, generating an eruption plume 1 kilometer-high accompanied by volcanic tremor and felt earthquakes at the Taal Volcano Island and the barangay of Agoncillo, Batangas. Ashfall is currently being showered on the southwest sector of Taal.
The agency in its 4 p.m. bulletin Sunday strongly recommended that the Taal Volcano Island and high-risk barangays of Agoncillo and Laurel, Batangas be evacuated due to the possible hazards of pyroclastic density currents and volcanic tsunami.
"The public is reminded that the entire Volcano Island is a Permanent Danger Zone (PDZ), and entry into the island as well as high-risk barangays of Agoncillo and Laurel is prohibited. In addition, communities around the Taal Lake shore are advised to take precautionary measures and be vigilant of possible lakewater disturbances related to the ongoing unrest."
As It Happens
LATEST UPDATE: January 24, 2020 - 8:07am
Get updates as Phivolcs issues warnings over Taal Volcano's unrest. (Main photo by AFP/Bullit Marquez)
January 24, 2020 - 8:07am
Taal Volcano emits ash a little past 5 a.m. and continuing to do so at 6 a.m. on Friday, January 24.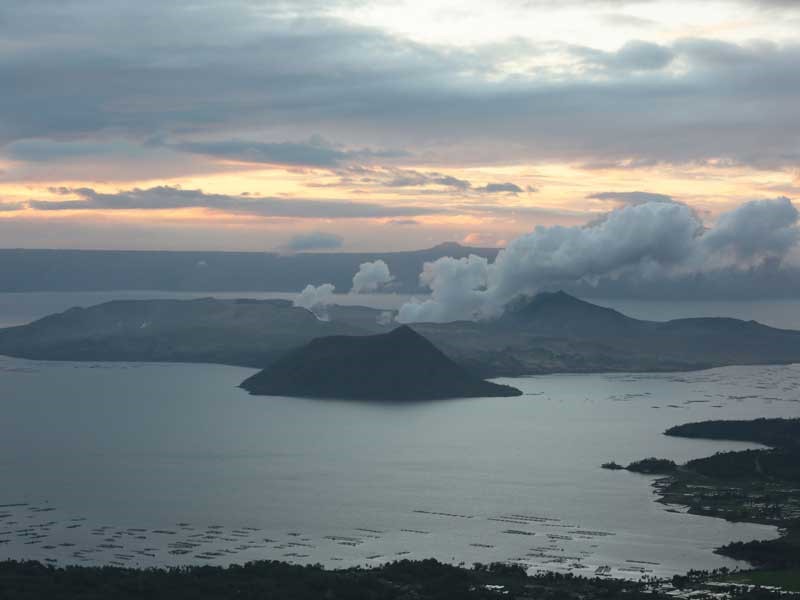 It usually issues 24-hour advisories at 8 a.m. and holds briefings and issues updates throughout the day.
January 23, 2020 - 3:18pm
Finance Secretary Carlos Dominguez III orders the Bureau of Customs to donate all of its seized food items fit for human consumption to help people displaced by the Taal Volcano eruption.
The Finance department says the Customs must immediately turned over to the Department of Social Welfare and Development some 32 pallets containing 180 boxes each of canned Libby's Vienna Sausage that were seized at the Port of Manila in March 2018.
January 23, 2020 - 2:47pm
China has turned over about P7.5 million to the Philippine government for the relief and rehabilitation of areas affected by the Taal Volcano eruption.
According to a release from the Chinese Embassy, Chinese Ambassador Huang Xilian turned the money over to Foreign Affairs Undersecretary Enrique Manalo on Wednesday.
The Chinese Embassy says Ambassador Huang told Manalo that "the Chinese side looks forward to lending more strength to the disaster relief efforts on the Philippine side to overcome the difficulties and help the affected people restore their normal livelihood at an earliest date."
January 23, 2020 - 8:29am
Phivolcs has observed weak to moderate emission of steam-laden plumes of from 50 to 500 meters high over the past 24 hours, it says Thursday, adding sulfur dioxide emission has been at a lower 141 tons a day.
Phivolcs on Wednesday said sulfur dioxide emission of Taal had gone down to an average of 153 tons per day from the previously recorded average of 344 tons. Sulfur dioxide is a colorless gas that irritates skin, eyes, nose and throat.
"The Philippine Seismic Network plotted a total of 731 volcanic earthquakes since 1 PM, January 12, 2020. One hundred seventy-six of these registered at magnitudes M1.2-M4.1 and were felt at Intensities I-V," it says.
"Since 5 a.m. on January 22, 2020 until 5 a.m. today (Thursday), there were six volcanic earthquakes plotted that registered at magnitudes M1.5-M3.4 with no felt event," it also says.
January 22, 2020 - 5:01pm
State volcanologists say there was no ash emission in Taal Volcano since 5 a.m. Wednesday but a hazardous eruption is still possible.
"However, unconsolidated ash blanketing Taal Volcano has been remobilized and transported by strong low-level winds towards southwest (SW), affecting the towns of Lemery and Agoncillo," says Phivolcs in its 4 p.m. advisory.
Alert Level 4 remains in effect over Taal, which means a hazardous explosive eruption may still happen.