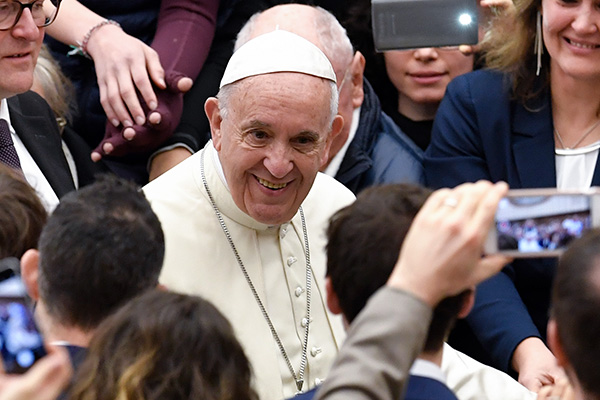 Pope Francis smiles as people greet him upon his arrival for his weekly general audience at the Aula Paolo VI on December 27, 2017 in Vatican. Andreas Solaro/AFP
WATCH: In Christmas message, Pope Francis calls for peace in Jerusalem
(philstar.com) - December 27, 2017 - 10:10am
MANILA, Philippines — Pope Francis called for peace in Jerusalem on Monday as he delivered his traditional Christmas address.
The 81-year-old pontiff also highlighted the plight of children scarred by conflict and urged the world's Catholics not to ignore the conditions migrants face.
"We see Jesus in the children of the Middle East who continue to suffer because of growing tensions between Israelis and Palestinians," Pope Francis said.
"Let us pray that the will to resume dialogue may prevail between the parties and that a negotiated solution can finally be reached, one that would allow the peaceful coexistence of two states within mutually agreed and internationally recognized borders."
Tens of thousands of worshippers gathered at the Vatican to hear the pope's fifth "Urbi et Orbi" (To the City and the World) message.
Twelve Palestinians have been killed since Trump's declaration, including a 19-year-old who died of his wounds on Sunday nine days after he was shot during a Gaza protest.
Following Trump's declaration, Guatemala's President Jimmy Morales said Sunday his country would move its embassy from Tel Aviv to Jerusalem.
The pontiff also mentioned other global flashpoints such as Syria, Iraq, Yemen, South Sudan and Venezuela, after stressing that the "winds of war are blowing in our world."
"Let us pray that confrontation may be overcome on the Korean peninsula and that mutual trust may increase in the interest of the world as a whole," he said. — with AFP; Video by RP Ocampo