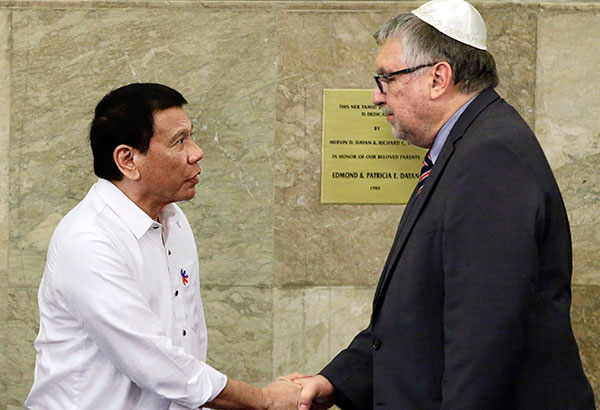 President Duterte shakes hands with Israeli Ambassador Effie Ben Matityau during a visit to the Beit Yaacov Synagogue and the Jewish Association of the Philippines in Makati on Tuesday. AP
Philippines studying moving embassy to Jerusalem — report
(philstar.com) - December 26, 2017 - 3:27am
MANILA, Philippines — The Philippines is reportedly considering moving its embassy to Jerusalem, a few days after the country abstained from a United Nations vote calling for the United States to drop its recognition of the Holy City as Israel's capital.
READ: Philippines abstains as UN votes to rebuke Trump's Jerusalem decision
According to a report by the Agence France-Presse, Israeli public radio cited Israeli diplomatic sources as saying that the Philippines was among the countries considering such a move.
"We are in contact with at least ten countries, some of them in Europe" to discuss the move, deputy foreign minister Tzipi Hotovely, who was quoted as saying by AFP, told public radio.
The Philippine Foreign Affairs Department is yet to respond to a request for comment as of this reporting.
On December 6, US President Donald Trump declared Jerusalem as Israel's capital and said that he would move the US embassy from Tel Aviv — a departure from decades of US policy.
Several presidents and prime ministers had warned Trump that his decision may risk blowing up the new Arab-Israeli peace initiative and could lead to new violence in the region.
Last week, an overwhelming majority of UN member-states voted to declare the US recognition of Jerusalem as Israel's capital null and void.
Meanwhile, the Philippines was among the 34 countries that abstained on the UN vote.
The Philippines was the only nation in Asia that voted in favor of the UN Partition Plan for Palestine on Nov. 29, 1947. The proposal recommended that Palestine be partitioned into an Arab State and a Jewish State, with a special international status for the city of Jerusalem under the administrative authority of the UN.
RELATED: Rallyists in Taguig denounce Trump declaration of Jerusalem as Israel's capital
In November, the Philippines voted against a UN resolution urging Myanmar to end its military campaign Rohingya Muslims living in its Rakhine state.