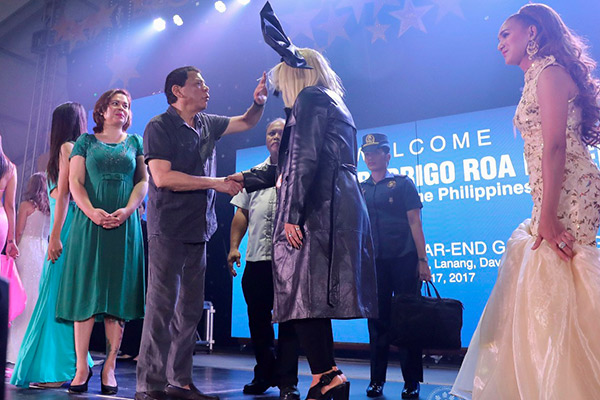 President Rodrigo Duterte interacts with the members of the Lesbian, Gay, Bisexual, and Transgender (LGBT) community during the 7th LGBT Davao Year-End Gathering at the Azuela Cove in Lanang, Davao City on Dec. 17, 2017. Also in the photo is Davao City Mayor Sara Duterte-Carpio. Richard Madelo/Presidential Photo
WATCH: Duterte says he favors same-sex marriage
(philstar.com) - December 18, 2017 - 1:36pm
MANILA, Philippines — President Rodrigo Duterte expressed support for same-sex marriage anew.
In 2015, Duterte declared support for gay marriage in a TV guesting on "Gandang Gabi Vice." He said he is against bullying and discrimination of the lesbian, gay, bisexual and transgender (LGBT) community.
However, two years later, he said he does not want to tolerate same-sex marriage.
On Sunday, however, Duterte backtracked and said people should not be barred from pursuing things that make them happy as he expressed support to the LGBT community anew.
FULL STORY: Duterte backtracks on same-sex marriage, says he supports it
The president made the statement before the LGBT community in Davao City where he attended the 7th LGBT Davao Year-End Gathering.
— Text by Rosette Adel; Video edited by Efigenio Toledo IV