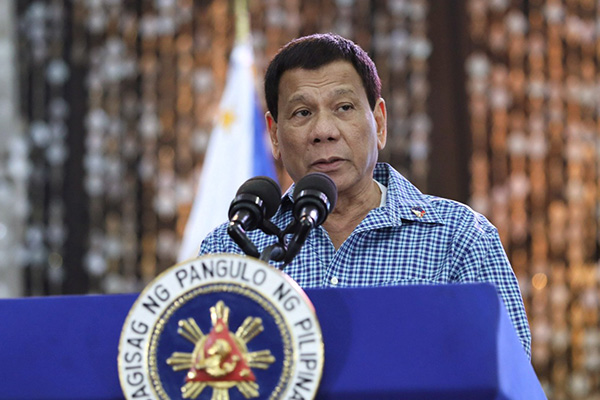 President Rodrigo Duterte, in his speech during the Partido Demokratiko Pilipino-Laban Christmas benefit dinner for Marawi City at the Sofitel Philippine Plaza in Pasay City, Dec. 13, 2017. Robinson Niñal Jr./Presidential Photo
Duterte backtracks on same-sex marriage, says he supports it
MANILA, Philippines — President Rodrigo Duterte Sunday expressed support for same-sex marriage, reversing anew his stand on the issue, which has sparked fierce debates in other countries.
Speaking to the lesbian, gay, bisexual and transgender (LGBT) community in Davao City, Duterte said people should not be barred from pursuing things that make them happy.
"I want same-sex marriage. The problem is we'll have to change the law. But we can change the law," the president said, referring the Family Code, which states that a marriage is between a man and a woman.
"If that is the trend of the modern times, if that will add to your happiness, I am for it. Who am
I (to stop you)? You know, kung ano 'yung kaligayahan ng tao, ibigay ko. Bakit mo pigilan (if that makes the people happy, why stop it)? Why impose a morality that is no longer working and almost passé," he added.
In 2015, Duterte told gay television host Vice Ganda that same-sex marriage is "good" because "everyone deserves to be guaranteed happy."
The president changed his tune two years later, saying the Philippines should not be forced to adopt the mindset of the West, which has been tolerating same-sex marriage.
"Tingnan mo 'yung (Look at) Time magazine ngayon. Wala nang (there is no more) gender because you can be a he or she," the president said during a meeting with the Filipino community in Myanmar last March.
"Yun ang kultura nila. Eh di kayo lang, hindi 'yan pwede sa amin. Katoliko kami at (That's their culture. It does not apply to us. We are Catholics and) there is the Civil Code, which says that you can only marry a woman for me… for a woman to marry a man," he added.
Duterte was referring to an issue of Time magazine, which discussed the supposed blurring of lines between males and females in the United States. The story relied heavily on data from the group Gay & Lesbian Alliance Against Defamation, which has drawn flak for its supposed efforts to silence those who are against gay marriage.
The president reversed himself again Sunday, saying he does not have problems making marriage a union between two people with the same gender.
"I don't have any problems making it marrying a man, marrying a woman or whatever is the predilection of the human being," he said.
Duterte assured members of the LGBT community that they would not experience discrimination under his regime.
"There will be no oppression and we will recognize your importance in society," the president said.
"You have my guarantee that everybody, at least during my term, will be protected and nurtured as a human being."
Duterte said he is willing to appoint members of the LGBT community to his Cabinet.
"I would be willing to accept all. I don't have any problem with that. Now find me the brightest here in the Philippines. Give me a bright person. He might be gay, he might be lesbian. I'd like to nominate or appoint somebody upon the nomination," the president said.
"You nominate the representative from the LGBT sector because I fired the entire (Presidential) Commission (for) the Urban Poor (PCUP), the head for traveling so much in so short a time, as if he was using the money of the people like his own. I will have to form that commission," he added.
Duterte was referring to Terry Ridon, the PCUP chairman who was dismissed over alleged unnecessary foreign trips. Ridon has denied that he was fond of junkets and claimed that all his foreign trips were allowed by Malacañang.
"I'd like a gay there somewhere or a lesbian… You nominate somebody who is honest, hardworking. And I would like to show that any, any, whether gay or lesbian, can always work just like an ordinary human being," he said.
Duterte gave the LGBT community until the second week of January to choose their nominee. It was not clear whether Duterte was referring to the PCUP or another government body but he made the remark while talking about the firing of Ridon.
In the same speech, Duterte warned human traffickers that he would not hesitate to treat them like drug lords.
"There are some tribes in Mindanao and maybe in Visayas and Luzon, this practice of buying children. Stop or else I will treat you just like a drug lord," he said.
"I'm not saying anything beyond that statement. But slavery must stop."