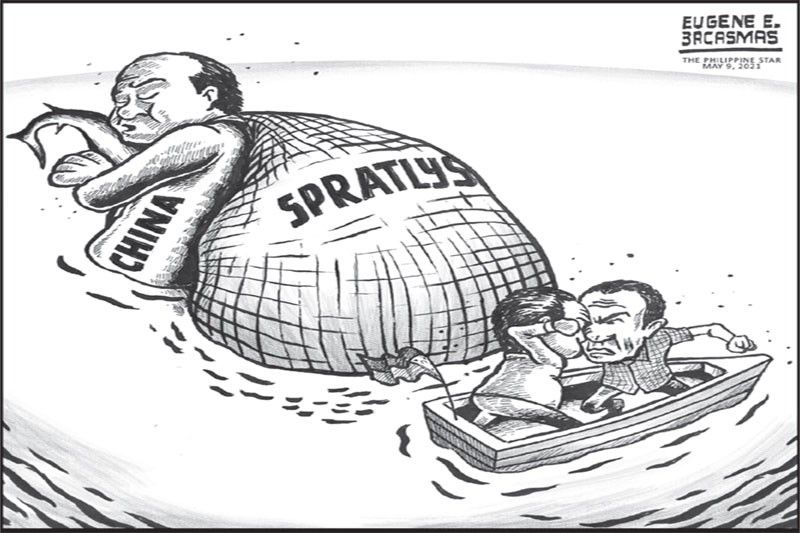 EDITORIAL - Speak with one voice
(The Philippine Star) - May 9, 2021 - 12:00am
When it comes to issues of sovereignty, the nation should be united and uncompromising in its stand. Will a high-profile debate on the nation's maritime dispute with China emphasize this, or simply highlight disunity in the country?
In 2016, the Permanent Court of Arbitration in The Hague, acting on a petition filed by the Philippines for a definition of its maritime entitlements, declared the country to have sovereign rights over Panganiban (Mischief) Reef, Ayungin (Second Thomas) Shoal and Recto (Reed) Bank in the West Philippine Sea. Panatag (Scarborough) Shoal was declared a common fishing ground. Going beyond the petition, the PCA, invoking the United Nations Convention on the Law of the Sea, also invalidated China's so-called nine-dash-line claim over nearly the entire South China Sea.
President Duterte, who during his 2016 campaign had promised to jet-ski to the Spratlys to plant the Philippine flag, instead shelved the PCA ruling upon taking office, as part of what he described as his foreign policy pivot to China. But in September last year, in his first address before the UN General Assembly, he invoked the PCA ruling in asserting the country's sovereign rights within its 200-mile exclusive economic zone or EEZ in the South China Sea.
Beijing has ignored the PCA ruling and reignited concerns over its maritime activities after more than 200 of its militia vessels swarmed Julian Felipe Reef this year. Filipino fishermen's groups have warned that Chinese poachers are taking some 7.2 million kilos of fish every month from Philippine waters.
Criticisms of the Duterte administration's policy toward China prompted the President to challenge retired Supreme Court Justice Antonio Carpio to a debate on the issue. Not one to back out of a challenge, Carpio accepted. Last Friday, the President backed out, designating instead his spokesman to take his place in the debate. Again, Carpio has accepted the challenge.
The President has issued public statements on the issue that Carpio has warned could undermine the country's sovereign rights within its EEZ, as defined under UNCLOS. The Department of Foreign Affairs on Friday stressed that the official stand of the Philippines is what the President declared last year before the UN General Assembly.
There's always the possibility that the President would again shoot his mouth off on the issue, casting doubt on that official stand. The country should be speaking with one voice on matters of national sovereignty. The only winner in such a debate, if it ever pushes through, will be China. Even now, Beijing must be laughing its heart out.