EDITORIAL - Waiting for a resolution
October 2, 2020 | 12:00am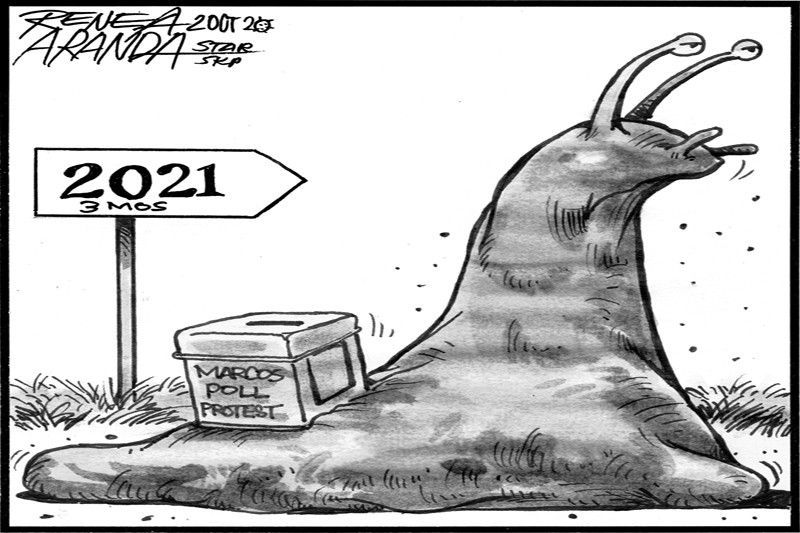 Remember the electoral protest over the race for the vice presidency in 2016? With less than two years left before the next general elections, many have forgotten that the poll challenge is still alive.
Already, the petitioner, former senator Ferdinand "Bongbong" Marcos Jr., is reportedly preparing to run for a national position in 2022. There is speculation that the proclaimed winner, Vice President Leni Robredo, might also seek the presidency. Will their electoral case be resolved by the time the 2022 campaign rolls around?
This week the Supreme Court, sitting as the Presidential Electoral Tribunal, voted 12-0 to require the Commission on Elections to comment on issues raised by Marcos in his petition to nullify the results of the polls in Lanao del Sur, Basilan and Maguindanao. The SC told the Comelec to state within 20 working days – about a month – whether there was any petition to declare a failure of elections in the three provinces, whether special voting was held and the results.
Marcos has claimed massive cheating in the three areas, where Robredo garnered 477,985 votes against his 169,160. If the votes are nullified, it would wipe out Robredo's narrow lead of 263,473 that won her the race. Last year, a recount of the votes in the three areas picked by Marcos widened Robredo's winning margin by 15,093.
An election mandate is something that cannot be recovered once taken by someone who turns out to be a losing candidate. This gives urgency to the quick settlement of election protests, especially in local races where the term of office is only three years.
The glacial pace of resolving poll protests encourages cheating. A poll cheat who manages to occupy the contested post while the electoral challenge is pending won't mind if the final resolution goes against him – especially if the decision is handed down when the term is nearly over. And a real winner whose mandate continues to be challenged while serving the term will be hounded by doubts about legitimacy.
This contest over the vice presidency must be resolved ASAP. For both parties, the snail-paced resolution of the case is an injustice.