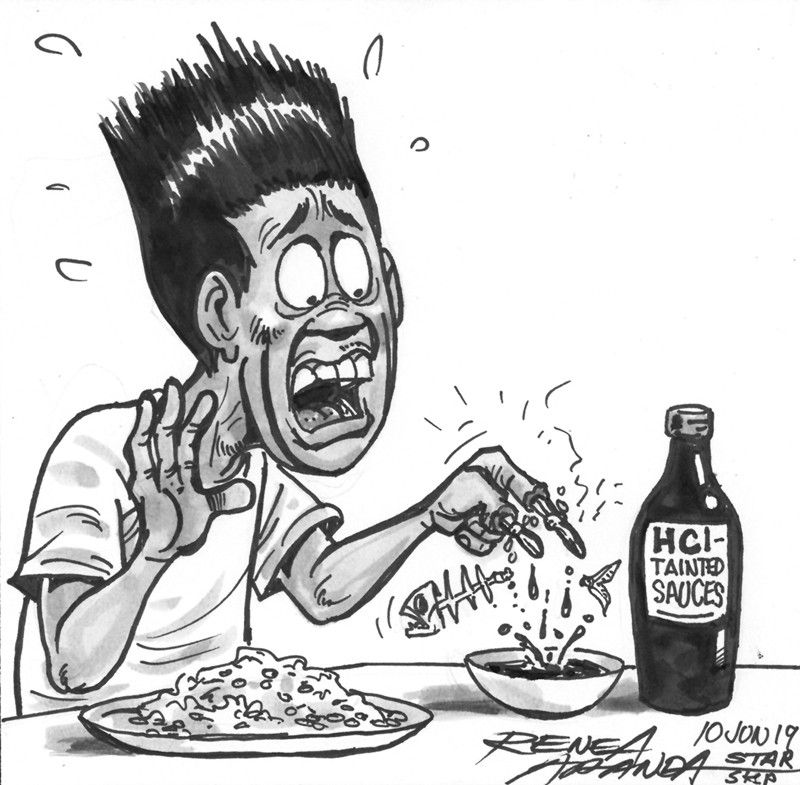 EDITORIAL - Muriatic in your patis
(The Philippine Star) - June 10, 2019 - 12:00am
Acetic acid in our vinegar, and now muriatic acid in our fish sauce and soy sauce?
At least scientific experts are now conducting food safety tests on the basic condiments on the Filipino table. We may never know how may people might have suffered or are developing serious illnesses such as cancer from regular consumption of condiments laced with toxic levels of chemical additives.
Last week the Food and Drug Administration identified five vinegar brands that scientific tests have shown to contain synthetic acid. The five brands, which can no longer be sold to the public, are Surebuy Cane Vinegar, Tentay Pinoy Style Vinegar, Tentay Premium Vinegar (Batch/Lot No. TV SEP0718BAC), Tentay Vinegar "Sukang Tunay Asim" and Chef's Flavor Vinegar (Batch/Lot No. 8870401). Tentay has protested its products' inclusion in the list.
This time, scientists of the Philippine Nuclear Research Institute are set to conduct similar safety tests on soy sauce and fish sauce or patis following reports that some manufacturers are using hydrochloric or muriatic acid to speed up fermentation processes. The concentrated form of the acid is used to clean toilet bowls, among other things.
Chemicals that can be toxic at certain levels have long been used in food processing. The use of the chemicals has been fueled by consumer demand for food items with a long shelf life. It can take years before the harmful effects of the chemicals become apparent. In recent years, unscrupulous manufacturers have also illegally laced their products with melamine to artificially boost protein content and increase the price.
With the latest controversies surrounding condiments, the government must provide more resources to boost the capability of relevant agencies to promote food safety. For now, in the absence of scientific tests, we eat processed food products at our own risk.